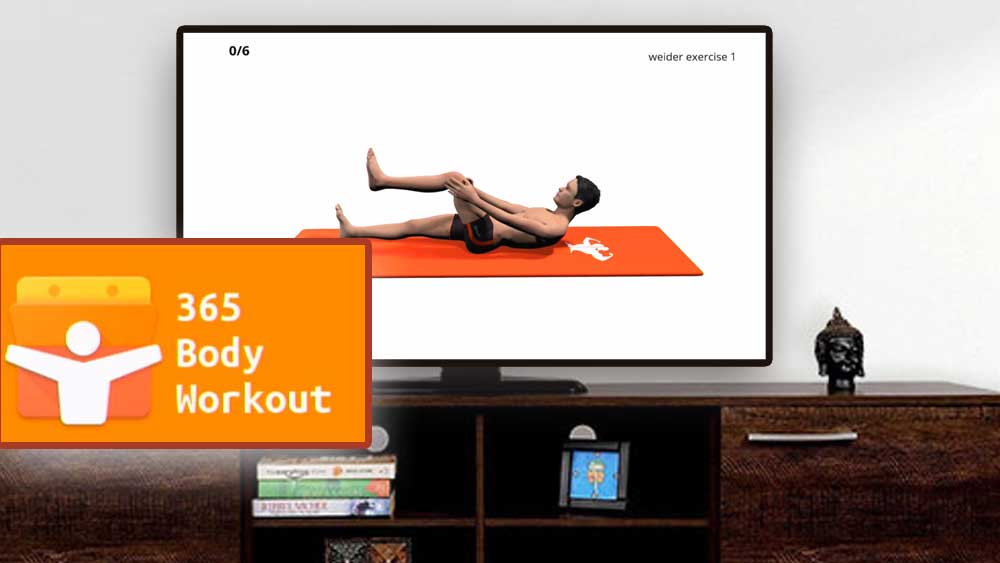 It is hard to see all body movements on mobile phone when doing workout. Using your laptop too not ideal. It is easier to use TV to do all your workout stuff. Because TVs has bigger screen and has more room to do exercises. Now you can use 365 Body Workout app on Android TV and Fire TV devices. Support all Android TV devices like Chromecast or Google TV, Shield TV, MI BOX, Fire TV stick, Firestick 4K and all. This is a free workout app for TV.
Maintaining ones physical and mental wellbeing along with a hectic work routine can be exhausting. However, working out has become on of the best forms of relaxing oneself and also improving mental and physical heath and is considered therapeutic.
The 21st century is full of junk food, stress, and bad health routines. People tend to go for fast food as it saves so much time off of their busy lifestyle and is super easy to prepare or buy. People have become so busy with work and studies. Leisure time has just turned into a fantasy and not something attained in real life. Bad health routines, lack of sleep, bad eating patterns and many more of these have resulted in obesity and also numerous other adverse health issues.
Best Android TV and Fire TV Workout App
Working out at least 5 times a week has proven to show extraordinary results in all people despite age, gender, or other barriers. It helps reduce anxiety and stress levels thereby improving levels of productivity. The physical health benefits are indeed incomprehensible and if you have been longing for that super-hot and fit body, working out is the best for you. 365 body workout for TV BOX will help you organize your workout schedule to bring out the best in you.
Features of 365 Body Workout
The app comprises of many features such as lean back themed version when streaming on android TV so you get the best watching experience. You also can enjoy a range of workout routines that match your age, gender, and other preferences.
You can also use a speech enabled workout trainer to guide you throughout your workout making it even more interesting.
The app also makes your workout relaxed and leagues away from being monotonous as you can create our own playlists from your phone or even from podcasts while you workouts.
If you aren't satisfied with the workout routines on the app, you can also create your own unique workouts of your preference and start your training for that healthy lifestyle you've always longed for.
Working out isn't only about losing weight. It also means getting a fit and shaped body which in turns help boost your levels of confidence and self-esteem as well. Have you ever felt super relaxed and toned with a good workout after a long stressful day? Research have also proven that working out in a constant basis helps avoid depression in many youngsters. You can finally say goodbye to all those chronic diseases and obesity with the, all new 365 body workout which will ensure to be your best trainer and it doesn't matter where you are or what time is it, all you got to do is log in to the app and enjoy.
Download Body Workout App for TV BOX
This is a popular and effective workout app available for all TV boxes. Use Amazon App store if you have Amazon Fire TV device. This available on your default app store. Support all Fire TV devices like Fire TV stick, Firestick Lite, Firestick 4K, Fire TV Cube, etc.
You can use Play Store TV on Android TV boxes. If you are unable to install this application using Play Store, you can try using other TV app stores like AppLinked, FileSynced and UnLinked. Below shows how to install this application on Android TV and Google TV using Google play store.
Install on Android TV
First open Google play store and go to search. Then type "365 body". Once you start to type this app name, you will see this workout TV app appear on search results like below picture. Select it.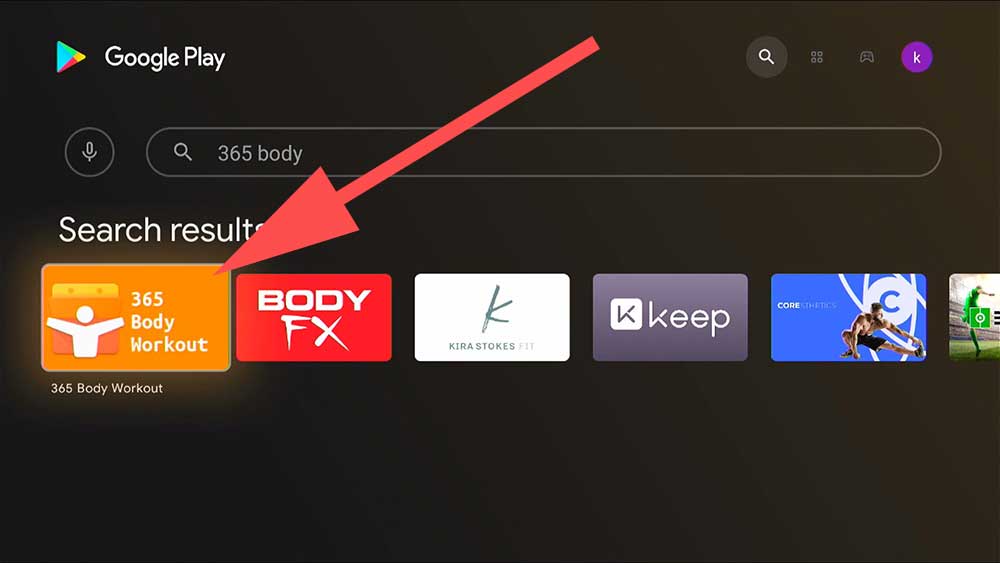 Now select "Install" to begin installation.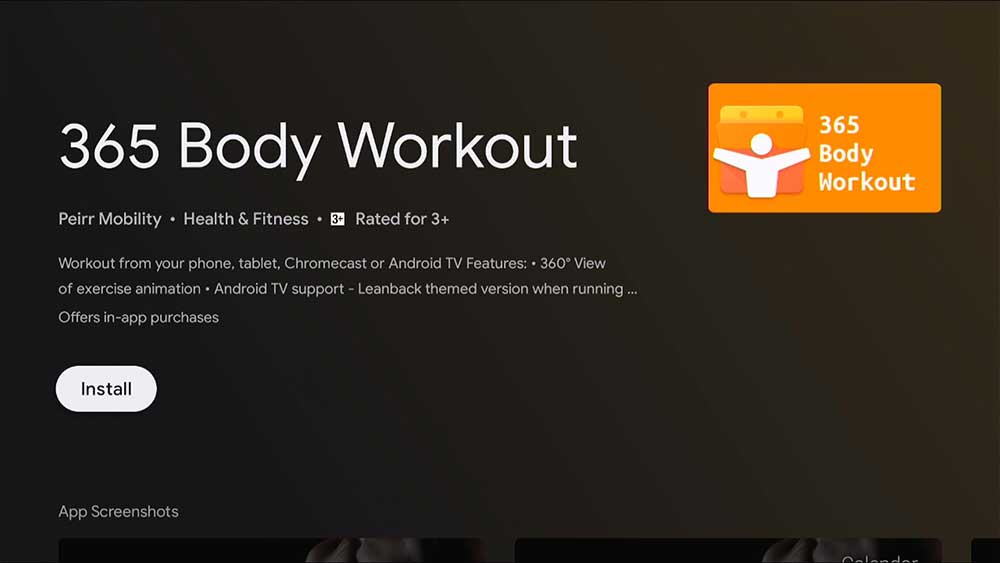 Install on Fire TV
This app freely available for all Amazon Fire TV devices like Fire TV Stick, Fire TV Stick 4K, Fire TV Stick 4K Max, Fire TV cube and all via Amazon App Store. Follow below mention procedure to download and install this body workout app on your Fire TV.
First open Amazon App Store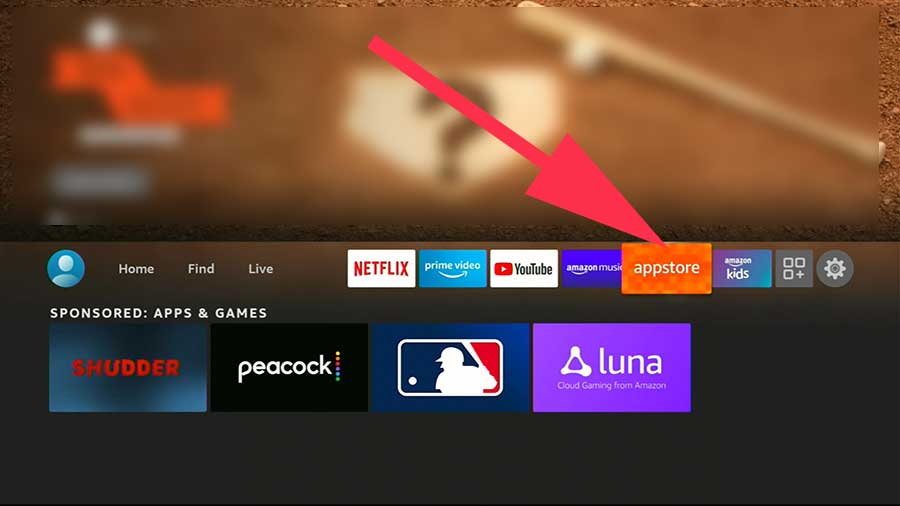 2. Move to search and click on open keyboard. Then type "365 body workout". Once done typing click on typed text to show search result.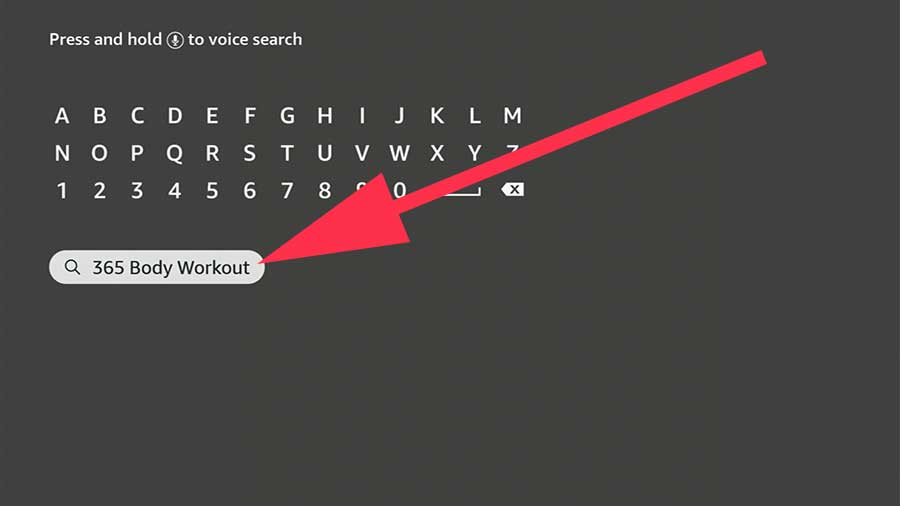 3. Now you will see this app appear on apps and games section. Move to that section and click on app like on below picture.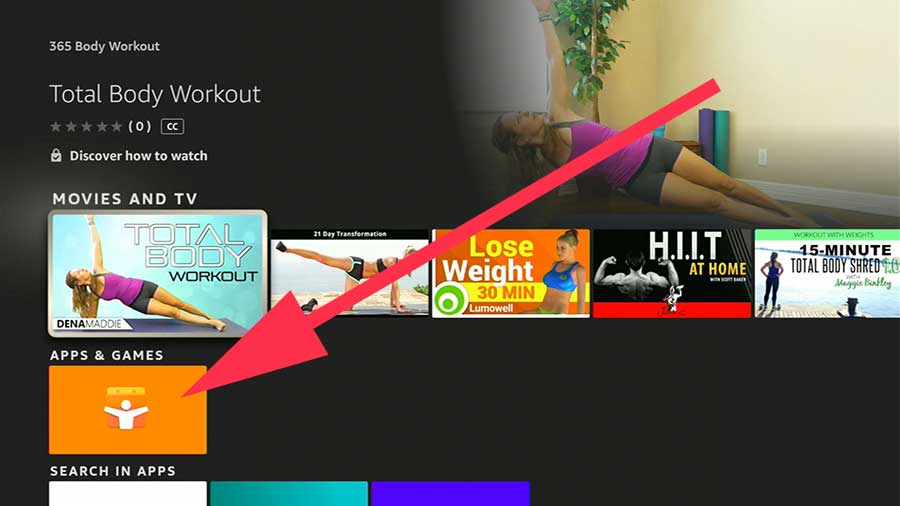 4. Click on download icon to begin installation. That's all.