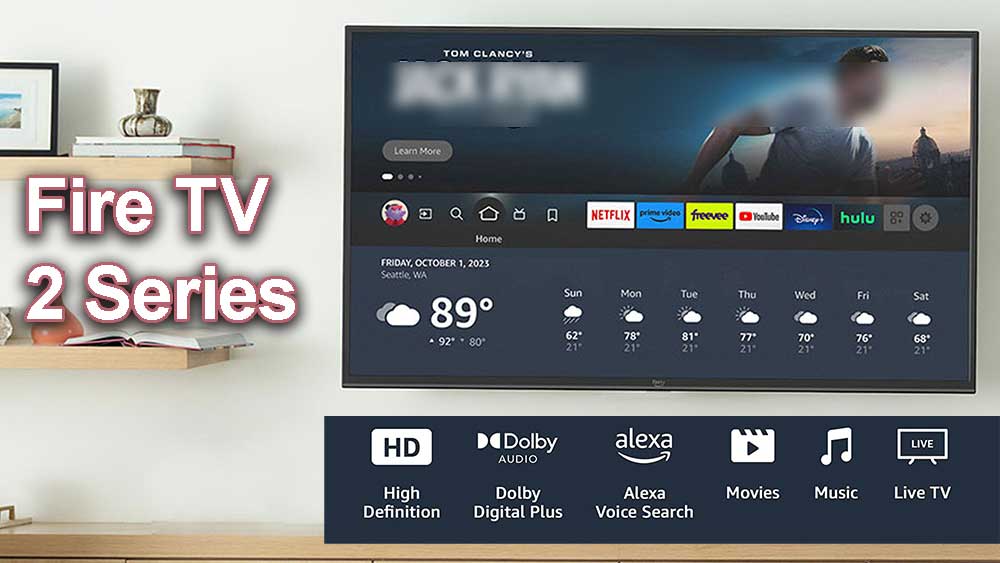 Amazon Fire TV has become the most popular smart TV for streaming, providing users with an immersive entertainment experience. If you want to buy a smart TV for cheap, then try using 2 series Fire TV. This is the cheapest and starting Fire TVs from Amazon. Apart from buying a TV and TV stick separately you can use smart TV that has built in Fire TV OS. Amazon Fire TV 2 Series has cutting-edge features and enhanced performance. From stunning visuals to a seamless user interface, the Fire TV 2 Series promises to revolutionize your streaming experience.
Specifications
The Amazon Fire TV 2 Series is a powerful streaming device that offers a significant upgrade over its predecessor. With an advanced processor, it ensures lightning-fast performance, enabling smoother streaming and quicker app loading times.
The Amazon Fire TV 2 Series delivers an exceptional streaming experience, supporting up to 720p resolution in 32 inch model and 1080p in 40 inch model. With vivid colors, enhanced contrast, and improved image quality, bringing your favorite movies and shows to life. Whether you're streaming from popular services like Amazon Prime Video, Netflix, or Hulu, or playing games with high-quality graphics, the Fire TV 2 Series ensures a visually stunning and immersive experience even though it support 720p in 32 inch model.
Series 2 Fire TVs are based on Android operating system. Therefore you can install any Android TV apps and games on your Fire TV using third-party App stores like Aptoide TV. You can use TV app stores like AppLinked, FileSynced and Unlinked to install free movies and TV shows applications.
Design
The Amazon Fire TV 2 Series features a sleek and compact design that seamlessly blends with any home entertainment setup. Its slim profile and minimalistic aesthetics make it an attractive addition to your living room.
The accompanying remote control is nicely designed, offering a comfortable grip and intuitive button placement. With dedicated navigation buttons, voice control capabilities, and quick access to popular streaming services, the remote ensures effortless control of your Fire TV experience.
The Fire TV 2 Series supports TV sizes ranging from 32 inches and 40 inches, ensuring that you can enjoy your favorite content on the big screen of your choice.
Available Ports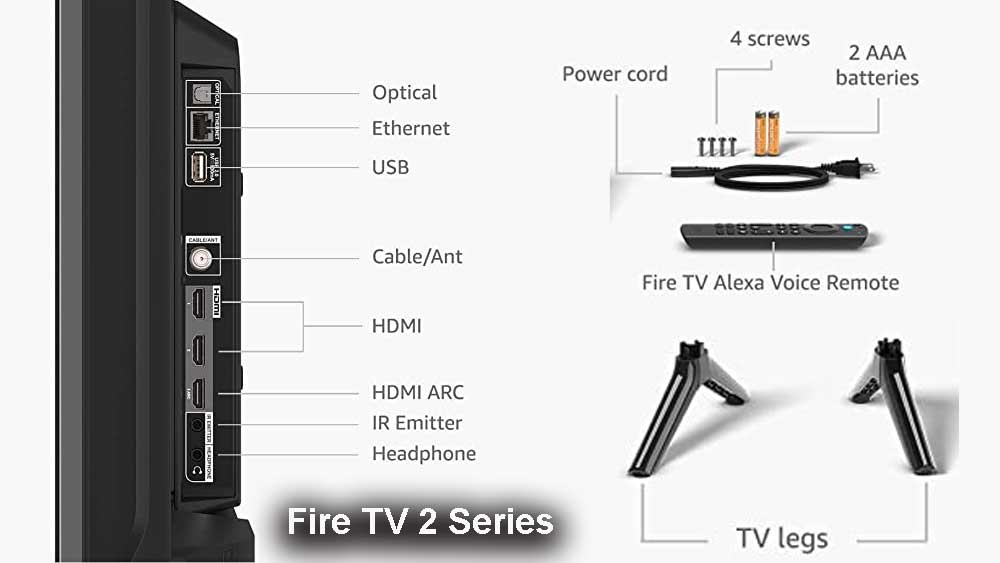 Connectivity options are essential when it comes to a smart TV, and the Fire TV 2 Series offers a comprehensive selection of ports to enhance your viewing experience. The device includes an 2 HDMI 1.4 ports with one ARC HDMI port, allowing you to connect it to your TV effortlessly. It also features an Ethernet port for a stable and reliable wired internet connection, ensuring smooth streaming even in areas with weak Wi-Fi signals. In addition, the Fire TV 2 Series provides a one USB port and a Digital Optical Audio Port for connecting external audio devices.
Conclusion
The Amazon Fire TV 2 Series represents a significant leap forward in streaming device technology. With its powerful hardware specifications, sleek design and versatile port options, it provides an all-in-one solution for your streaming needs. Whether you're a movie enthusiast, avid gamer, or simply enjoy streaming content from various platforms, the Fire TV 2 Series is sure to elevate your entertainment experience to new heights. Upgrade to the Fire TV 2 Series and unlock a world of endless entertainment possibilities.