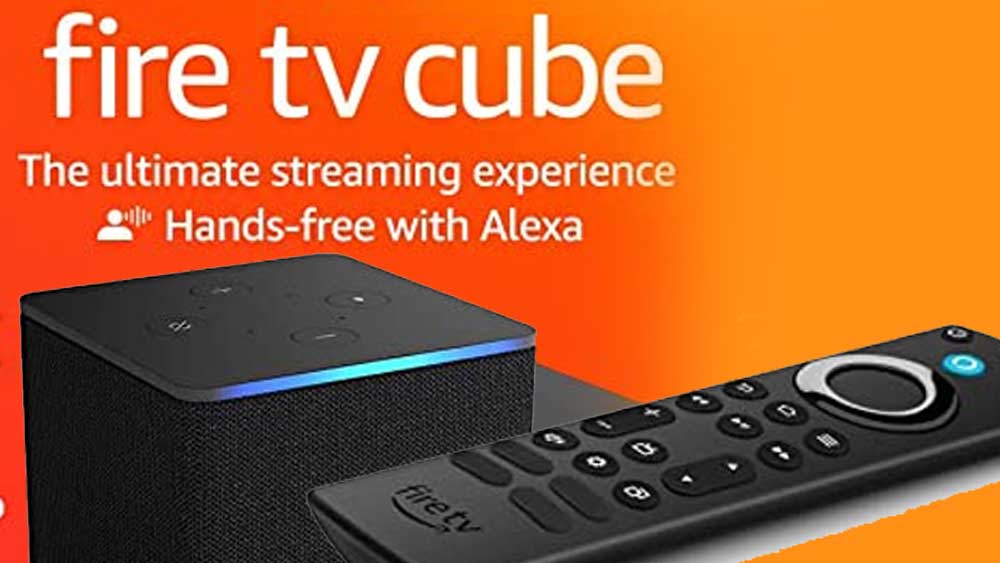 There is a high competition for streaming devices. Because so many devices that provide Android TV experience at best. Fire TV cube from Amazon stands out as one of the popular and powerful device from Amazon. This is the only TV box designed and developed by Amazon to have built in mic and speakers. Let's discuss its specifications, design and everything you need to know about Fire TV cube.
Specifications
This is the most powerful TV box from Amazon that is two times faster than Fire TV Stick 4K Max. This is powered by octa-core 2.2Ghz processor. With 2 GB of RAM and 16 GB of internal storage, you can easily store your favorite apps, games, and media for instant access. The device supports 4K Ultra HD streaming, ensuring crisp and vibrant visuals that enhance your viewing pleasure. Below shows brief summary of the hardware specifications of this device.
| | |
| --- | --- |
| Processor: | Octa-core 4x 2.2GHz 4x 2.0GHz |
| GPU: | 800MHz |
| Storage: | 16 GB internal |
| Memory: | 2 GB internal |
| Wifi: | Wi-Fi 6E |
| Bluetooth: | Bluetooth 5.0 |
| Resolution: | 2160p, 1080p and 720p up to 60 fps |
Design
The Fire TV Cube features a sleek and compact design that seamlessly blends with your home entertainment setup. Square-shaped with a gloss black finish, adding a touch of elegance to your living space. Support hand-free Alexa thanks to built in mic and speakers. You can use this device as a smart speaker too. To get an idea about its dimensions please check below table.
| | |
| --- | --- |
| Size: | 3.38" x 3.38" x 2.99" (86 mm x 86 mm x 77 mm) |
| Weight: | 513g (1.13 lbs) |
What's in the Box
When you unbox the Fire TV Cube, you'll find everything you need to get started. Alongside the device itself, you'll discover a power adapter, an Alexa Voice Remote, and two AAA batteries for the remote. This comprehensive package ensures that you can set up and enjoy your Fire TV Cube without any additional purchases or hassle.
There is no HDMI cable, Ethernet cable or IR extender cable. You have to purchase those separately specially HDMI cable if you want to use it with your TV.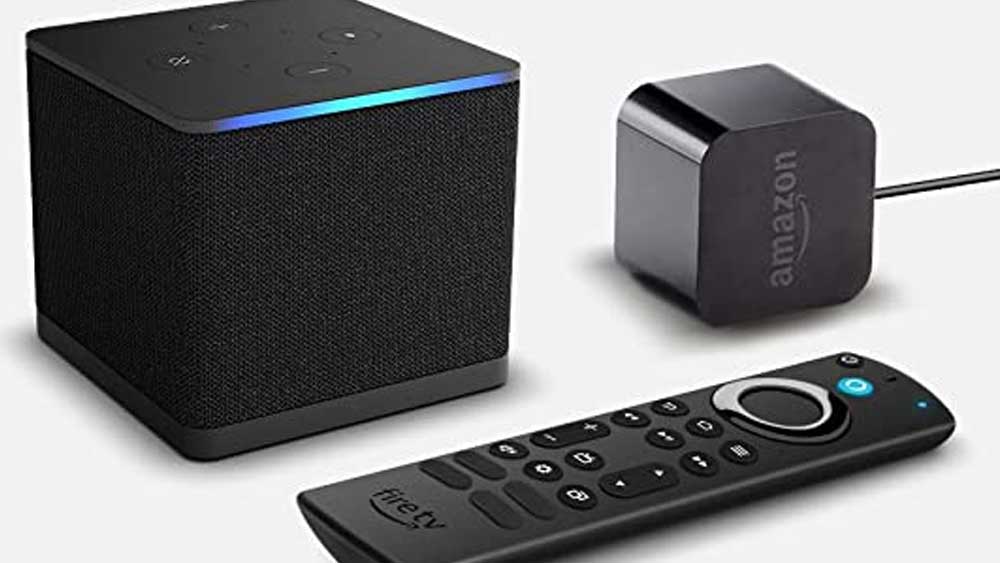 Available Ports: Seamless Connectivity Options
The Fire TV Cube offers a range of ports to ensure seamless connectivity with other devices. It features an HDMI in and HDMI out port that allows you to connect it directly to your TV, providing easy access to your favorite streaming services and apps. The device also includes a USB A port for external peripherals like mouse/keyboard, flash drive, etc. Has separate power port, IR extender port and an Ethernet port for a stable wired internet connection.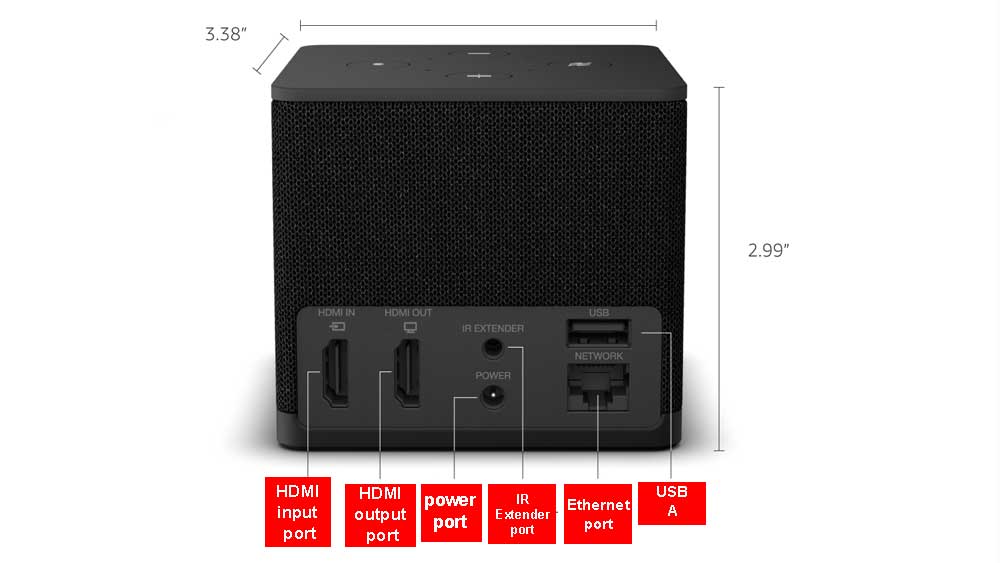 Voice Control: Hands-Free Entertainment
One of the standout features of the Fire TV Cube is its hands-free voice control capability. With far-field voice recognition, you can control your entertainment experience without using the remote like on Fire Stick. Simply use the given remote or give voice commands directly to TV cube to navigate through apps, search for movies or TV shows, adjust the volume, and much more. The Fire TV Cube even works seamlessly with other Alexa-enabled devices, allowing you to control your smart home devices or get information without interrupting your viewing experience.
Streaming and App Support
The Fire TV Cube offers a vast selection of streaming services and apps, giving you access to an extensive library of movies, TV shows, music, and games. Popular streaming platforms like Netflix, Amazon Prime Video, Hulu, and YouTube are readily available, alongside a range of other apps for news, sports, and more. The device also supports popular music streaming services such as Spotify and Pandora, allowing you to enjoy your favorite tunes with ease.
Does not support Google play store and some of the play services from Google. Instead you will have full support for Amazon apps and services. However, you can install Google play store applications or Android TV apps on your Amazon Fire TV Cube using Aptoide TV app store. Support third-party TV app stores for movies and TV shows like Applinked, FileSynced and Unlinked.
Conclusion
The Fire TV Cube is a versatile and powerful streaming device that brings together the best of streaming media and smart home functionality. With its impressive specifications, sleek design, and hands-free voice control, it offers a convenient and immersive entertainment experience. Whether you're a movie enthusiast, a sports lover, or a music aficionado, the Fire TV Cube delivers a world of entertainment right to your living room