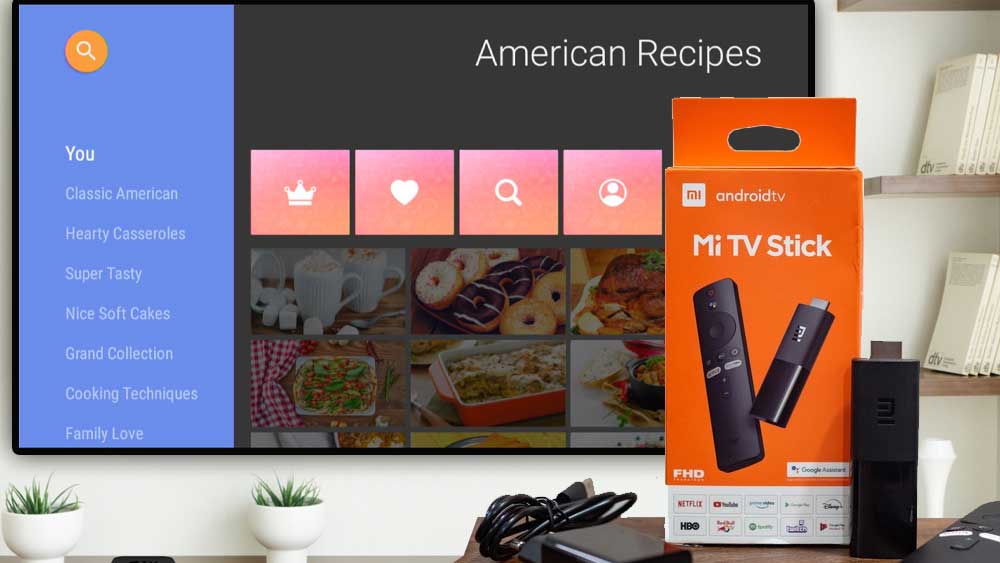 Make delicious American cuisine with American Cookbook. Follow all your favorite American food recipes now on Android TV. Support all most all Android TV boxes including Amazon Fire TV, Fire TV Stick, Google TV, Chromecast, Nvidia Shield TV, Mi TV stick and all.
Easily play, pause and do all the actions just using TV remote. No need to dirty your phone or laptop with foods while cooking. Easily see recipes and procedures now on bigger screens with Android TV.
Kids love some play time. It's the time that allows youngsters to get creative, innovative, and indulge in some exciting activities. Cooking is indeed the equivalent of this for us adults. It allows us to take part in something exciting and creative and also helps us reduce stress and restlessness.
Studies have shown that cooking helps one to keep mind at ease and enhance mindfulness. Cooking is so enjoyable that you wouldn't know time pass by. However, with the hectic lifestyle of everyone it's exhausting to prepare your own meals within the day. But what if I tell you that you can easily prepare your meals with some of the easiest recipes to offer? American Cookbook is the best app having more than 1000 delicious and mouth-watering American food recipes to make your day. If you're an Android TV user, get prepared to have the most delicious meals of a lifetime.
American Cookbook for TV
The app not only includes many American food recipes, but it also comprises of a weekly meal planner that you can personalize yourself and find out healthy and yummy meals that is well in your budget.
These authentic styles of American dishes will definitely add some vibrance and love to your breakfast, lunch, or dinner table. These recipes are for absolutely free and offers a range of different exquisite varieties of dishes such as pot dishes, soups, casseroles, Chinese dishes, American Barbeques, and many more. These are indeed going to make a difference to your food choices whenever you hangout with your friends, loved ones, at get-together's or parties and occasions.
You can also pick your favorite recipes and use them offline by just saving what's necessary. This way, you can always access your favorites with the simplest convenience.
Personalize your meals to make your kids fall in love with your healthy home-cooked meals and make a difference in your meal plans. You can also choose the appropriate recipes as per your allergies, food preferences and many more.
Plan your budget and weekly grocery list at ease with American Cookbook, because with the app, you always know what you need at a glance. It also comprises of different dessert recipes to keep your sweet tooth satisfied with simply the best.
Party foods to make your parties the talk of the town, Vegetarian dishes for your healthy lifestyle, Festive dishes to make American Super bowl, Valentine's Day, Chinese New Year greater, and super healthy meals for all of you! This app is not only going to change around your meals to be heathy and delicious, but it will also make you experience the beauty of culinary arts. Hurry and get your hands on the app for absolutely best dishes in town.
Install American Food Recipes app on TV
This is a free American food recipes app that is available for all Android TV boxes and TV sticks. You can use your default app store like Play Store or Amazon App store to install this application. See below tutorial for more information. If you are unable to install this application using default app store, you can try using AppLinked or FileSynced.
First open Play Store application of your Android TV. Then go to search bar and type "American Cookbook". You will see this application appear on search results while typing. Select it.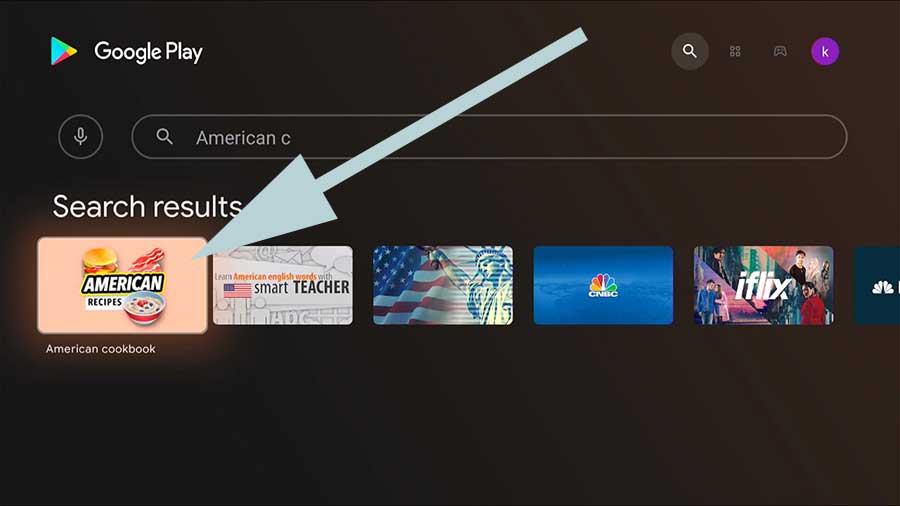 Now click on "Install" to begin installation.