Explore the newest level of Gaming with Beach Buggy Racing. Wonderful racing game to play on Android TV box and Fire TV devices. Full of adventures, challenges as well so much fun and joy. Show all your driving skills with your Kart. This racing game require little performance and storage space than Asphalt. More fun that Asphalt for TV with less performance and storage. Best light weight TV box racing game.
Android TV Car Racing for TV BOX
The game is 3D kart game with beautiful 3D graphics. The background sounds of the game are also very stunning and I really love the graphics and the music. You can have this freely from any of your favorite app store including Google Play Store, AC Market and Aptoide. It is very easy to play the game and controlling the game is also very comfortable.
Can identify as one of the cool games where you can drive your Kart or the buggy. You can drive your buggy through adventures filled locations including beaches, dessert, towns, forests and so on. in here you have to drive against many rival drivers. Can have more fun by driving through the off road with much more obstacles. You must be very skillful as well as should be very wise when playing against your rival as they are with some special skills and powers.
Features of the Beach Buggy Racing Game
There are mainly 6 game modes included here. You can drive your Kart through about 15 tracks, each with different challenges and obstacles. There are so many actions and surprises to discover along your journey to the victory.
The beautifully looking cars can upgrade when you move forward through the game. you can select monster trucks, lunar rovers and many more cars with unique and powerful features. Use all these to win your game against your rivals.
When you are going up though your victory path you can go though the power ups. There are around 25 power ups you can go through according to your winnings.
In here you have to drive through various tracks along the lava filled valleys, monsters filled forest, beaches and many more. Each track is with its special and unique secrets hidden. Explore all of them to have the real thrill and fun.
You can have a team of drivers to make your race split. Share the challenge with others with unique skills.
Also, you can play this game in multiplayer mode. Can play with up to 4 players on your Android TV.
This game is a newest design of your racing games and it is worthy to try in all your Android devices to spend your leisure time with more fun and joy.
Sometimes there can be some difficulties you are coming across when you are playing this game. Like slow gameplay, draining battery, and so on. If you face such difficulties download Clean Master Apk in your Android.
Download Beach Buggy Racing for TV BOX
This is a free racing game available for all Android TV boxes. You can easily download and install this game using Google play store. Support all most all Android TV boxes including Nvidia Shield TV, Shield TV pro, Mi BOX S, Mi TV Stick, SkyStream, X95, and more. If you have Amazon Fire TV devices like Fire TV Stick, Fire TV Stick 4K, Fire TV Stick Lite, Fire TV cube and all can use Amazon App Store. However, there are many Android TV boxes without play store services. You can use Applinked, Filesynced, Unlinked and Aptoide TV app stores on those devices to install this racing game for free.
Below shows how to install this racing game on Android TV box using play store. First open Google play store application.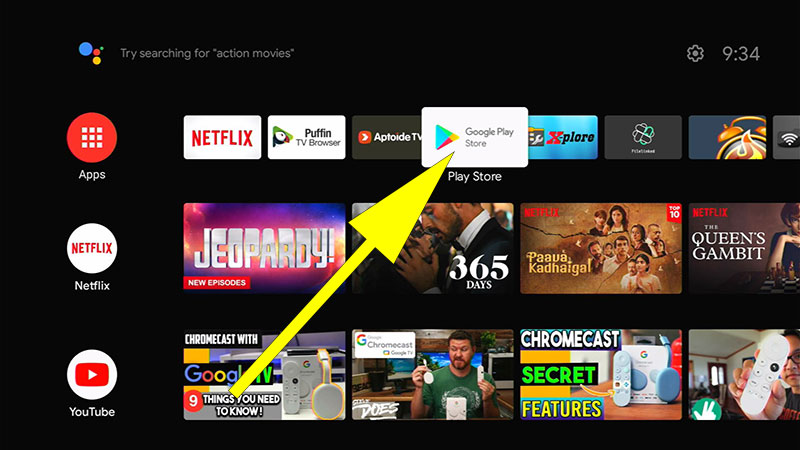 Go to search area and type "beach". You will see this racing game appear on search results like below picture. Select it.

Now select "Install" to begin installation.

Install Beach Buggy Racing Game on Amazon Fire TV
One of the best Fire TV racing game that is available for all Amazon Fire TV devices including Fire TV Cube, Fire TV Stick, Fire TV Stick Lite, Fire TV Stick 4K. First open App Store application. Then go to search which is at top left corner. Then type "beach buggy". You will see text suggestions below your type. Select correct game name like on picture.

Now you will see search results for "beach buggy". Select this game to continue.

Now select download icon like below picture to begin installation.