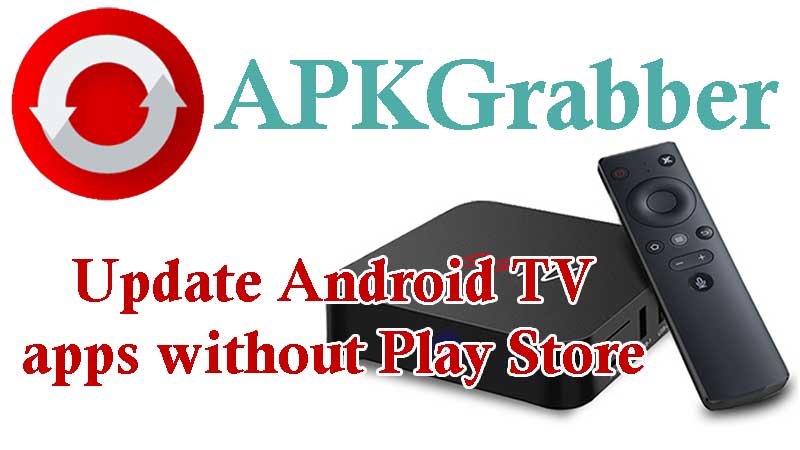 APKGrabber is not a separate or independent app store. It does not facilitate direct updates and downloads via APKGrabber. It just has different approach. Instead of showing direct download and update link to app, it shows website link to download those apps with updates.
How to keep track many side loaded apps or apps that are installed from internet instead of Play Store. If you have any third party Android app store then that app store will update all your third party apps ( side loaded apps ) for you. What to do if you does not have any App store and does not like to install those third party app stores. Then APKGrabber is for those kinds of people. If your Android TV does not have any third party app store, then you can use APKGrabber to update all your APK files.
Very simple and light weight application. As you know there are no perfect Android TV store like Aptoide for Android. APKGrabber will scan all your Android TV apps and shows which apps need to be updated. Below each app you can see current version and updated version with change log. Below that you can see website name ex: APKMirror and "Ignore" buttons. Click on website name to visit their website to download updated version of that app. If you does not want to update it just click "ignore".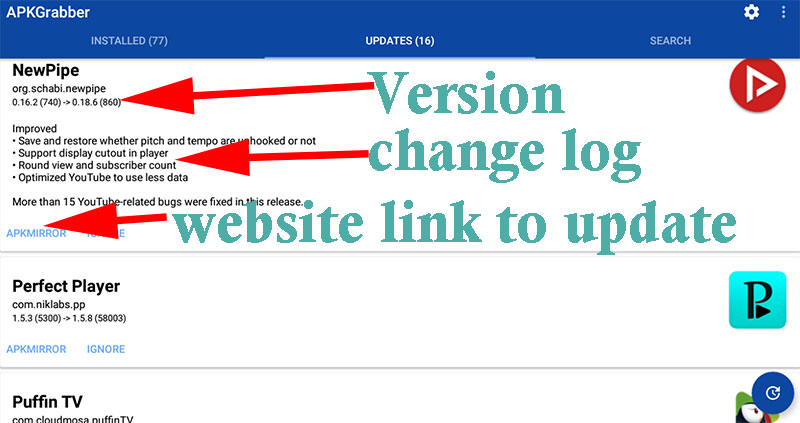 In order to use this app you may require web browser for your Android TV. Because updates are directly download from apk websites like APKMirror, Uptodown, APKPure and etc. Click here to install Puffin Web Browser for Android TV.
This app can push notification about pending updates for you. You can set how often it need to check for updates and update checking time and many more from settings. You can set to check updates "Daily" or "Weekly". If you want to check them manually instead of automatic check, use "Never" on settings. This app comes with 6 beautiful themes.
Supported update sources include:
1. Google Play Store
2. APKMirror
3. APKPure
4. Uptodown
APKGrabber for Android TV free Download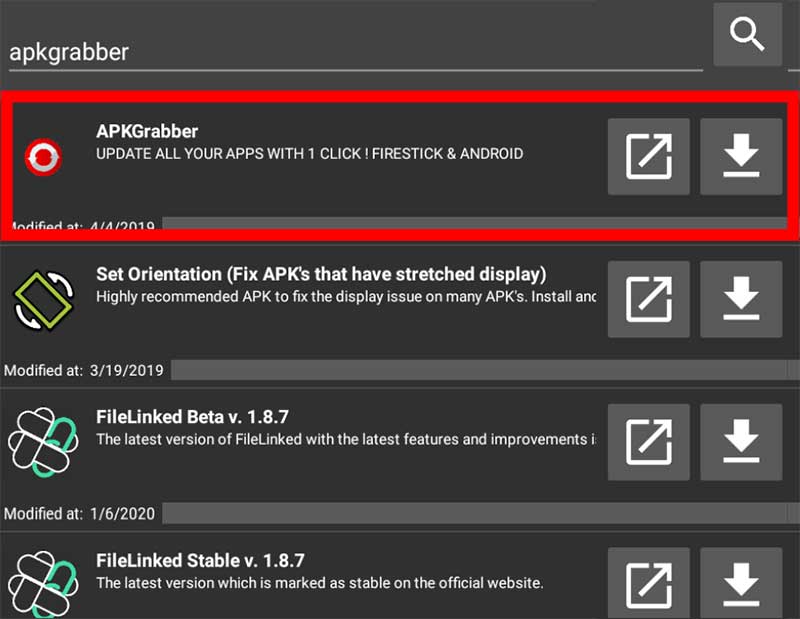 In order to download and install APKGrabber you have to install Filelinked on your Android TV. Click here to download and install Filelinked for Android TV. If you already have Filelinked use below code visit APKGrabber filelinked store.
Filelinked code for APKGrabber : 11111111
Search "APKGrabber" on above Filelinked store. Update only the apps you want with this app.