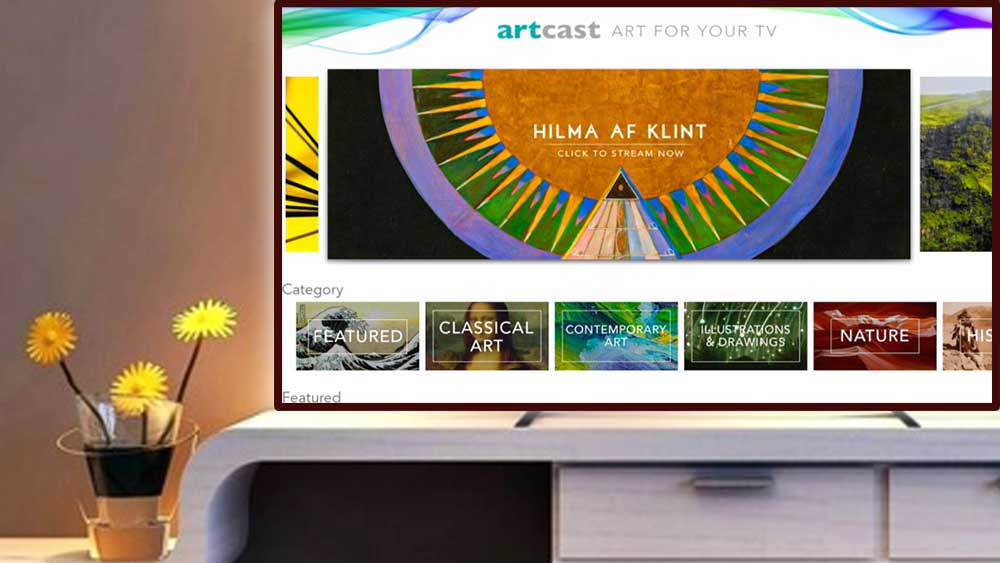 Table of Content
Best Android TV Art slide showing app. You can stream more than hundred thousands of video arts, painting, photography, etc. Best Art galleries app for Android TV and Fire TV. Enjoy best painting and Arts now on TV with Artcast TV app.
Art
Art is one of the most important sources of vivid representation of history, communication, and entertainment. Not only does it allow one to interpret art in their own perception, but it also educates one with no words.
The context and concepts to art can be deep or even simple. Art can easily educate people on any topic. It creates awareness by presenting information in such way that it helps people absorb the information more thoroughly.
People also enjoy watching art by mesmerizing their beauty and inner meaning. It also helps one look and think out of the box with vivid emotions and ideas.
Since ancient history, art has become a medium of entertainment and museums, art exhibitions have won millions of hearts around the world. It has also become a source of education in many art institutes.
So, for all of you who love some great art, here's the best news you could hear. The Artcast app has brought to you hundreds of breath-taking arts to be watched at the comfort of your own home for absolutely free. This app will showcase some of the most exemplary arts from around the world right here on your own TV.
Features of Artcast TV app
Enjoy all of the paintings, artwork, and even some mesmerizing photography from around the world. These are to be chosen from a variety and wide range of world renowned artists and museums ranging from classical pieces to masters such as Van Gogh and Degas, and innovative artists emerging in society.
The app comprises of more than 100,000 pieces of work with a never ending collection that just keeps growing as per your request. The art on the app is extremely diverse and all the latest collections are added onto the app every week so that you will never run out of things to see.
You can also make your very own requests of genres, artists, and themes so that Artcast TV apk can accommodate your wishes.
You can also customize the app as per your wish so that it feels just like home. Set your captions so that you can learn much more of the artist, years, and titles by enabling it.
You can also set some soothing music to set the atmosphere just right. That's not it, you can also set the duration of each artwork you'd like to see and enjoy them all at your comfort. From 30 seconds to a duration of infinity! Make your choice.
You can also set beatify frames to the art for a much more exotic appearance. You can also make your own favorites playlist so you can save all of those favorite artworks that blew your mind!
You no longer have to go spend hours at art museums now because all you got to do is sit back and experience the most exemplary artwork at the comfort of your own home and for absolutely free!
Install Artcast on Android TV
This is the best painting and art watching app available for TV. Support all most all Android TV boxes, and Android TV sticks. If you are unable to use play store to install this application you can try AppLinked, FileSynced or UnLinked. Those Android TV app stores require TV code. If you want something simple, try using Aptoide TV.
First open play store application and go to search. Then type "Artcast". You will see this application appear on search results like on below picture. Select it.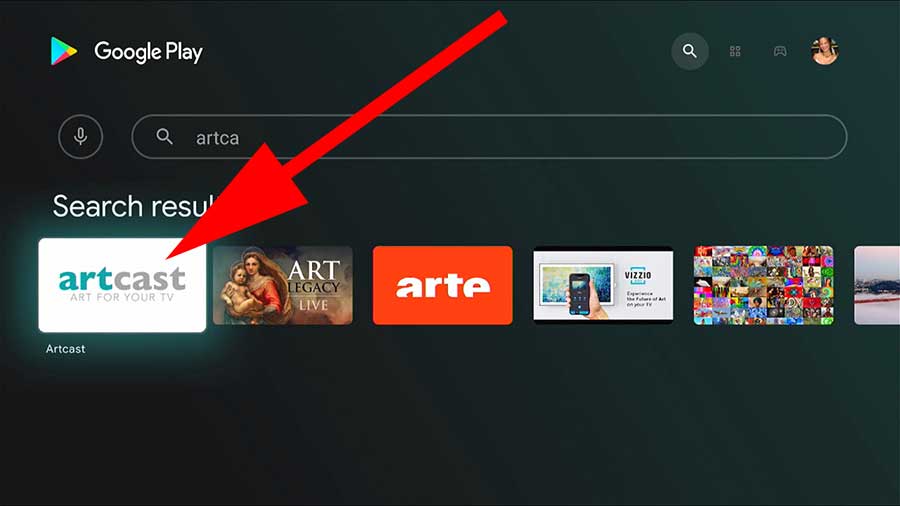 Now click on "Install" to begin installation.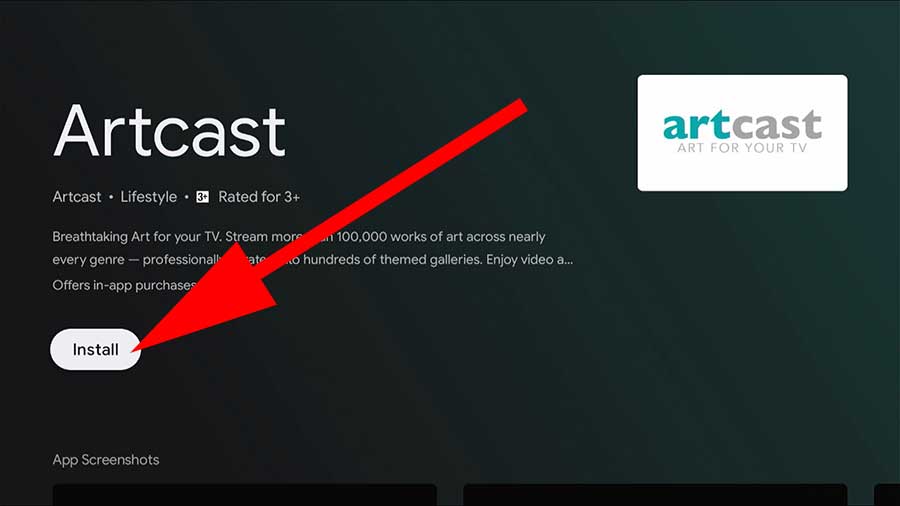 Install Art slideshow app for Amazon Fire TV
Below shows instructions on how to install arts streaming app or art slideshow app for your Fire TV. Support all most all Fire TV devices including Fire TV stick, Firestick lite, firestick 4K, Fire TV Cube, P20 Series, P1 series and more.
First open "App Store" application of your Fire TV. Then go to search and type "artcast". You will see text suggestions like below picture. Select app name instead of typing full name using keyboard.

Find this app from search results like below picture. Select it.

Now select "Get" button to begin installation.