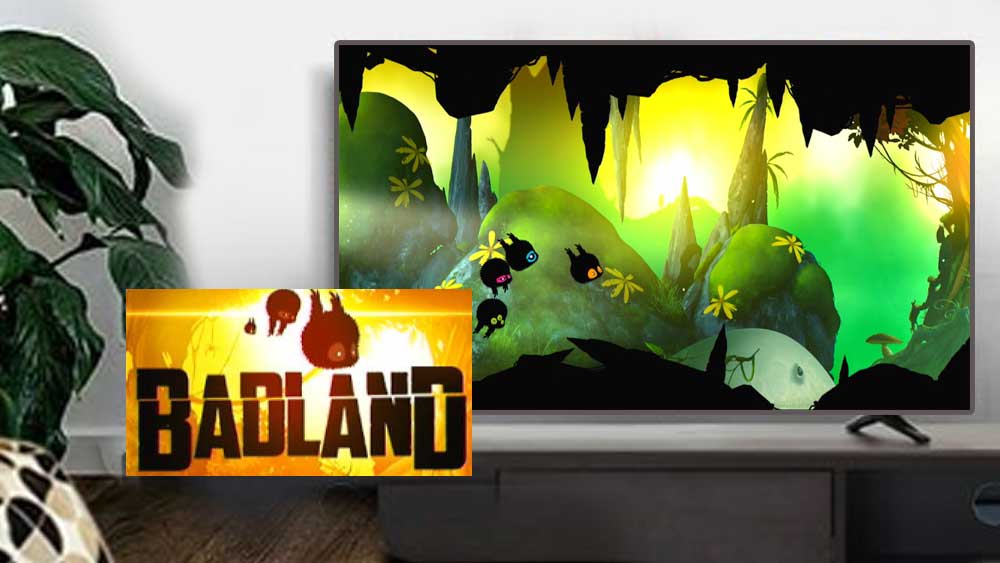 Table of index
There are not many TV box games that can enjoy freely. It is because many games does not utilize big screen of a TV and low performance of TV box or TV stick. Badland is a fun game with nicer graphics that support all most all Android TV boxes, Chromecast and All Amazon Fire TV devices. From the game that work smoothly. It is a Survival adventurous game that feels like playing a PC Game on TV.
Let's hurry! Know you had a hard and busy day. Get your loved one's family and friends to join. Some chips and a drink. Get the smart device. Let's start on that game to bring out the best of chills and excitement to bring that much looked forward to, total relaxation. Wow what a way to end the day. And to give all those people who deserve the best of a gaming app, take the pleasure of introducing one of the most sought after BADLAND TV Game. Here's briefly its features and thrills that gonna take all players to new heights of excitement.
Badland TV Game Play
Fly and survive is the need of the hour. Let the imagination run as wide as possible. The forest is full of various inhabitants, trees, and flowers. So beautiful and relaxing.
However there seems to be something wrong terribly, in this fairy tale, look alike forest. Now player, let's get hold of a forest dweller and with control give him all the confidence to find out what's going on. Well, his path isn't going to be all that smooth. Traps and obstacles will make it hard work for our dweller.
The app features astonishing and stunning atmospheric graphics and audio. App allows up to 4 players to play on the same smart TV. With multiplayer involvement different strategies and features on the game layout can be done, thus keeping boredom away. Survival at any cost will be the norm. No rules. So only the Fittest will survive the oddasy. Circular saws spinning like devils. Push the rivals to the front to survive.
App features as many as 100 unique levels of play. To ensure freshness and to keep boredom away, the app brings in updates regularly. Multiplayer mode feature 23 levels and these too get updated.
Cooperative mode with 4 player involvement allows modification to bring in one player to survive. Survival at any cost makes play thrilling to a climax. Level editor feature will make players select the level they want to engage in play.
New world setting will automatically bring in a new level when the app is activated to be used. The control panel is well designed for game pad or game controller. App supports in full for game controllers. App will always best harmonize visual and audio to bring in the best of quality into play.
With Cloud Save, the TV box game will efficiently save the digital data safely. Immersive mode will open the full screen exclusive for the contents selected by the users. Any other contents will be hidden until the selected content is done with.
Winner of many acclaimed awards and super reviews such as 'A Hallmark of excellence' "BADLAND isn't simply pretty but an absolute treat to play" too many to mention all. No surprise BADLAND TV Game has over 100 million users worldwide and counting. Why be left out join in the millions and start on this super game. Excitement and Thrills with Chills have never been better. Play it. Feel it. And explore around!
Download Badland TV BOX Game
One of the exciting game to play on your TV. You can easily install this game and play without any Hussle. If your default app store does not provide this game, you can try using Applinked, filesynced or unlinked app store. For those who does not like using TV codes like AppLinked codes, you can try using Aptoide TV. Aptoide TV is like play store where you can install and get apps you want for free.
Install on Android TV
First open Google play Store app on your TV and go to search. You can use Google voice assistance ( voice button of your TV remote ) to open play store. Click on voice button and say "play store" to open. Then go to search. Type "badland". You will see this application appear on search results like below picture. Select it.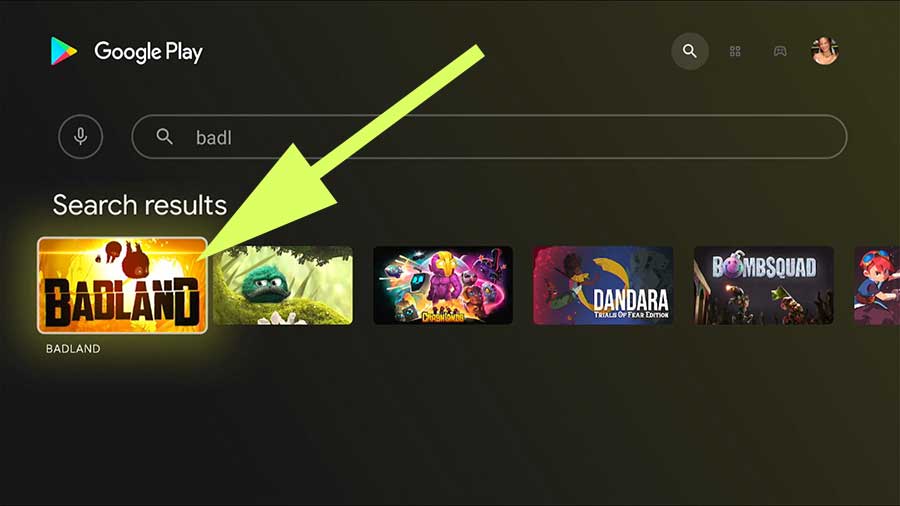 Now click on "Install" button to begin installation.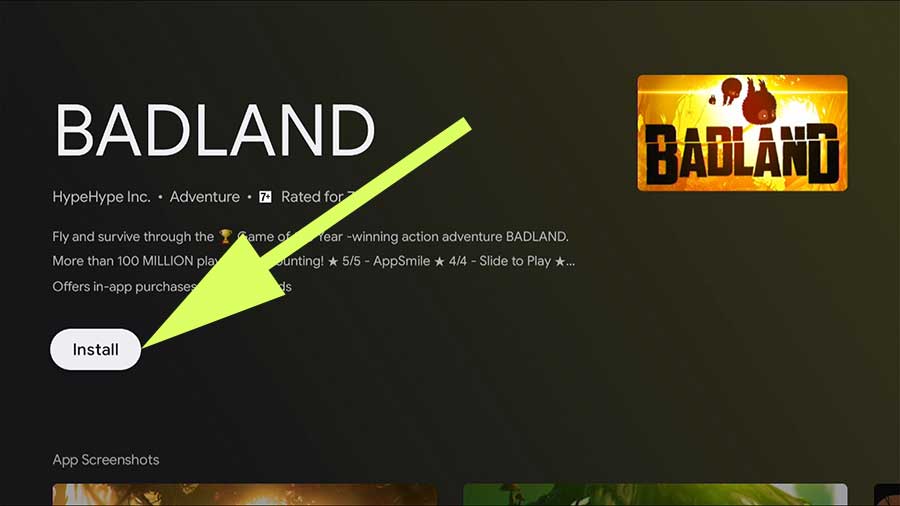 Install Badland Amazon Fire TV
No need to use any third-party solutions or hard to understand tutorials to install this game on your Fire TV. Just follow below simple steps to install this game using default app store of your Fire TV. Support all Fire TV devices including Fire TV, Fire TV Omni series, Fire TV Stick, Fire TV Cube and all.
First open "App Store" application of your Fire TV. Then go to search and type "badland". Then select your typing like below picture.

Now you will see search results. Most of the time search provide high priority for movies and TV shows. Therefore you will see search results for movies and TV Shows instead of the app or game you are looking for. Scroll down to "app and games" section.

Now select this game from search results.

Select "Get" button to install.