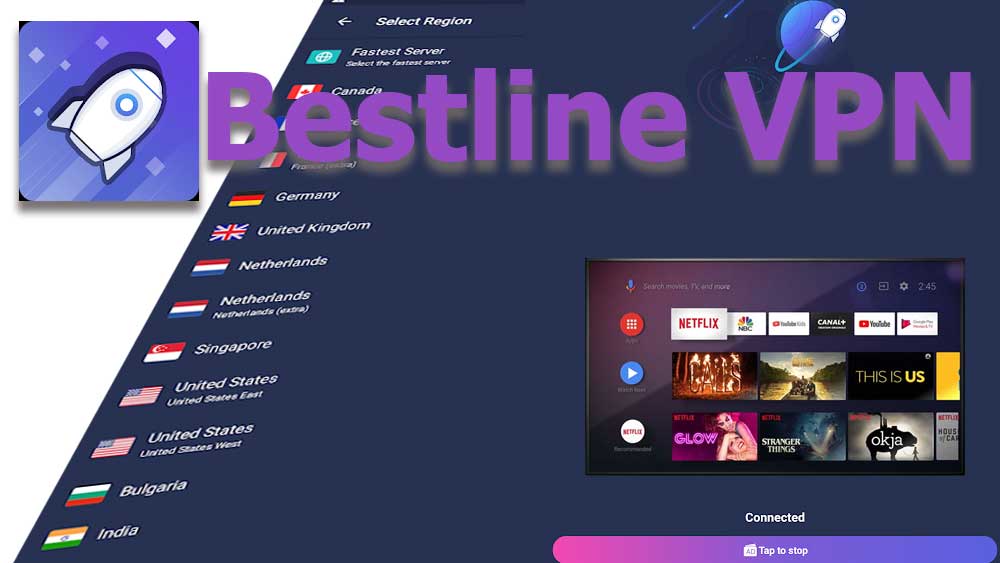 Best totally free fast VPN app for Android TV to unblock all sites, Movies and TV Shows. Use region or country blocked Android TV Movies and TV Shows apps using Bestline VPN TV.
Using only one tap unblock the websites and streaming apps for totally free and experience the best VPN permanently. Enjoy the all contents for high speed. The Bestline VPN TV is for the creation of a secured VPN connection. All connections are encrypted. You can access the connection between smartphones, tablets, and computers too.
The user can be redirected to the Website in any other country. But the Website will detect you as a local browser. The more servers and the more new regions have been added with the latest version of the Bestline VPN.
Features of Bestline VPN for Android TV
Protect your privacy
The user is able to browse any content presented on the internet anonymously. Your true IP address is replaced by your new IP address. Also the users are able to manually mark their own location. So you can select which country you want to enter.
Use for unblocking purposes
As you know many films, TV shows or TV series are premiered only on certain countries. For example NetFlix not available all over the world. Bestline VPN allows you to unlock all those content for free.
Searching anonymously
The content can be searched by hiding your personality. Browse any content by not revealing yourselves to the websites. There won't be any sign left for the browsing experience.
Privacy protective
You are protected under any public WiFi connection. So don't fear that your data and public details will be stolen.
Use virtual IP
This virtual IP address is valid for the games and the application's presence in a certain area. Access them as you wish.
Free
Best 100% free and fastest VPN service for Android TV to watch all those blocked content.
Unlimited feature
A credit card is not required for usage of the app. Plus no point required for the usage. No network traffic for usage. There is no scheduled time, so use it at any time you want.
Simple design
There are more simple designs and along with a more clean design. Every user can understand the procedure of the application. We just need only one tap to connect with the proxy sensor.
No need to create account
No need to create an account in order to use this app. And the registration is not required for the use of this VPN app.
Fast service
There are over 300 servers all over the world. Those are placed on the 10 different locations. The Bestline VPN finds the proxy regions all over the world automatically.
Contain ads
This is a free app to use. Therefore some advertisements are contained here.
Download Bestline Android TV VPN
Till now you won't be able to download this free VPN app directly from Google Play Store for Android TV or Amazon App store. But you can use below method to download and install this free VPN on any Android TV boxes including Shield TV, Shield TV pro, Fire TV Stick, Fire TV Stick 4K, Fire TV cube, Mi Box S, SkyStream, X95 and all.
You can use Filelinked to download this VPN app. Filelinked contain Filelinked Stores with lots of Android TV apps. For that you must have correct Filelinked code. First download and install latest version of Filelinked app on your Android TV and use below Filelinked code to free download your favorite VPN app for TV.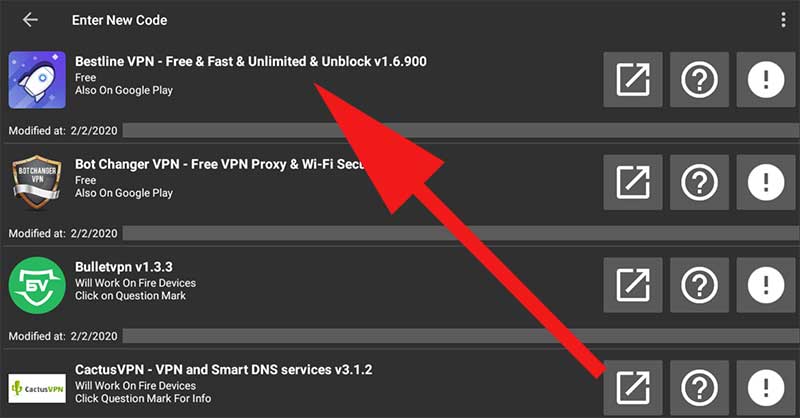 Filelinked Code for Bestline VPN: 81146167
This VPN service receive updates to add new features and to fix existing bugs. Therefore make sure to update your VPN app. Below listed some of the fixes and improvements received over time with updates.
Super quick speed.
Addition of more regions and the servers.
Fixed the crashes and the bugs.
Minor improvements can be seen.