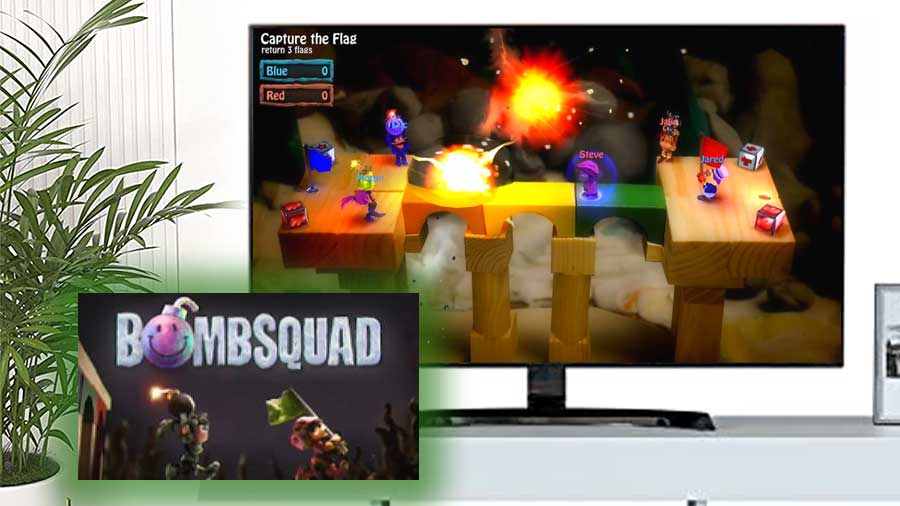 Table of Content
Mini Android TV and Fire TV Game that work smoothly on every TV box and TV stick. Does not need high end TV box to run this game. This Mini TV Game support multiplayer up to 8 friends. Use your game controller connected to TV to play this game.
Fun and Games
Fun and games have been a part of our daily lifestyle and routine since the early century. Getting together with your friends and family for some outdoor activities and other fun programs often helps one to relieve their levels of stress, anxiety, and mental trauma.
Not only does it help boost hormones that makes one happy, but it also allows one to connect with their communities by spending more time together. With the development of technology and the ever-changing fast pace of the world, outdoor games have ceased, and video games have made its way to popularity.
Even though video games have often been frowned upon by the older generations, video games offer a range of benefits to humankind as well. Increased levels on concentration, quick thinking ability, decision making, and other important skills have been enhanced by video games.
Research also shows that many school students who play video games have better levels of concentration and performs better in academic activities than students who do not engage in video games. For all of us who love some action-packed and thrilling adventure, BombSquad has been developed to enjoy our life from wherever we are.
BombSquad Gameplay on TV
The game is filled with fun and entertainment because you get to blow up your friends at the comfort of your very own fingertips. The mini games that are available on the app also involves many multiplayer games filled with explosions. Face-plant physics, insane chefs, ninjas, barbarians, and many more.
The app supports touch screens and also controllers so that all of your friends can join the fun just as much as you are enjoying it. You can use TV remote too. But for smooth and optimum experience connect any supported gamepad or game controller to your TV box.
Throw your bombs and explode your friends to attain victory. Show them who's boss with BombSquad by your side! The features on the game will also make sure you enjoy every bit of the game without being bored for even the slightest second. All it takes is a few bombs to explode your friends to make the most fun out of the game.
No matter which age category you belong to or where you are, all you got to do is install the app and join the world of fun and explosions.
The app is especially designed with interesting graphics and physics that will blow your mind. When you are playing the game, you are guaranteed to not bat an eyelid because it is filled with immense excitement and fun! If you have been craving a hangout or day with your friends and the most fun way to send it, BombSquad is indeed the best solution you need. With the app, you can now spend some quality time along with excitement and action-packed gaming experience now!
Install BombSquad Game on Android TV
This is a free TV box game that is available for free on Google play store. If you are unable to find this game on default app store, try using AppLinked app, FileSynced app or Aptoide TV. You can install any TV game or app you want for free using those free app stores.
Open Google play store and go to search and type "bombsquad". You will see this application on search results like below picture.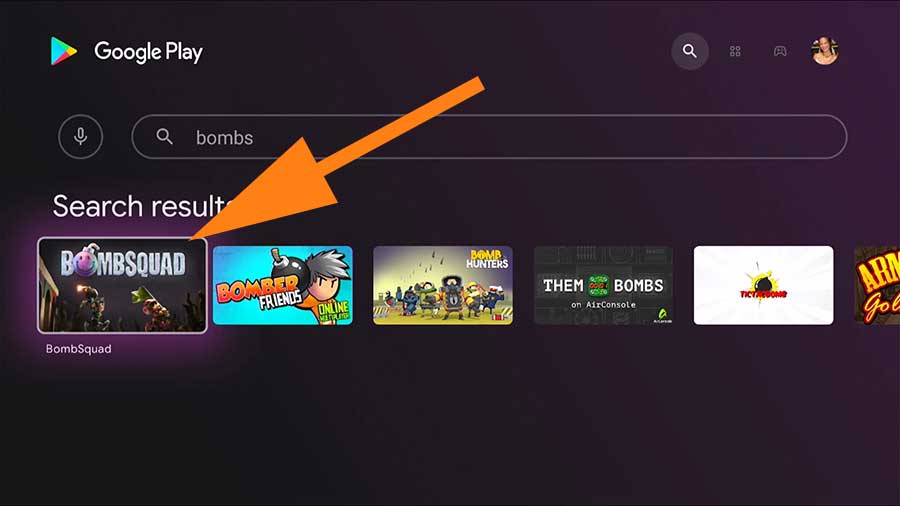 Now select "Install" to begin installation.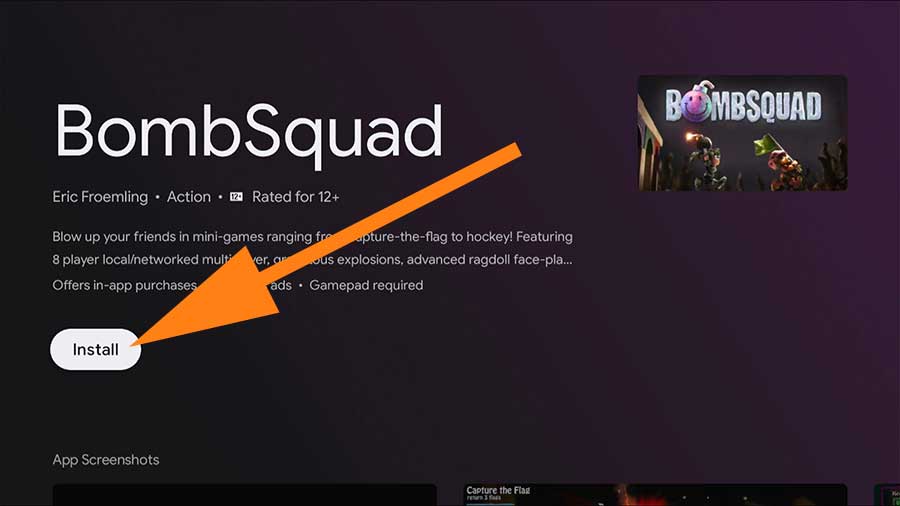 Install on Amazon Fire TV
Below shows how to install this game on Amazon Fire TV devices easily with picture. This game support all most all Amazon Fire TV devices including Omni series, Fire TV stick, Fire TV cube and all.
First open "App Store" application of your Fire TV. Then go to search and type "bombsquad". You will see this game name appear on below your typing like below picture. Select correct game name.

You will see search result like below picture. Select this game.

Now select "Get" to install.