Are you looking for an easy way to cast your Android with your TV? Then here comes a wonderful app Web Video Cast. A nice app to cast your Android with your TV easily. Try this now on your Androids too.
Using this web caster, you can watch anything you like on your big screen of the TV. browse the needed video or the photo on your Android and then cast it in to the TV. It is very easy process.
You can have this Web Video Cast on any of your Android and iOS device including Chromecast, Roku, Amazon Fire TV, Fire TV stick, Android mobile and so many other devices.
What you can watch by casting?
Here this is good for watching any type of media files. Especially movies and TV shows. we all love to watch movies and shows on a big screen. With the help of this Web Video Cast you can easily cast your favorite movie by browsing it though your Android mobile.
You can watch movies, shows, live streams, news and sports live, audio files, photos and so on.
How to cast your video?
Casting the video is a very simple process. First you have to browse the video, audio or the photo on your device. It is better to play the video or the audio on the website itself, or if it is a photo your can do a long press. Then connect to your streaming device. Very simple and easy.
Features of the Web Video Cast
This app acts as web browser itself.
In here there are no any ads popping up time to time.
If you want you can add bookmarks also.
You can add subtitle track also with the help of the app.
there is an option to download the videos also.
You can view the search history as well.
Can make a queue according to your order of preferences.
This app can identify as one of the best apps to cast your video on your TV or the streaming device. Can have lot of fun and joy thanks to the app by watching your favorite video in a favorite way.
Download Web Video Caster for Android TV and Fire TV
This is one of the best and easily working video casting application available for Android TV devices. Support all most all Android TV devices including Nvidia Shield TV, Shield TV, Mi BOX S, Mi TV Stick, H96 MAX, H95, Google TV like Chromecast and all Amazon Fire TV devices.
If you have Android TV device that support Google services, you can use your default app store, which is Play Store to install this application easily. For Amazon Fire TV devices like FireStick, Fire TV stick, Fire TV cube and Android TV boxes without play store can use Filelinked apk or Aptoide TV.
How to install Web video caster on Android TV? Here we are using Play Store application to install this app. First open Google play store application.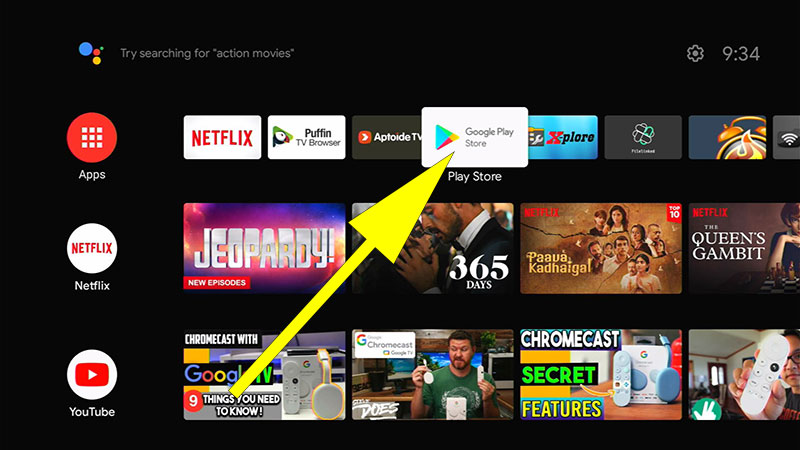 Go to search and type "web video". You will see this application appear on search results like below picture. Select it.

Click on "Install" to begin installation.