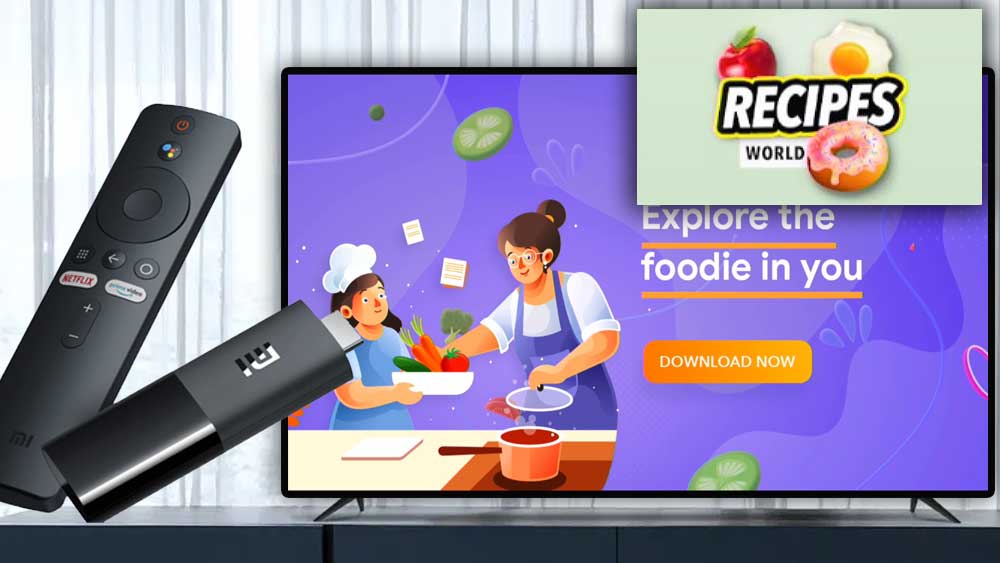 Using a TV is the best and easiest way to read and do cooking using a recipes. Because it is so hard to read recipes on your mobile phone. Phone get automatically lock and need to unlock every time when you need to read recipes. Now you can use Android TV, Google TV or Fire TV to see all your cooking recipes with the help of CookBook Recipes for TV app.
Easily navigate and swipe between cooking recipes using your Android TV remote. Support all most all Android TV boxes including Nvidia Shield TV, Mi TV stick, Mi TV box, Fire TV, Fire TV Stick, Chromecast and all.
Cooking Recipes
Food has been identified as one of the basic needs of survival since the very early days. And cooking is the activity that helps one create food. Dating back to the ancient days, cooking was just merely a necessity. However, with the evolving world, people tend to experiment with cooking, trying out new recipes, spending more time in the kitchen creating recipes, etc.
learning to cook not only helps you understand different customs, cultures, and flavors of food, but you also learn essential life skills such as a nutritious diet planning, budgeting, cleaning and many more. Studies have also shown that spending more time in the kitchen, engaging in fun and exciting cooking, can help one to ease their levels of stress and restlessness while enhancing their mindfulness, and concentration.
Have you ever just cooked or baked something and felt instantly relaxed and in a good mood? That is because the process of cooking, enhances happiness and eases your stress. Now for some good news to all you cooking addicts! Riafy Technologies have introduced 'Cookbook Recipes', a platform that contains millions of free recipes from across the globe for all android users.
CookBook Recipes App for TV
The app not only provides you with exciting recipes, but it also helps you plan your meals, teaches you how to cook these amazing recipes and also store your favorite recipes so you can always check them out offline! Getting food has become one of the easiest tasks in the modern world, just tap on a food delivery app and voila its going to be on your doorstep.
But nothing beats the joy of preparing a well home cooked meal with your own hands. With Cookbook Recipe, you no longer have to hesitate to make the perfect meal. All ingredients and quantities will be mentioned accurately for your pleasure.
The app also includes videos of step by step preparation so you can obtain a clear understanding of what's to be done while you're at it. And that's not it! You can also prepare a grocery list before you go out shopping, so you'll be saving precious time off of your schedule. With the app, not only do you get to prepare your favorite meals, but you can also choose to prepare healthy meals that will add nutrition to your life.
So, with Cookbook Recipes, you can come up with tasty, healthy, and super innovative meals that will make your day! So, if you have a passion for cooking, or just simply looking out for a healthy eating lifestyle, Cookbook Recipes will sure be that companion and best friend you never had. After all, you know what they say about cooking, "The secret ingredient is always love and joy".
Download CookBook Recipes app for TV
This is a Android app that can be easily installed on any Android TV box, Android TV stick, Fire TV, Fire TV stick and Google TV. First try to install this application using your default app store. If you are unable to install this application using your default app store like Play Store TV or Amazon App Store, you can try using alternative methods.
Use AppLinked, FileSynced or UnLinked to install this application on any Android TV. For that you have to find TV code for this application. Click below link to find store that has this app.
How to install on Android TV
First open Play Store TV application. Go to search and type "cookbook recipes". You will see this application appear on search results while typing like below picture. Select it.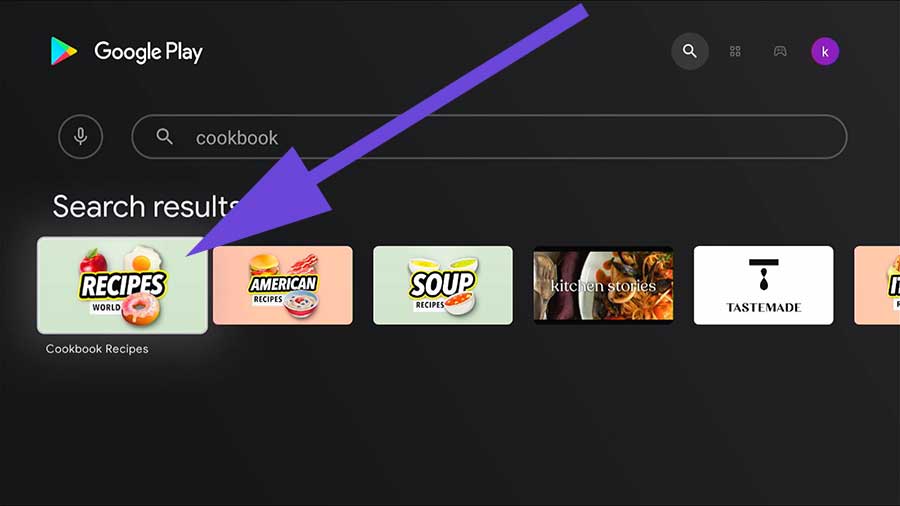 Now select "Install" to begin installation.