One of the best and interesting easy to play Android TV game. A very simple game that can play using TV remote and seems quite interesting. That is the game Crossy Road TV. The only thing you have to do is to keep going along the path, but you have to avoid meeting accidents on your way. There are different characters who need your assistance to cross the road safely. It is free to play and you can download it easily from the Google Play Store. The game is addictive and I am sure this game Crossy Road is one of the best games for your Android TV, Google TV and Fire TV to play in your leisure time.
Crossy Road Gameplay
You will meet different vehicles like cars, vans, trucks and also trains on your path. You have to avoid all these obstacles and should secure a safer passage. The player has to cross the rivers or the water ways running by using some logs that floats on water. You have to hop on these logs to cross it. Along your journey you can collect some coins too. Keep going and going forever by dodging the obstacles facing.
You can control the game very easily. Use TV remote Up, down, left and right buttons. If you want, don't hesitate to take a step back for your safety while playing the game.
Features of Crossy Road Android TV
The gameplay consists of so many interesting different characters to choose from including Chickens, Pigeons, Cows, Horses, Kangaroo and so on. Some of these characters need to buy. But for a small cost.
There are different locations that suits with the character you are going to choose. This can also play in your large screen of the Android TV.
Moreover, you can play the game by you or with your friends or the family members in one device. It will give you endless fun and joy with this multiplayer mode.
The game is really nice with the sounds of the vehicles and also the sounds of the character you choose. The chuckling sound of the chicken makes me laugh. The graphics of the game are also cool. Most of the Cross Road players really loves these features of the game.
So, have this in your Android TV too. This seems like a new concept but is really fun and addictive. It is worth to try in your leisure time too.
Download Crossy Road TV Game
Installing this game is very simple. This game available on Android TV app store or play store. Support all Android TV boxes including Nvidia Shield TV, Shield TV pro, Mi BOX S, MI TV Stick, X95X and more. You can install this TV game on Fire TV devices like firestick, firestick 4K, Firestick lite, Fire TV cube and all using Amazon App Store or Aptoide TV. Therefor no need to install third party apps get this game. Both Android TV and Fire TV support this game via default app store.
Here we are discussing installation procedure of Android TV using play store only. First open play store app.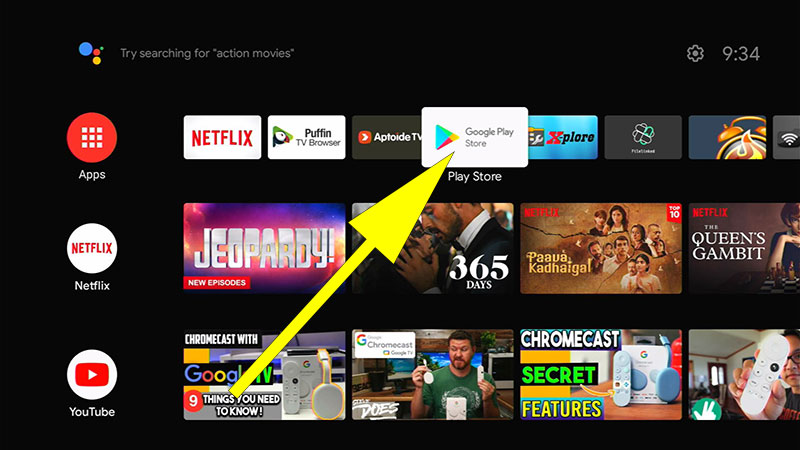 Go to search and type "crossy". You will see this game appear on search results like below. click on it.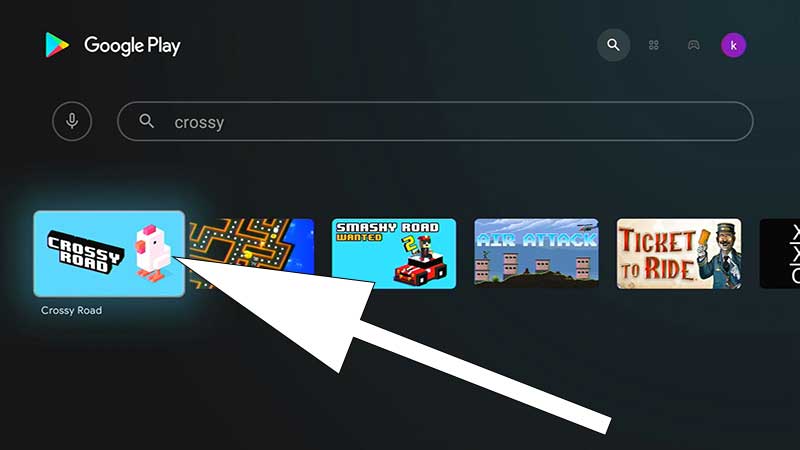 Now select and press "OK" on install button to begin installation.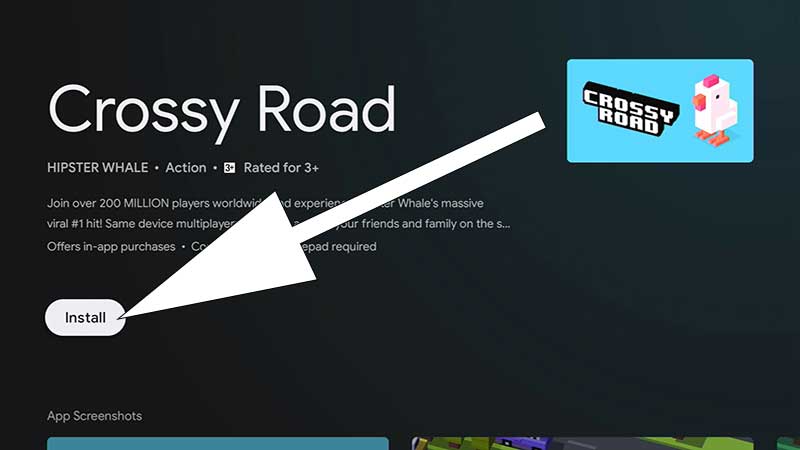 Enjoy simple light weight games on your TV. You can use Applinked, Filesynced or Unlinked to install this game if are you are unable to install this game on your TV box.
Install Crossy Road Game on Amazon Fire TV
You can play this game on all most all Amazon Fire TV devices including Fire TV Cube, Fire TV Stick 4K, Fire TV Stick Lite and all. First open Amazon App Store application which is at the home screen of your fire tv. Go to search and type "crossy road". You will see text suggestions like below picture. Select appropriate suggestion like below picture.

Now you will see search results like below picture. Select the game.

Now select download icon to begin installation.