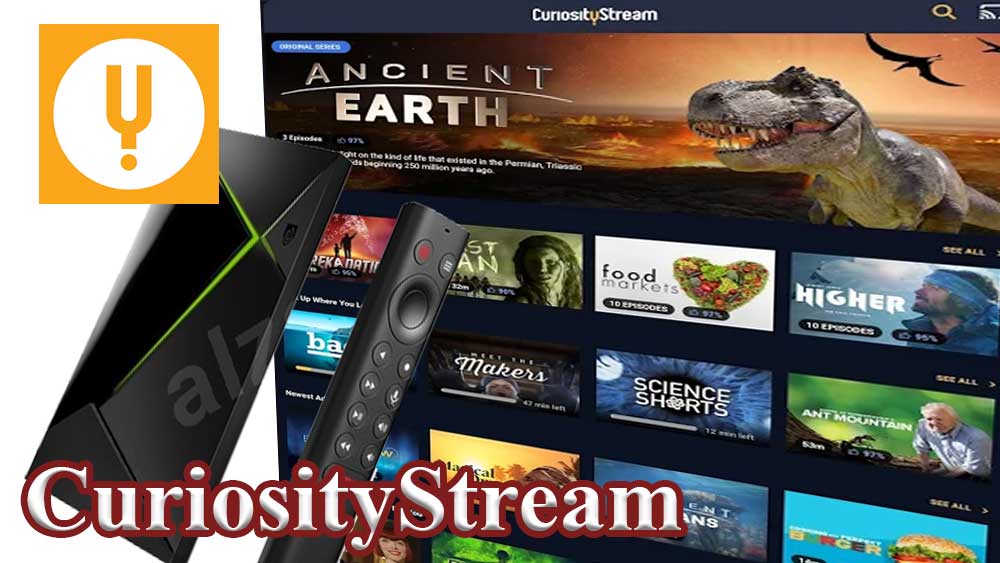 The curiosityStream for Android TV is a on demand streaming service. But the main purpose of the above streaming app is streaming the documentaries in HD. There are more ranges of documentaries. Some of them are about science. And some can be history. Like that there are more titles for them. This is the first HD documentary streaming app. In the above app there are records of normal documentaries as well as award-winning ones.
This documentary streaming app for Android TV weight around 15 MB. Downloading and install on your Android TV will not take much space and internet data. You can easily download it from your home WiFi. This app was developed and distributed by CuriosityStream Inc.
Features of the CuriosityStream TV
You can find a wide range of documentaries like the award-winning ones.
Provide unlimited streaming once you registered.
New and best documentaries are keep adding to provide unlimited entertainment.
You can use the app anywhere anytime on multiple devices.
Watch documentaries or Video in HD quality.
You can browse the titles of the documentaries .
The search tool helps you to find the most suitable documentary for the area which you are searching.
You can sort out the things that you wanted.
You can keep bookmarks for the special records for you.
Above listed only few features. You can experience all the functions and features when using. Recent updates to this app has some improvements. Below listed some of them.
The existed bugs have fixed.
Some minor improvements can be seen.
You can listen to the contents while in the background mode.
You can stay curious with the above app.
The app is rated for the 3+ mainly. Just like other streaming services, this app too come with advertisements. Hopefully those popup ads are not fully distract you from using streaming service.
Install CuriosityStream on Android TV and Fire TV
You can install this best documentary watching app on all Android TV boxes if it is not supported. Before trying below method check whether you can download and install this app via Play Store for Android TV.
If you are a Fire TV user you can try Amazon App Store. Click here to download via Amazon App Store
If above methods does not supported you can use below method. Here we are not using Filelinked. Because Filelinked does not have latest version of this software. Therefore we are using Aptoide TV. Aptoide TV is too like Play Store with bunch of Android TV apps and games.
1. First download and install Aptoide TV. Follow below mention tutorials to install this app.
Install Aptoide TV on Android TV
Install Aptoide TV on Shield TV Pro
Install Aptoide TV on Fire TV Stick and Fire TV
2. Now open Aptoide TV app and click on Search icon like below.

3. Now type " Curiosity" and click enter on remote or keyboard on TV. You will app in search results like below.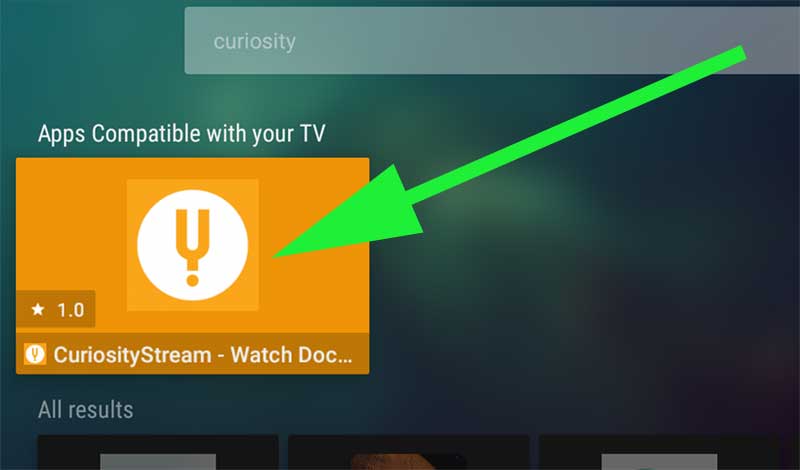 4. Click "Install" to begin installation.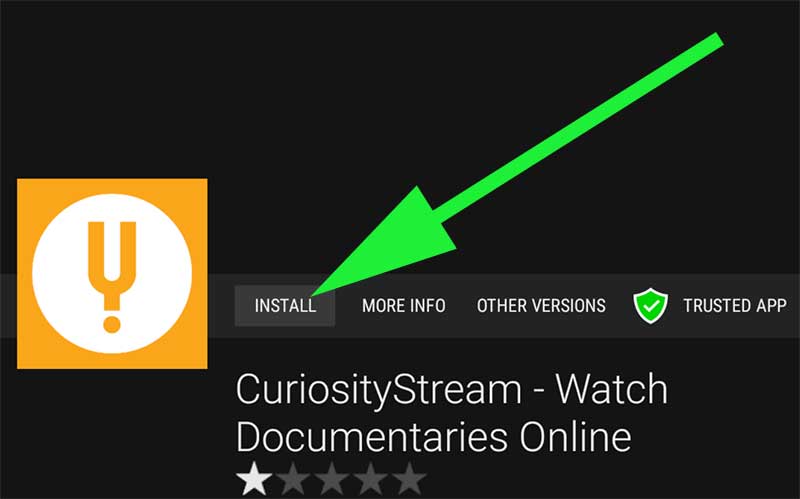 5. You can use any free VPN if you region isn't supported.
How to install CuriosityStream on firestick
Install this application on any Amazon Fire TV devices including Fire TV stick Lite, Fire TV stick 4K, Fire TV Cube and all. First open App Store of your Amazon Fire TV devices and go to search. Then type "curiosityStream". You will see this application on search results like below picture. Select it.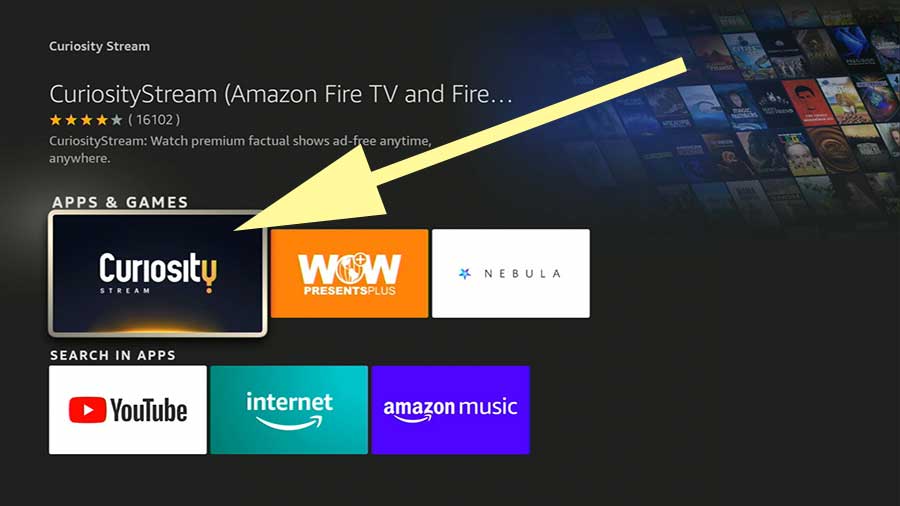 Now click on download icon like below picture to install.