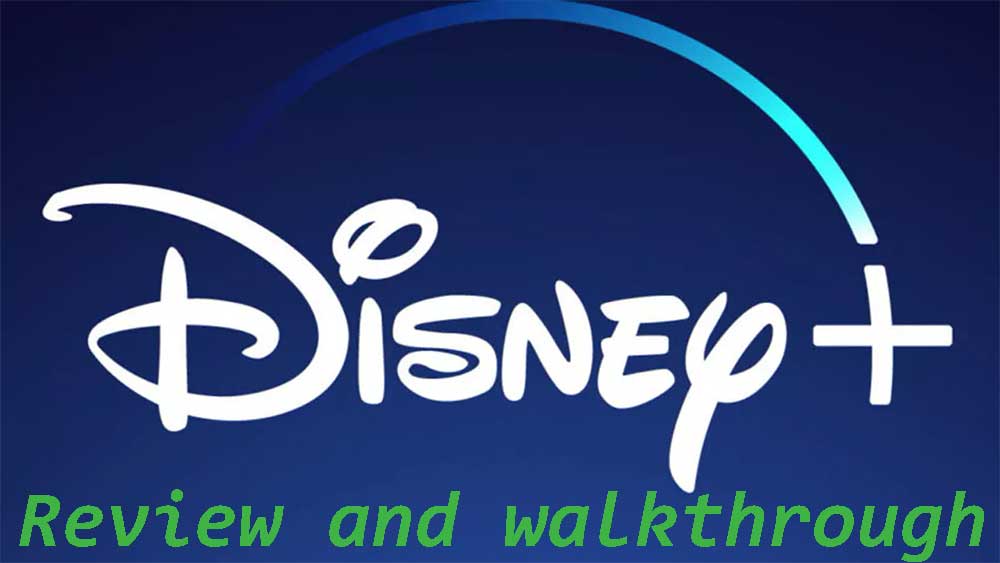 Disney plus is one of the newest streaming app added to Android TV. It is not a free service. However you can try free trial before buy. Available on Google play store and amazon app store for Fire TV devices.
Not only Android TV devices it support all Android phones, tablet, IOS devices including iPhones, tablets , XBOX, PlayStation, Roku devices, LG smart TVs and more. This app not available on all countries. Before download make sure Disney plus service available on your country.
Content:
Disney Plus review
Disney+ have all of their originals, new star war series and wide varieties of endless movies. In the home screen you can see carousel or few moving banners with latest movies. Below that you can see movies collections of
Disney
Pixar
Marvel
Star Wars
Nation Geographics
Below them some random Disney originals and other movies appear when you scroll.
In menu section of Disney plus you can see:
Profile
Search
Home
Watchlist
Originals
Movies
Series
Settings
Kids Profile
You can create accounts for kids using this app. Lets see how to create Kids profile. For that open left menu.
Step 01: There you can see image with a name "Profile". Click on it.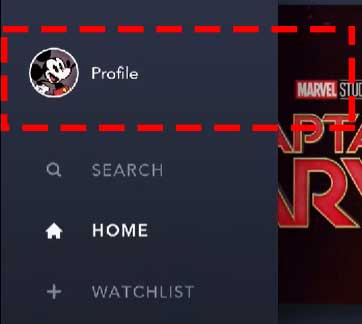 Step 02: Now you can see Add Profile button. Click on it.
Step 03: Now choose profile icon.
Step 04: Add kid Name
Step 05: Enable Kids Profile. See below picture for more clarification.


Step 06: Click "Done" to create Kids profile.
Search
This app provide easy to use interface for searching. Specially for smart TV users like Android TV. They majority of Android TV users have to use their remote make a search. So this app has more interactive search when compared to other apps like Disney plus. You can search by:
Title
Character
Genre
In search section of this app you can see "Explore" section under search area. If you does not know what to search check those explore categories to find the content you are interested.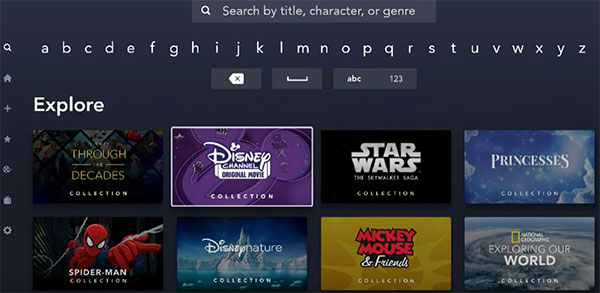 If you click Star Wars section under explore section you can see all star war movies.
Watchlist
You can create your favorite list of movies that you want to watch later or re-watch. You can access your watchlist from menu. You can add any TV series or Movie to watchlist. So it will be much more easier to access. If not you have to search to find the movie or TV Series you want to watch.
You can simply add any movie / TV series to watchlist. For that open any movie or TV series you like. Next to the play button you can see plus button like below. Click on it.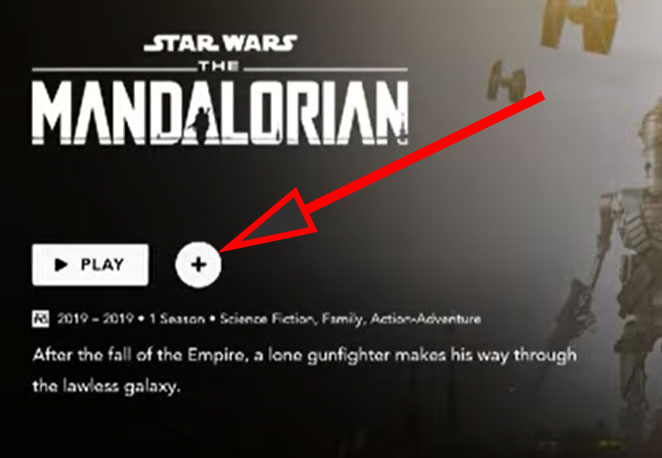 Now you can see that movie or TV series listed under watchlist.
Originals
In originals section it shows all Disney+ originals. It is like Amazon originals, Netflix originals, Apple TV originals. For now Disney has few originals listed. Sure that list grow with time. Many people show interest in Star Wars Mandalorian.
Settings
In settings there is no much in it. So no confusing settings like other apps. No much to do with settings. No customization or any fancy stuff. It just show Account information, Help, legal information and option to logout.
For help you have to go to https://help.disneyplus.com. It does not show help documentation inside the app.
Subtitles on Disney Plus
You can easily add subtitles. Be default many movies and TV series found in Disney plus has subtitles of different languages. Enabling subtitles is every simple. Just open the content you want and play it. On the top right corner you can see button like below. Click on it.


Now you ca see list of languages appear. Select the language you want. That's all.


Change audio
Ability to change audio is one of the best cool feature I saw on Disney Plus. Actually you can change the language they speak. For example you want to change the language speak in Star wars TV series to Deutsch you can do that with Disney plus. Not all movies and TV series support all languages. But it provide main and available languages at one place.
In order to change audio click on the top right corner button appear when playing the movie just like we do with subtitles. Now subtitles appear. Next to subtitles you can see "AUDIO" button. Click on it. Now you can see available list of languages that Movies or TV Series available.


I just covered whole Disney plus app as much as possible. If you want to know anything apart from the things mention above feel free to leave a comment.
Current Issues and bugs
Please note this list is last updated on April 18, 2022.
Most subscription users complaint that this app is too slow.
Some times it takes longer than usual to load content.
Shows different error codes at different time making this app more buggy.