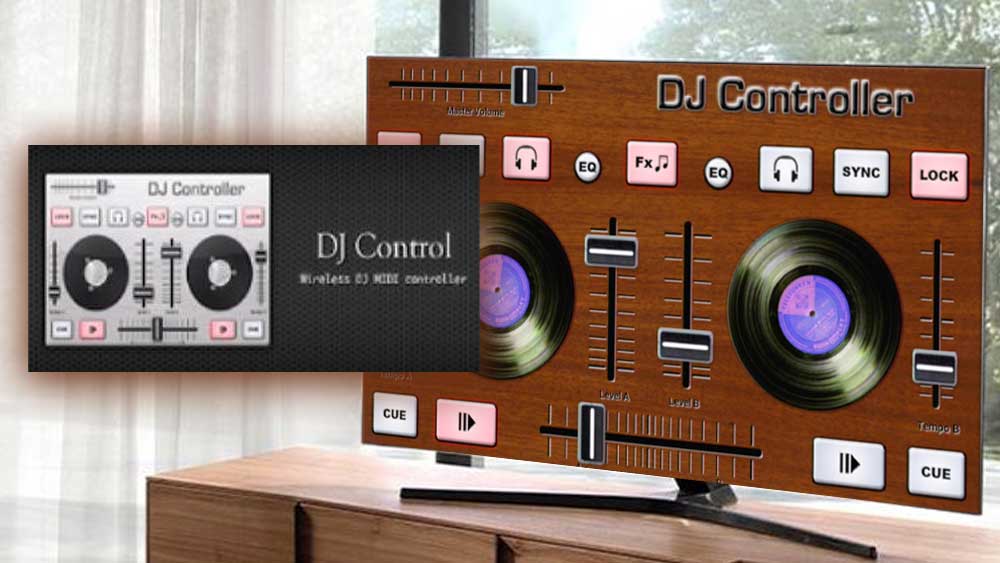 This is a DJ app for TV. You can install this DJ control app on your Android TV, Chromecast or Fire TV. Has all the basic features with equalizer. Remix your favorite songs and more now using your TV.
Music has and continues to enthrall most. Interest in music begins from tender age. This is to be seen. From nursery to higher school music is a curriculum subject. The amazing thing about music is its tune changes as per country and culture. Western and Oriental are examples. Music that originates from each of these are differently unique to each other, enjoyed by millions of people around the globe. Music is also well recognized and accepted by people as one of the best ways to bring in a most soothing effect to calm a stress. On a personal note, yes, I agree on this, as music does relax me anytime, anywhere. To bring in more options and variety to all the music lovers, a well thought and designed smart app is out there for grabs. It is the well patronized DJ Control Smart App. Here's what this smart app will part with to all its users.
Features of DJ Control TV app
To start off, if anyone will pause and wonder if DJ Control would be a set back as one doesn't have DJ capability not to worry. DJ Control has made sure with the smart app's easy to use features set in the most desirable interface will allow each and every user access and to make the music in the best of quality without any bother, to dish out the ultimate listening pleasure.
DJ Control scratch feature allows a rough playthrough of a song or a section of it. With this, the user can determine the best back up, music mix to add to that song. This way bring in to harmonize your favorite songs, with many mixes of music that will continue the listening pleasure, over many times. DJ Control's control panel, functional keys are modest. Each key will bring in its characteristic quality to the best. Knobs to control bass, mid, treble, FX 1 and FX 2.
Sliders to adjust and control volume from low to max. Buttons with one touch to play, pause and sync. Rotary Encoder Button to browse music collection and select songs. After selecting, blend different music tracks and create a new re-mixed track or several tracks to keep the favorite song/s to be novel all the time. Share with friends and make them amaze too. Don't be surprised by comments such as " Hey this song, I have not heard better than this before. What's up ? and how come ?"
With DJ Control Smart App all of its users will automatically become professional DJ controllers, with its simple and easy to use features and give out the best of DJ manuarability. This will be a new experience in enjoying the music made to suit you the way you want. Not only will the users of DJ Control Smart App enjoy the music but with those amazing manuarability of the smart app's super features will bring in all the thrills as well. Guaranteed and assured the best way to relax with music by none other than DJ Control.
Install DJ Control app on TV
If you love to remix or DJ then this is the best app for you. You can try all the DJ controls now on your Android TV or Fire TV with this app. If you are not able to install this app using default app store, you can use Aptoide TV, FileSynced, Applinked or Unlinked. Those are the most popular third-party app installers available for free. First try below tutorial to install DJ control app on your Android TV.
First open Google play Store TV app and select search icon. Now type "DJ Control". You will see this application on search results like below picture. Select it.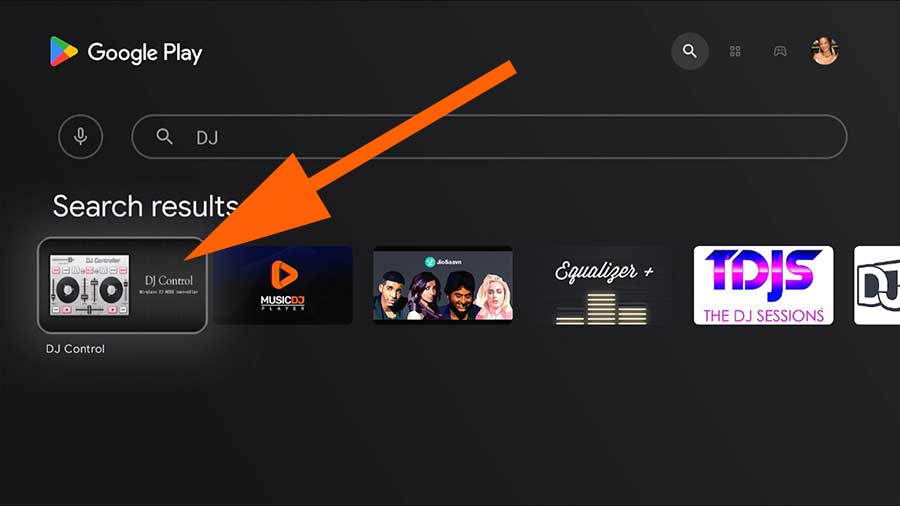 Now select "Install" to begin installation.