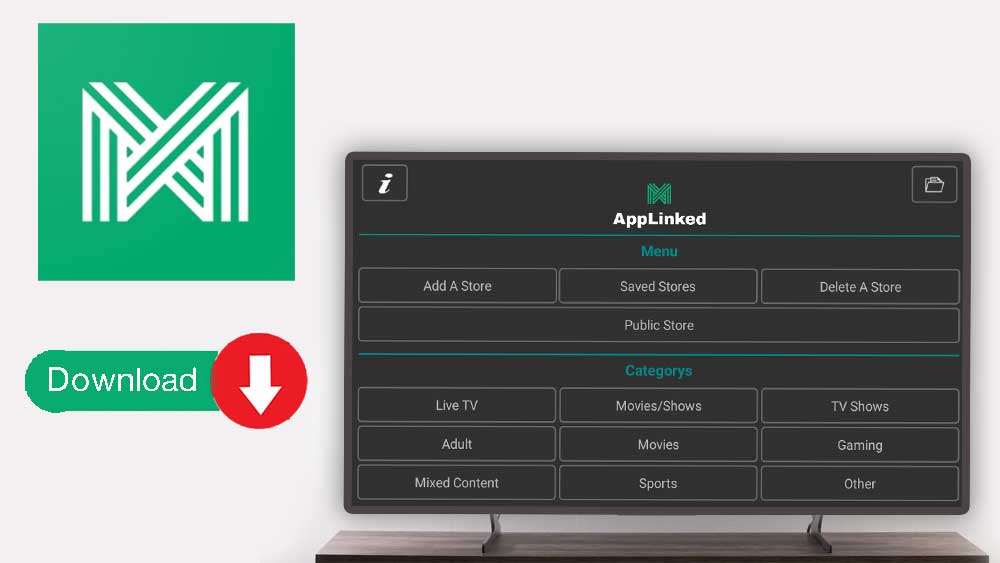 It is so much easier to download and install this application on Android phones and tablets. But it takes time and tutorial watch time to install this app on Android TV and Fire TV devices. Because it is so hard to use web browser applications to download apk files. That is why TV app stores like Applinked was used. But you have to use traditional way to install Applinked app store on your TV.
Click here for how to install Applinked on Android TV tutorial with pictures.
If you know how to install Applinked app click here to download Applinked. It will be easier and simple to install all other apps and games you like on your Android TV with this app store.
About Applinked App
App installing or sideloading on Android TV and Fire TV is hard. It takes ever to enter long and hard to remember download URLs on a web browser with TV remote. What if you want to install three or four applications on your TV. It will be a nightmare of repeating long process for every application.
Some web browsers like Downloader and open browser provide virtual mouse pointer to make website navigation easier. But it is hard to target correct buttons using buttons on TV remote. There are many solutions were developed to ease app installing on TV. Using a apk installer or App store like Applinked, Filesynced and Unlinked avoid browsing and search apk files on websites. Applinked and Unlinked are the mostly used TV app installers.
With Applinked, no need to enter long URLs to get apps. You have to enter 8 digit long code to download or access app stores. There are many user created TV app stores within Applinked. Most of those public TV app stores are full of free Movies, TV shows, Live TV, sports, games and news apps that are not in play store or Amazon App store.
People search apps and games outside the play store and Amazon app store for better solutions or free apps for their needs. It is hard to do with smart TVs. Users like you on internet creates free app stores using applinked and create a collection of those demanding free streaming apps that are not in play store. You will definitely find what you want on those stores. Click here for list of popular Applinked codes.
You can use your PC or phone to create your own Applinked store. Download all the apk files you want using your PC or phone and upload them to your store. Use Applinked code to your store to install. You can share your app collection with friends and family members.