| | |
| --- | --- |
| Name: | FileSynced |
| Version: | v3.2 |
| Size: | 4.23MB |
| Type: | TV App Store |
| Last Updated: | 29th April, 2022 |
| Package: | com.filesynced.app |
| Downloader Code: | 443720 |
How to install FileSynced on Fire TV and Android TV
Official site of FileSynced is filesynced.com. You can contact them using that site for any inquires.
Version 3.2
Several bug fixes.
Improved performance.
Version 3.1
Fix bugs and issues on version 3.0
Fix installation bugs and more.
Version 3.0
New features added. Now you can enter direct app download links you found on internet to download apps like you do on "Downloader" app.
New favorites feature to add your favorite codes
Improved performance and certain bug fixes.
Please note that version 3.0 has issues. All the issues are fixed. If you experience any bugs and issues please update your app.
Version 2.0
There is not many interface changes on home screen. You will see "Settings" options on home screen.
Now you can sort trending FileSynced codes by "New", "Month" and "Total Hits".
Shows FileSynced stores with logos
Has new notification panel.
The best Android TV app store to install Apps and games on your Android TV box and Fire TV devices easily. Access hundreds of FileSynced stores using public FileSynced codes. No need to find best and trending codes on internet like Filelinked, AppLinked and Unlinked. FileSynced shows all the trending codes within the app.
For injuries and other issues please visit official website:- filesynced.com
How to install FileSynced on Android TV and Fire TV
You can't use Play Store for TV boxes and Amazon App Store for Fire TV devices to install this application. App stores are not allowed within app stores. So you have to use "Downloader" application.
First download and install latest version of Downloader
Enter below code on Downloader URL.
443720

FileSynced Downloader Code
Now you will redirect to FileSynced download page. Scroll down and find download button. Click to download.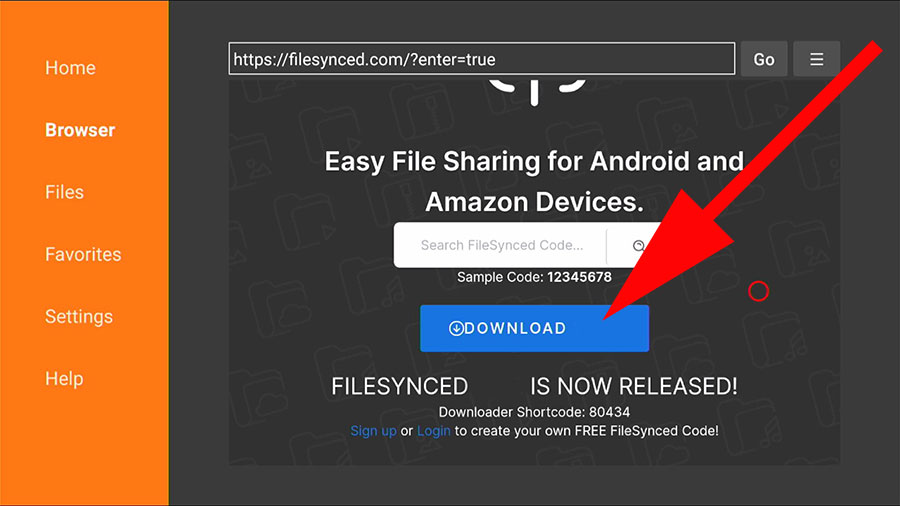 You will redirect to Filesynced download website. Use your TV remote arrow keys to navigate and find download button. Previously available direct downloads are removed from official site.
But none of above is like Filelinked. So now its time for Filelinked clones. AppLinked was release earlier than FileSynced. AppLinked received so many popularity in very short period. But they were not quite ready. Many bugs and issues. Most of the codes entered say "not found". Has interface similar to Filelinked.
FileSynced for TV BOX
To this date this application perform well on every Android TV box including Nvidia Shield TV, Shield TV pro, Mi BOX< H96 Max, SkyStream and Amazon Fire TV devices like Fire TV stick, Fire TV cube and all. Easy to navigate home screen using TV remote make it easier to find and install streaming apps you love easily. No need to search whole internet to fund best and trending FileSynced codes. Because all trending codes can be find within the app. Visit those trending TV app stores to find new and interesting Android TV box apps.
There is no many news about this application. For now it is not release. we hope to see how it work compared to Filelinked and AppLinked. What ever the application release to replace Filelinked, those applications must attract reasonable amount of users. It may take time.
People should create FileSynced stores on their servers and add TV apps and games. Then Filesynced codes received for those FileSynced stores are shared among Android TV and Fire TV users. Growing process will not be easy since there is too much competition in the process of replacing Filelinked.