We all know that exercises are a must that we should practice in our day today lives, if we need to have a healthy life. There are various ways and types of exercises we all can practice. Here is a nice gift for the ones who loves to do exercises in a different manner than usual. That is the app Gymondo. Download this nice app now in your Android or Android TV box to experience a newer thrill of exercising.
Practicing Fitness and Yoga exercises in front of TV make it easier. Not like using your phone. You can see all the movements in bigger screen. Best app for Android TV box.
Gymondo Fitness App for TV BOX
Gymondo is an app that help you to succeed in fulfilling all your dreams. Together with a healthy life we all like and love to own a shaped body. If you want to burn your excess fat, or if you want to get six packs with a well-shaped body and if you like to know about healthy diet plan then this is the best platform for you.
The app is free and you can download Gymondo very easily from any App Store including Google Play Store, Aptoide, AC market, Filelinked, Aptoide TV and so on.
Collection of fantastic tips and workouts to lead a healthy life and I think now a days it is a must to have an app like this with you at every time. Very easy and simple to use. No matter where you are. You can still engage in your favorite exercise sessions without paying anything for a coach and a gym.
What this offers you?
Through this cool app you can have access to numerous exercising methods. These includes:
Yoga Sessions
30+ fitness programs
Motivating workouts (about 300+)
Dancing Sessions
HIIT (High Intensity Interval Training)- Good for maintaining the body shape)
Pilates
Features of the app
This includes different types of workouts. They all are very fun filled but are definitely effective in attaining your goals.
Each of these exercises' sessions are very short and sweet. For each session it takes a time lesser than half an hour. Most of the sessions are lasting about 15 minutes.
This is a personalized app where you can set your profile in manner that helps you to attain your goal within a very short period of time.
In here there is nothing to worry about the safety of the each and every exercise. Because of the routines and the workouts included here are certified by the professional instructors. So, no need to worry about the side effects of exercises included here.
If you want to know about the proper diet plan that suits you then you can know that simply through this nice app. There are thousands of healthy recipes included here and they are very easy to follow also. If you face any trouble when using the app like getting stuck and slow then the only and the best thing you can do is to download the best clean app Clean Master Apk for free.
Download Fitness – Exercise app for Android TV BOX for Free
Gymondo available for all Android TV Boxes for free via default app store which is Google play store. For Amazon Fire TV devices like Fire TV stick and Fire TV cube can use Amazon App Store. However, there are many other TV boxes without play store services. You can use AppLinked, FileSynced, unlinked or Aptoide TV which are the best available Android TV app stores to install this app for free. Below describe how to install Gymondo on your Android TV box.
First open Google play store application.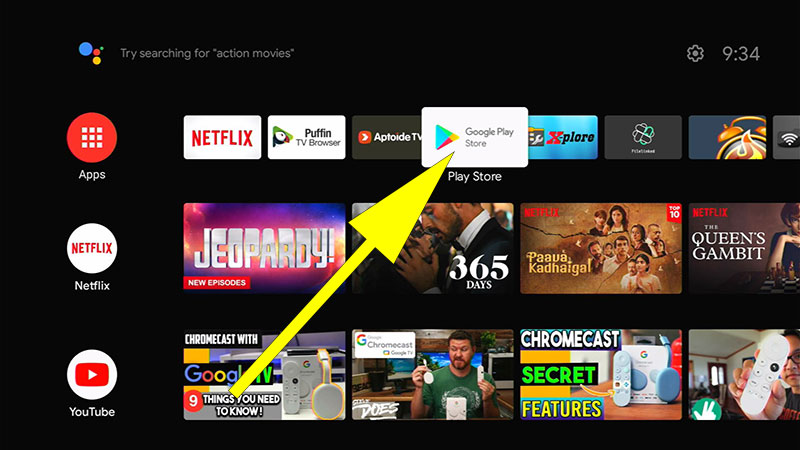 Go to search area and type "Gymondo". You will see that this app appear on search results like below picture. Select it.

Now select "Install" to begin installation. That's all.

Install Gymondo Fitness and Yoga app on Amazon Fire TV
This Fitness and Exercising app support all most all Amazon Fire TVs including Fire TV Cube, Fire TV Stick, Fire TV Stick 4K, Fire TV Stick lite and all. First open Amazon App store application of your Fire TV. Then go to search and type "gymondo". You will see text suggestions while typing. Select correct suggestion like below picture.

Now you will see search results like below picture. Select Gymondo apk from search results.

Now select download icon like below picture to begin installation.