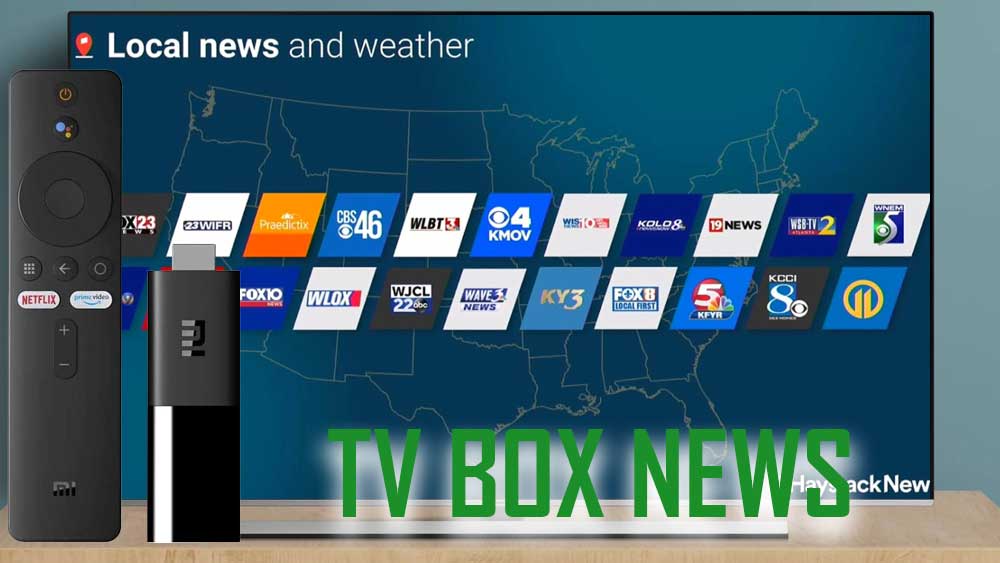 We all want to know about the daily updates about the special circumstances occurring on our own nation as well on the globe as a total. There are various means where we can know the news we want to know. Most of the time we are watching the traditional cable TV to know the news. But there is a special mean to know all the local and international news. Best local and World News app for Android TV box and Fire TV.
What is Haystack News?
If I say simply what this Haystack News is, I can say that it is one of the best news streaming apps that you can have in your Android TV BOX. No matter where you are and at what time you can stream for the news pieces that you interest very easily. And especially for free.
As this app is free you have to face a small obstacle here. That is there are some advertisements that you come across while watching your favorite news item. But if you can bear the disturbance then this is the best news app you can have for free.
Local and World News app for TV BOX
The app includes all most all the pieces of news from each and every category you need to refer. There is more than 300+ news channels included here which enrich you with the local and the global news instantly.
Here you can select the categories that you are interested including trending global and local news, entertainment news, science and technology news, SciTech news, political news, sports news, business news and so on. Even you can watch some late-night shows which are popular all around the world.
When you select the preferred categories then you can take daily personalized list of news through your app.
Here are some of the channels you can watch through the app. ABC news, AP, CBSN, CBC, Euro news and so on. The other thing that I would like to state is that these all-news sources are very trusted ones. No need to worry about the accuracy of the news that you are watching through the app. The app connects to the most trusted news sources truly. Some of these trusted news can state as CNN, BBC, NLF, NBA and so on.
Download Haystack News for Android TV BOX
This is a free TV BOX news application. You can install on any Android TV box like Nvidia Shield TV, Shield TV Pro, Mi TV BOX, Mi TV Stick, SkyStream and all using Google play store. For Amazon Fire TV devices like Fire TV Stick, Fire TV Stick 4K, Fire TV Stick lite, fire TV cube and others can use Amazon App store. Which is the default app store for all Amazon fire TV devices.
Below describe how to install this app on Android TV box using play store TV app. First open Google play store.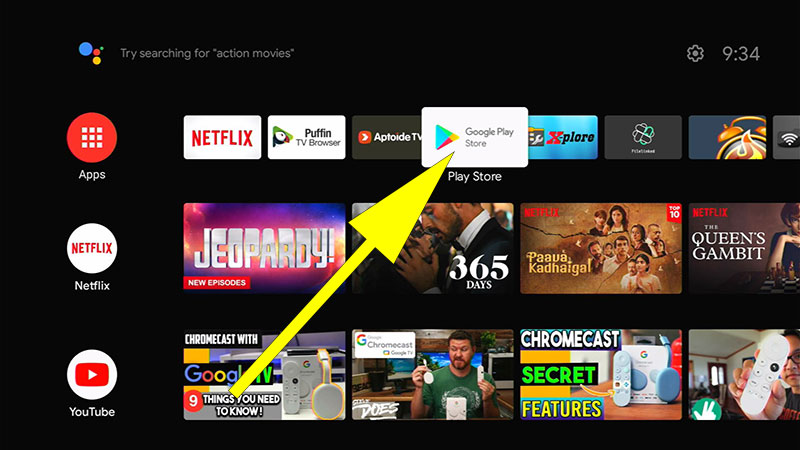 Go to search section of play store and type "haystack". You will be able to see this application on search results like below picture. Select it.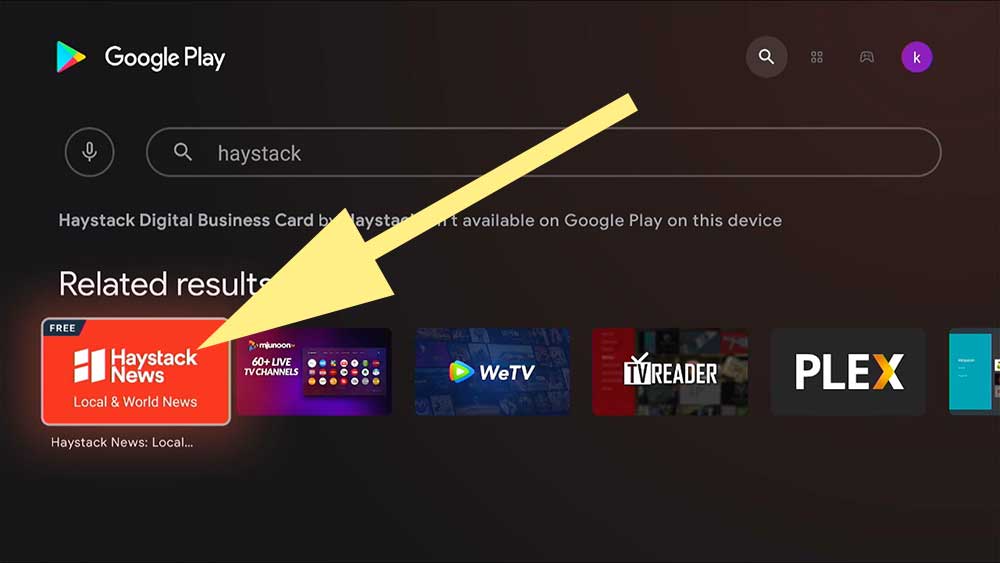 Now select "Install" to begin installation.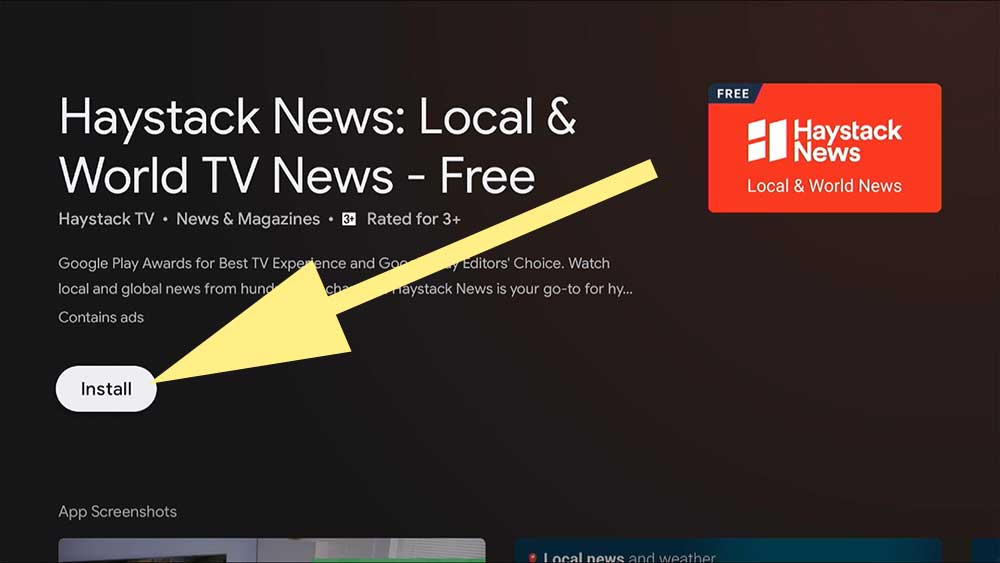 There are many Android TV boxes without play store services. For those devices you can use Applinked, Filesynced, unlinked or Aptoide TV. Aptoide TV is the best available choice to install apps away from play store.
Install Haystack news on Amazon Fire TV
This is a free local and news application for Amazon Fire TV devices. Support all most all Amazon Fire TV products including Fire TV cube, Fire TV Stick, Fire TV Stick 4K, Fire TV Stick Lite and all. First open Amazon App Store and go to search. Then type "haystack news". You will see text suggestions below your typing. Select correct app name like on below picture to continue.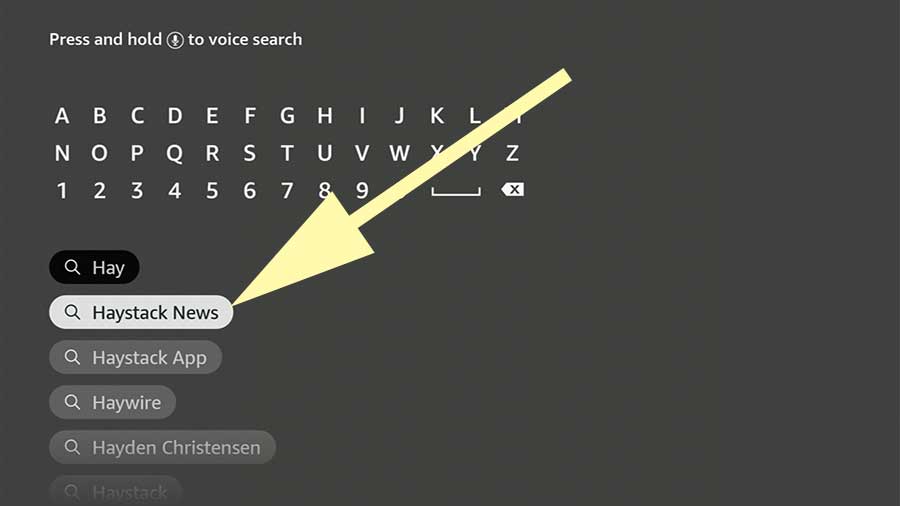 Now you will see search results like below picture. Select this Fire TV news app.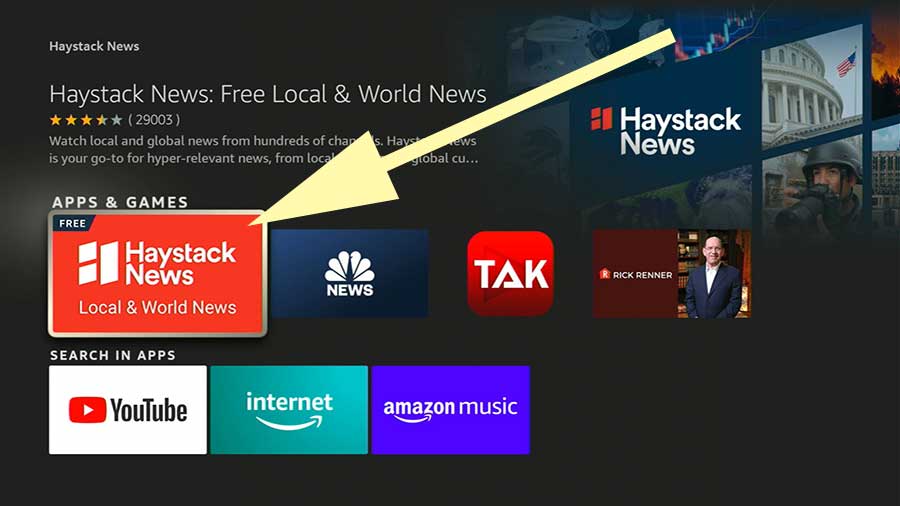 Now select download icon to begin installation.