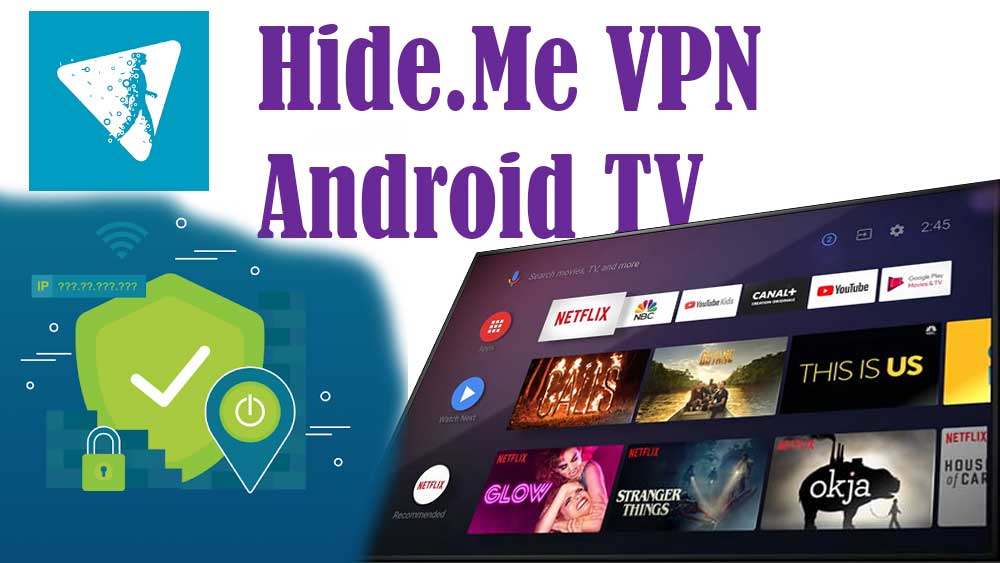 Suppose you are searching for a VPN system with high security of your Android TV. Hide.me VPN system is the best solution you can have. As well as this can consider as one of the fastest VPN systems in the world. This app is simple, and you can easily connect to the internet. This VPN based on a Malaysian company. Usually, Malaysia is a country that has a regulation of no data retention. So, this helps the policy of Hide.me, which doesn't keep logs the VPN activities. This doesn't keep the records of browsing behavior, sessions, connection logs you visit, and the details of IP addresses you signed. Stream Movies, TV Shows, Sport channels and many more without any traces using your Android TV.
Features of Hide Me VPN for Android TV
Security
The main feature of this VPN system is security. It doesn't keep logs and make your internet connection more secure. You can trust this since Hide.me boasts an audit from a VPN security analysis. If you want more protection, you can pay for the premium service using cryptocurrency. This can protect your data by encrypting, and you can surf the internet safely. In some cases, VPN providers must pass some log histories to the law officials if they require it. Hide.me doesn't keep the log; they are unable to provide this kind of information.
Simple operation and the ability to connect multiple devices.
Anyone can use Hide Me VPN system, since operating of this is not complex. Unlike other VPN services, this does not need much technical knowledge. You can easily download this app and able to connect the VPN without any trouble. Another important thing is that you can connect for multiple devices at the same time. You can connect up to 10 devices to the Hide.me a VPN system for a time.
Accessibility
You can access the internet through this from various parts of the world. There are 1800 servers from over 72 locations throughout Asia, Europe, and America. You will be connected to the fastest VPN server available near your in order to provide better service. This leads to enhancing the speed of your internet connection always. You can experience an uninterrupted download and streaming Movies and TV shows with minimum buffering. You can watch any media or Movie from all over the world. If you live abroad, you can access YouTube, Gmail, Whats App, Facebook and torrents as same as in your home country. Since servers are covering the mass area in the world, you can access the millions of websites from the world with a simple click. Not only for smartphones and laptops, but you can also even connect your Smart TV, game console, and IPTV to have a better experience.
Flexible VPN plans.
You are free to choose a better plan which suits your budget. They provide you a complete risk-free money-back guarantee. You can get your money back within 30 days if you are not satisfying the Hide.me service.
There are two packages called Free and Premium. Since internet privacy is a basic human right, you can get better security from the free version. Apart from that premium version has some additional benefits to the users. You can use Hide.me VPN service at any time if you are looking for protected, fast internet service.
Download Hide.Me VPN for Android TV
You can't download this VPN app directly from play store for TV. You have to use third party app stores like Aptoide TV, APKTime or Filelinked. Here we are using Filelinked to download this VPN. You can install this VPN on any Android TV box including Mi Box S, SkyStream 3 plus, Nvidia Shield TV and Fire TV devices like Fire TV Stick, Fire TV Cube, Fire TV Stick 4K and more.
First you have to download and install latest version of TV App store. Click here to see list of available Android TV app stores. You can select from Applinked, filesynced and unlinked based on your interest.
Install on Amazon Fire TV
This secure VPN available for all Amazon Fire TV products including Fire TV Cube, Fire TV Stick, Fire TV Stick 4K, Fire TV Stick Lite and all. Best way to watch Movies and TV shows privately and securely is using Hide . Me VPN.
First open "App Store" application of your Fire TV.
You will see "Search" tab on top left corner. Select it.
Again press "select" button of your remote to enter search mode.
Then type "hide.me". It will show text suggestions below your typing. Select it.
You will see search results like below picture. Select this app.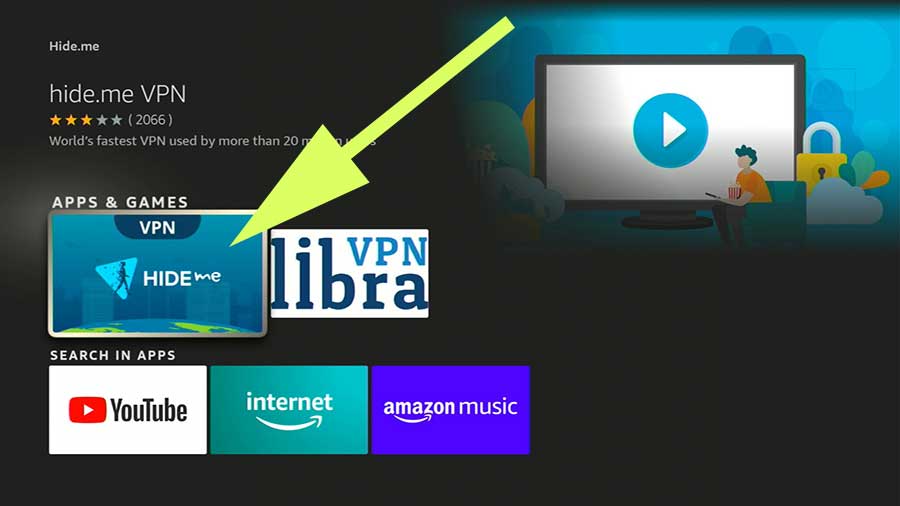 Now select download icon to begin installation.