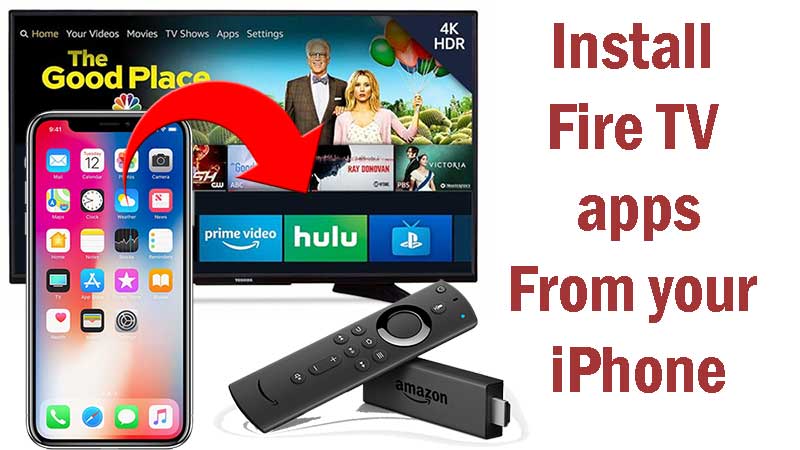 Fire TV comes with Android TV OS. There are lots of limitations when it comes to Android TV. Mainly it is so difficult to download and install third party apps and games. It take ages to type URLs on TV using that TV remote. Many use their iPhone or mobile to search for new Android TV apps and games. Because it is lot more easier than browsing the internet using TV.
How to install Fire TV apps you found on your iPhone on Fire TV ( Firestick) ?. There are lot of ways to do it. You can download what ever the app you want and upload it to one of your free favorite cloud service. Then download those uploaded apk files from Amazon Fire TV. This is one of the easiest way to do it. There are other ways to do it like establishing a FTP connection and accessing Fire TV file using FTP. Here we will discuss uploading and installing apps from cloud storage. Because it is easier to understand than other available methods.
Installing Apps on Fire TV using iPhone
There should be a communication method between your iPhone and FireTV in order to install apps. For that we are using cloud service. Lets see how to do that. You can choose your own favorite cloud service for that. Cloud service app used here support below mention cloud storage services. You can choose one of them. For this article I am going to choose Google Drive. Because it is the best and largest free Cloud storage service offered by Google for free.
Google Drive
Dropbox
OneDrive
Mega.nz
Box
WebDav
Amazon Cloud Drive
GMX
MediaFire
pCloud
SugarSync
ownCloud
Download and install X-Plore
X-Plore is a File Manager app with built in Cloud Storage service. You can download latest version of this app directly from Amazon App Store. Just go to search area and type "xplore" or say "x plore" using your voice button ( Amazon Alexa ). You will see X-Plore File Manager app in search results. Below shows the icon or logo of X-plore app. Install it.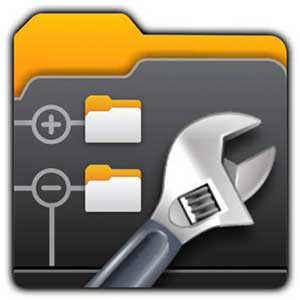 Setup Cloud Storage on Fire TV
You can see "Web Storage" button on right side of the starter page of X-Plore app. Click on it.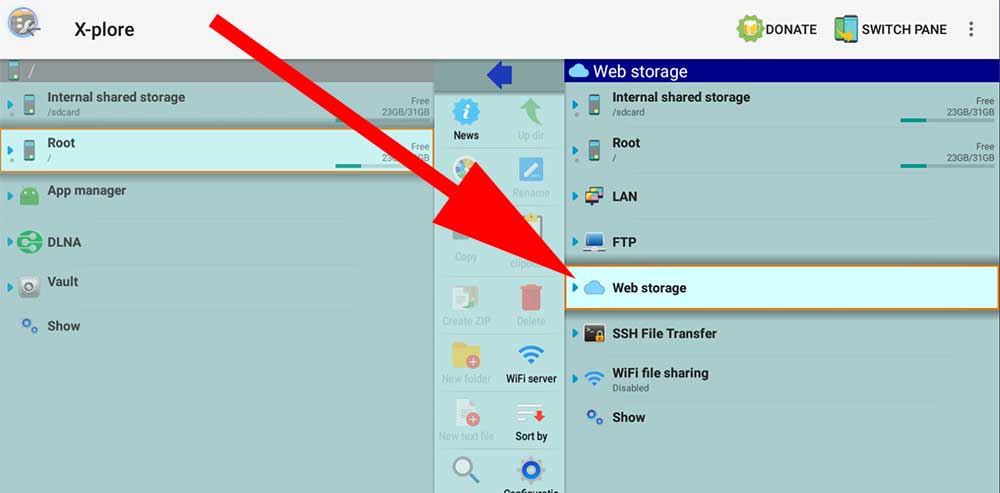 Now you can see "Add Server" button below that.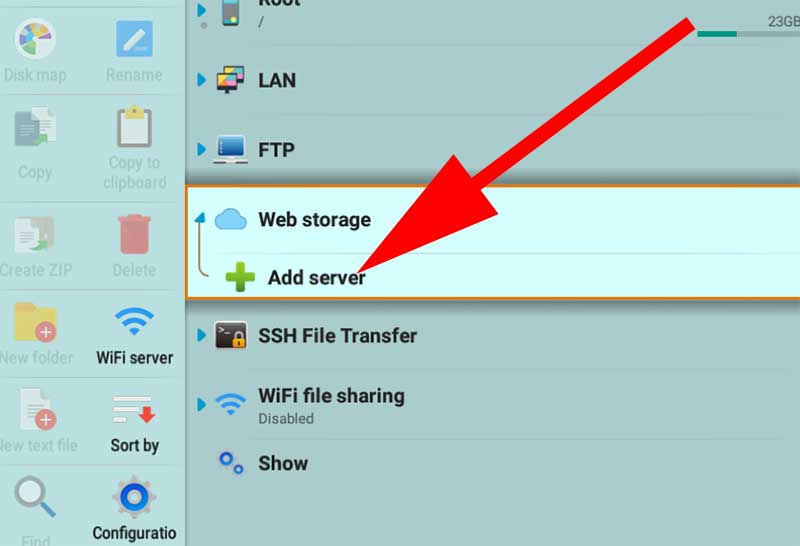 Now you can see list of available cloud storage services popup. For this article I am going to choose Google Drive.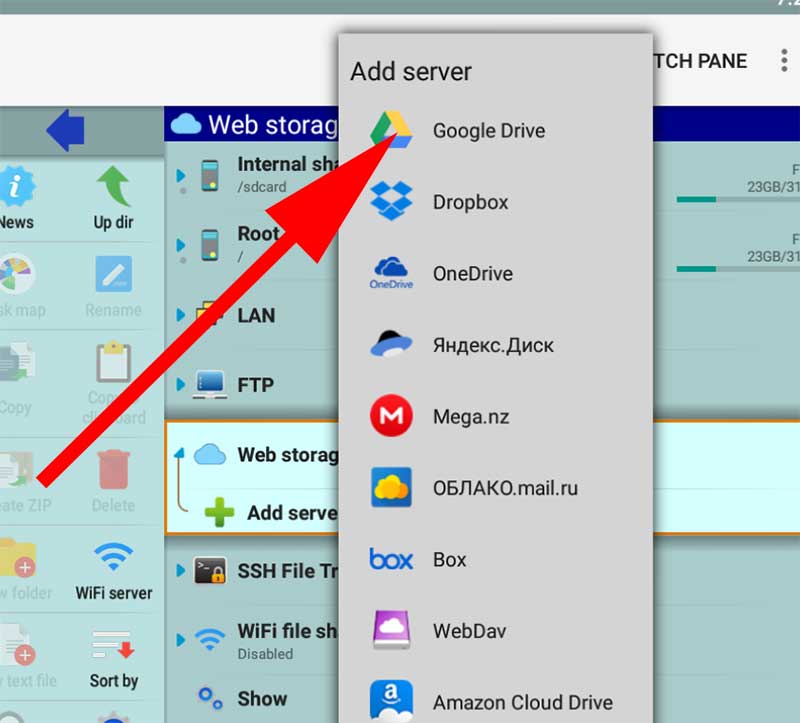 Enter your email address and password for Google Drive and setup your Google Drive account on X-Plore.
Again click on "Web Storage" button. Now you can see previously configured Google Drive account listed below with "Add Server" button. Click on your Google Drive account. Now you can see list of available files on that storage service. It is time to upload files to google drive and install them on Fire Stick using your iPhone.
Allow X-Plore app to install apps on Fire TV
By default Amazon Fire TV has blocked installing unknown apps from unknown sources. It allow only Amazon App Store to install apps on your Android TV. First you have to enable "Unknown Sources" settings on your Fire TV.
– Go to "Settings" and find "My Device" or "My Fire TV". Click on it.
– Now you can see list of settings appear. Click on "Developer options"
– Under Developer options you can see two settings as "ADB debugging" and "Apps from Unknown Sources". If those settings are "OFF" you need to enable them by clicking on them.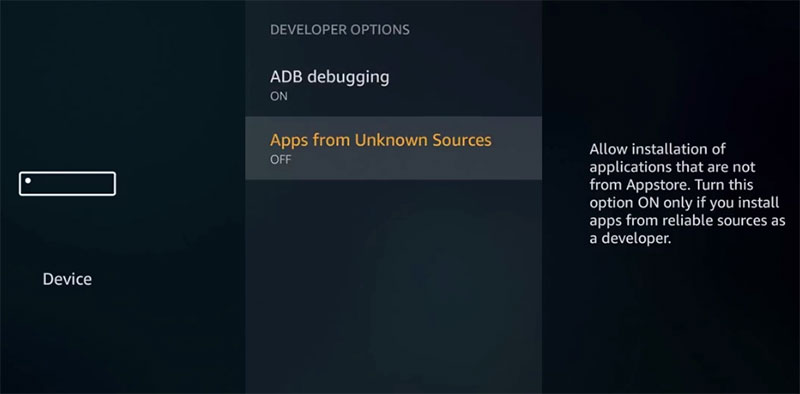 Install Apps from iPhone
Now you have to setup Google Drive account on your iPhone. You can find Google Drive app on Apple store. If you are reading this article from your iPhone click on below link to open Google Drive app on Apple store.
Download above and app and install it. Make sure to add same Google Drive account you added on your Amazon Fire TV. Now you can upload Android TV apk files on your iPhone to Google Drive using above application.
Go to Android TV X-Plore app and open Google Drive account. There you can see all your uploads from iPhone. Click on uploaded Android TV app. X-Plore will automatically download your Android TV app and begin installation.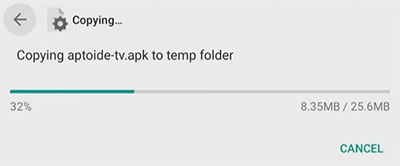 That's all. Enjoy free installation of Android TV apps on your Fire TV or Firestick from iPhone. Since all Amazon Fire TV devices are same you can use this method on all those devices ( Fire TV, Fire TV cube, Firestick, Firestick 4K)