How to install YouTube TV to work on your Amazon fire stick or fire device. You know the history between Amazon as well as Google. You know that at one point Amazon start supporting Google services. Google suddenly stop supporting amazon devices and we the consumers suffered as a result. So essentially Amazon doesn't support YouTube app and doesn't support YouTube TV, anything that's YouTube related. So what that means is that for you guys that are cord cutters that are pinching every penny if you have a firestick and you also subscribe to YouTube TV. Amazon firestick is not one of the supported devices. In this article we are going to discuss how to install Live YouTube TV on Amazon Firestick easily as possible.
First of all install any Apps outside Amazon App store we have to do something or allow some permissions on your Amazon firestick. Some refers that as jailbreaking firestick. Whatever it is simple two options available on settings are that take just seconds. Go to "Settings" and go to "Developer options". From there enable below two options.
ADB Debugging
Apps From Unknown Apps
Once you complete above step, hit the home button and now we're gonna go ahead and download the "Downloader" application. Search for "download" of course you can do this with the voice function or you can go ahead and type it in. Download that application and install it.
Downloader basically is a web browser allows you to go to different places install apks third-party applications and this is probably one of the most must have applications for you. Go ahead and launch "Downloader" and it's gonna look just like this.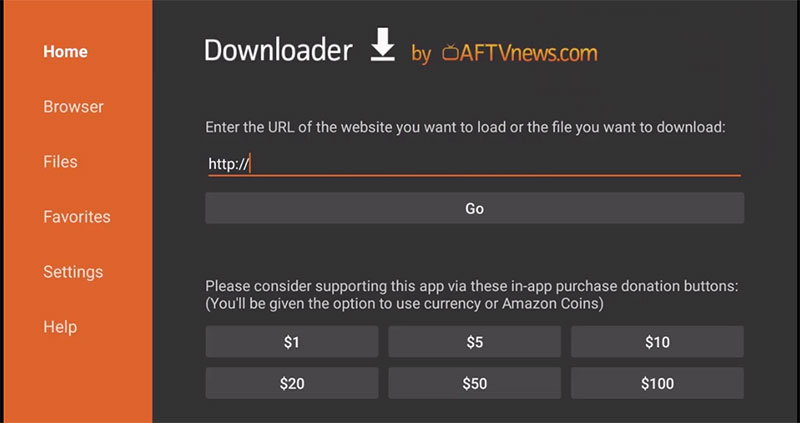 Next we have to download application called "Filelinked". If you already have that application go ahead and enter the filelinked code below and download Youtube TV using Filelinked app. If not stick with me. Enter below URL to download Filelinked app from Official website.
https://get.filelinked.com
It will start downloading as soon as you press "Go" button. Install that application. After completing installation go ahead and open it.
Now enter below Filelinked Code
Filelinked code for Live Youtube TV App: 16248134
Click continue and here we are inside the Filelinked Store. Search "live YouTube TV" and we're just gonna click on the download button. Once download complete hit the play button and it will start installing this application. Install it as a normal Android app that you installing. Later you will have a options to select during installing process.
We do have a couple options that shows us 720p 1080p 4k 4k alternate.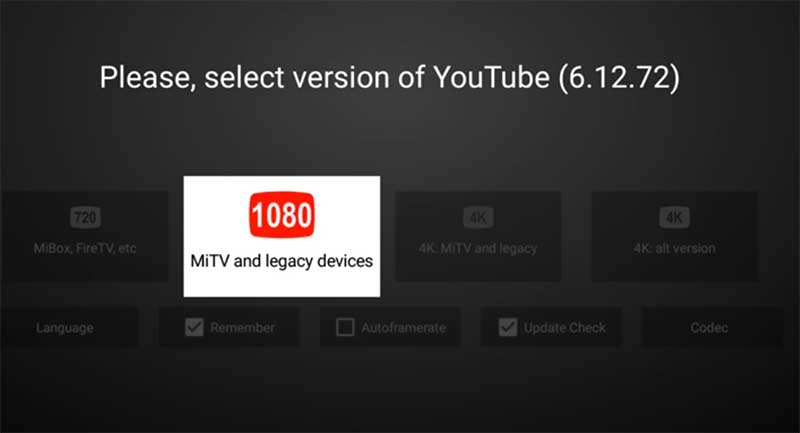 For me the only one that seems to work for me is 1080p. So I am using the finest the second generation if you guys have a 4k or something else and tried the different options. if you select this option and will remain intact unless you clear the data from this application. Select one option it's not working for you go to your settings go to YouTube live TV clear the data and go ahead and try again. For me I am going to hit 1080p and it is gonna pop up and ask you to install crosswalk. This application essentially requires cross-market. It's just an open source web application runtime built with releases from google chrome google interfaces. It's basically allows YouTube TV to work on a device that is not made for essentially. Go ahead and get crosswalk and it will just automatically download from within the YouTube live TV application then go install and click done and so crosswalk is installed. we don't need to use it we just give it a second for it to go away. so here it is YouTube TV.
You have two options to try for free or already a member. Depending on you if you want to try for free you will click that option it will give you a link where you can go ahead and sign up. If you already a member go ahead and login.
Enjoy Live Youtube TV on Amazon Firestick.