IPTV is also called as Internet Protocol television or simply Internet TV. Time of using cable TV is long gone. No need to pay for those cable subscriptions any more. If you have internet, use this IPTV player on your Android TV, Fire TV or Google TV to access TV channels all over the world. You can simply watch TV on foreign countries for free using this IPTV Player.
In order to watch TV on your Android TV box or Fire TV you may need good and uninterrupted internet connection. If not you may have bad experience with lots of buffering.
Features of IPTV for Android TV and Fire TV
Support XSPF and M3U playlist. Those are used to connect to IPTV service. In order to use access IPTV you may need either M3U link or XSPF link. You can get relevant link from your TV provider. If not there are plenty of publicly available IPTV services. You can use those.
Keeps Playlist history like a web browser application. That helps to access previous or old playlist without remembering it.
Normally many TV channels will start to show per playlist. As a result all those channels may look like a mess. You can list them as Tiles, Grid or as a list that make you comfortable browsing.
Support EPG for both XMLTV and JTV formats.
Comes with internal media player and support external media players too. So you can use your favorite media player to watch IPTV.
Easy parental control features. Since TV was access by all family members, having a parental control is a must.
Since this service provide for free, you will see advertisements. You can remove those annoying ads by purchasing the pro version of IPTV which is IPTV Pro.
How to Setup IPTV on your Android TV BOX
Using IPTV on Android TV boxes are very easy and simple. First you have to download IPTV software for your TV box. Here we are using IPTV app. Just search IPTV on your default app store. Play Store TV for Android TV and Amazon App store for Fire TV devices. Below describe how to install IPTV on Android TV Boxes using Play Store.
First Open Play Store application.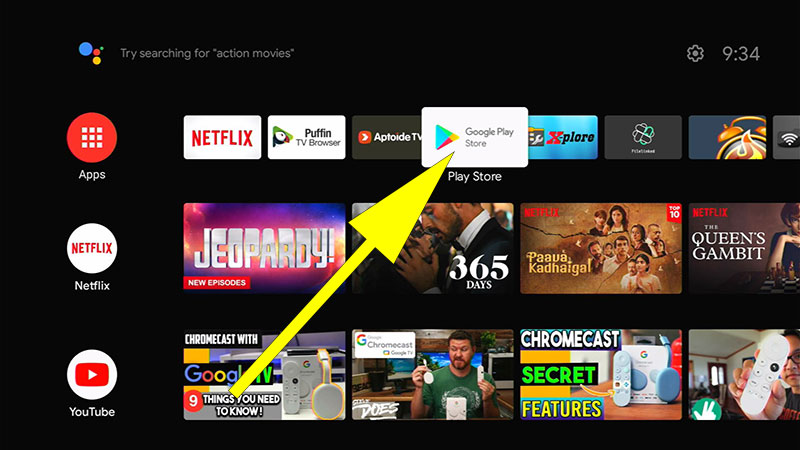 Next go to search and type "IPTV". You will see this application appear on search results like below picture. Select it.

Now Click on "Install" to begin installation.

Open IPTV app once installation completed. Click on "Add Playlist" button.

Menu will appear on right top corner like below picture. Select "Add URL"

Now you have to enter M3U or XSPF. If you already has TV provide, please contact them or visit their official website to get links. If not click below link to find all public M3U links to watch TV all around the world for free.
https://github.com/iptv-org/iptv#iptv

All Public IPTV Playlist Links
Add M3U link
Give any name to your playlist
Click on "OK".

Now you will see list of channels.

Add all frequently access channels to favorite. So that you can quickly access those channels using favorites.