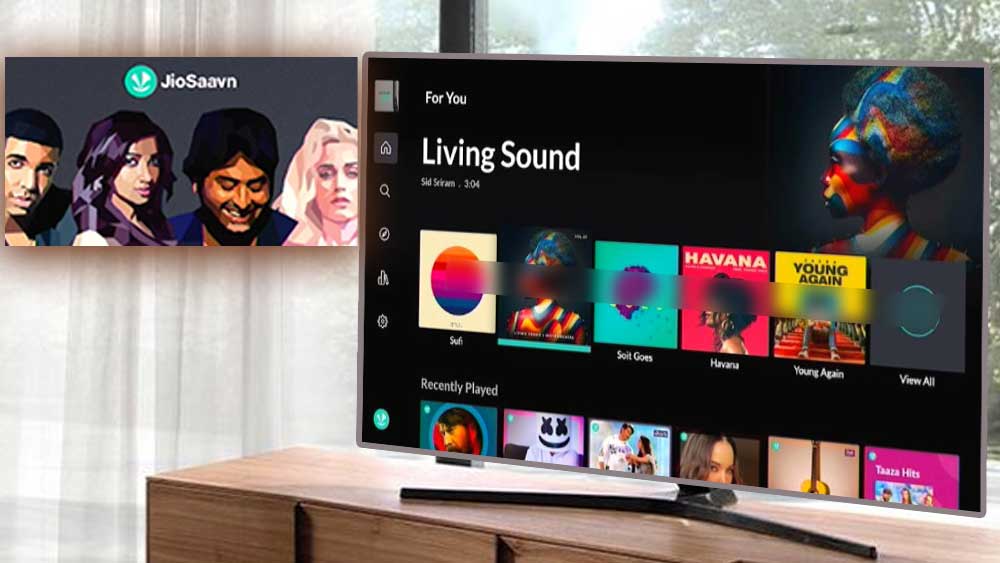 Table of Content
Best Android TV and Fire TV app to listen millions of songs, radio and podcasts all over the world for free. JioSaavn is specially developed to work easily on Android TV and Fire TV. You can enjoy English, Tamil, Hindi, Telugu and many more songs now on your TV Box.
Music
Various research and surveys carried out throughout the globe indicates music interests' people from tender ages onwards. Have heard of people in their old aged and even on death beds requesting their favourite songs to be played out loud so that they could close their eyes peacefully. Such is the strength of music wave lengths.
Music helps to boost memory. It is established that music in addition to a comprehensive brain work out will reduce anxiety, with its blood pressure, pain, improve sleep quality, boost mood, mental alertness, and memory power. Music is recommended for reducing stress, depression and help to reduce food intake. Wow! Music, not only give listening pleasure but contribute to one's health's good order. Aren't all these just what the doctor ordered? Yes! indeed! so beneficial to the people of today, facing busy lifestyles with stress and anxiety. This is the prime reason to introduce a smart app, with its well thought and designed features, that will do a whole lot of good to all its users. JioSaavn – Music & Podcast Smart App it is. Let's take a quick look into this super, smart app used by millions and more people the world over.
Features of JioSaavn TV Music Player
Jiosaavn by featuring podcast in addition to the sweet music, has made sure to give a bonus to its users. Smart apps of this kind usually do not carry podcasts. A podcast series typically has one or more recurrent hosts, talking about a specific subject or current event which is meticulously scripted.
This will be a great way to learn and understand on any new content. JioSaavn features, music, audio, and streaming. Contents in English, Panjabi, Tamil, Telugu, Hindi are featured along with Bollywood and exclusively set Tunes by Jio. Believe this. 90 million and more songs for eternal listening. What more? JioSaavn features recommendations in 15 languages to its worldwide users. With the Dark mode feature, make the best views with comfort to your eye.
Watch the best videos and shorties for quick entertainment. Podcasts and Originals Exclusive Content Five Minutes with Faye is known to be one of the most popular and looked forward to podcasts. With efficient browsing made possible, access Endless Moods, Genres and Playlists that will appeal to individual taste. The brand new Jio tune page features caller tunes, that have been professionally curated, to make it simple, to find the smart app users tunes. Songs that are favourites, of popular DJ's, love songs, sad songs, music to relax, kids rhymes + millions more can be found on JioSaavn – Music & Podcast Smart App.
JioSaavn – Music & Podcast Smart App with its magnificent features will provide all its users with grand entertainment and understanding of new subjects, thus providing opportunity to widen their knowledge base, just like the current 100 million users does now. Why Settle for less than this magnificent smart JioSaavn app.
Install JioSaavn on Android TV and Fire TV
Many music and podcasts apps are available for Android phones. Installing those apps on your TV make it hard to operate because of lack of support for TV remote. You can easily install this free music player on your TV box and control or use all the features easily with TV remote. No need to use game controller or external mouse. Follow below tutorial to install this music player on Android TV.
First open Google Play Store application. Then go to search and type "jiosaavn". You will see this application on search results like below picture. Select it.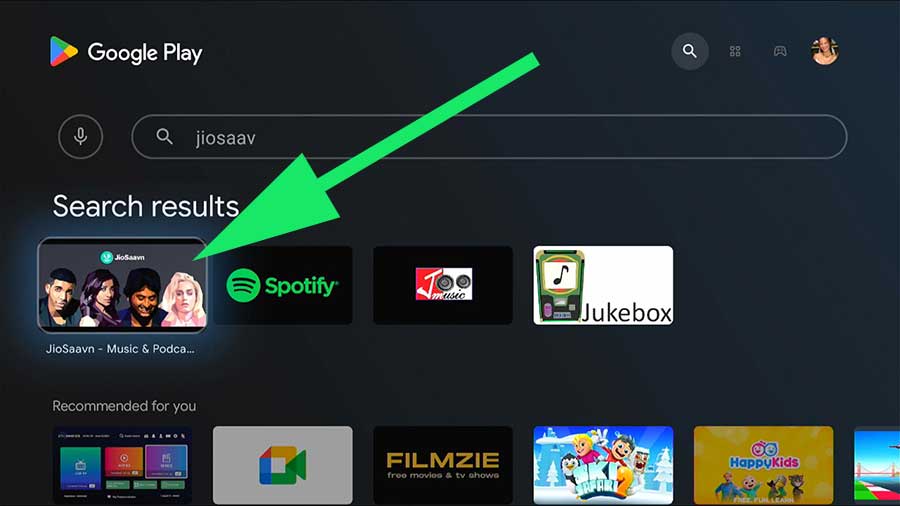 Now select "install" to begin installation.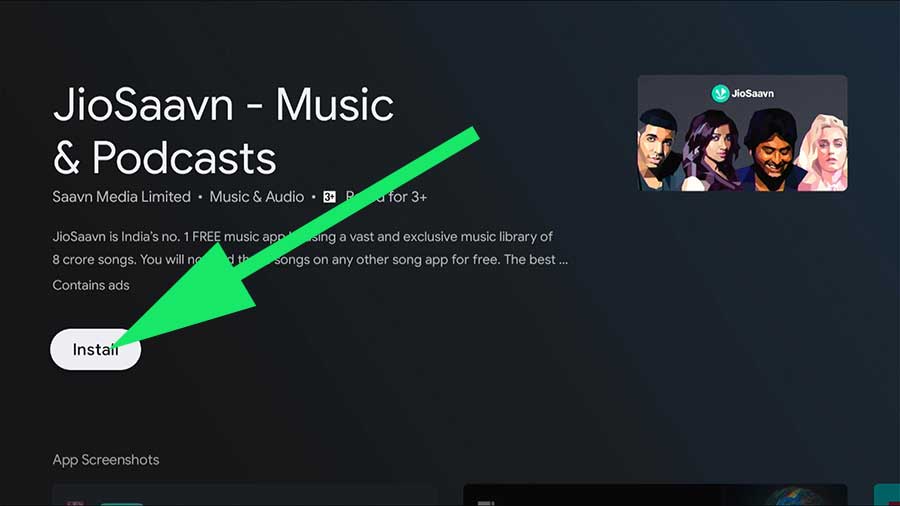 There are many free Android TV app stores like Applinked, Filesynced, Unlinked and Aptoide TV. All those TV app stores offer different apps and games for your TV. Feel free to try them.
Install JioSaavn on Amazon Fire TV
Now you can easily install indian free music app on Amazon Fire TV devices. Just follow below mention instructions with images to install and listen to favorite indian or bollywood music using your Amazon Fire TV. Support all most all Fire TV devices including Fire TV Cube, Firestick, Firestick lite, Fire TV p1 series, f20 series and more.
First open "app store" application on the home screen of your Fire TV. Then navigate to search and type "jiosaavn". You will see text suggestions like below picture while typing. Select correct app name like below picture to display search results.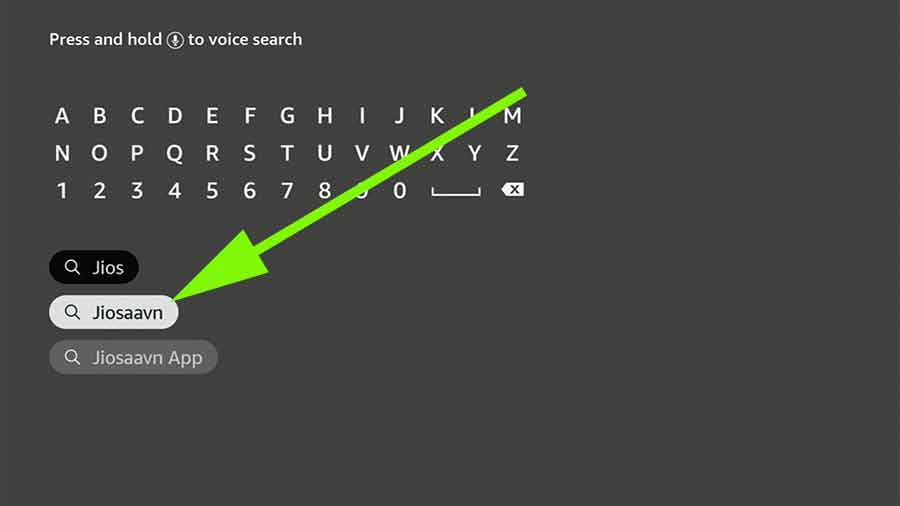 Find this music app from search results and select it.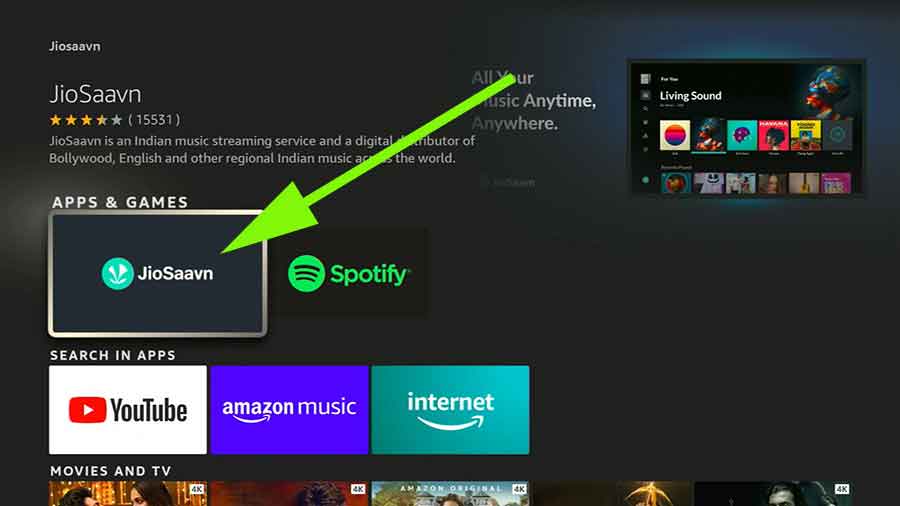 Now select "Get" button to begin installation.