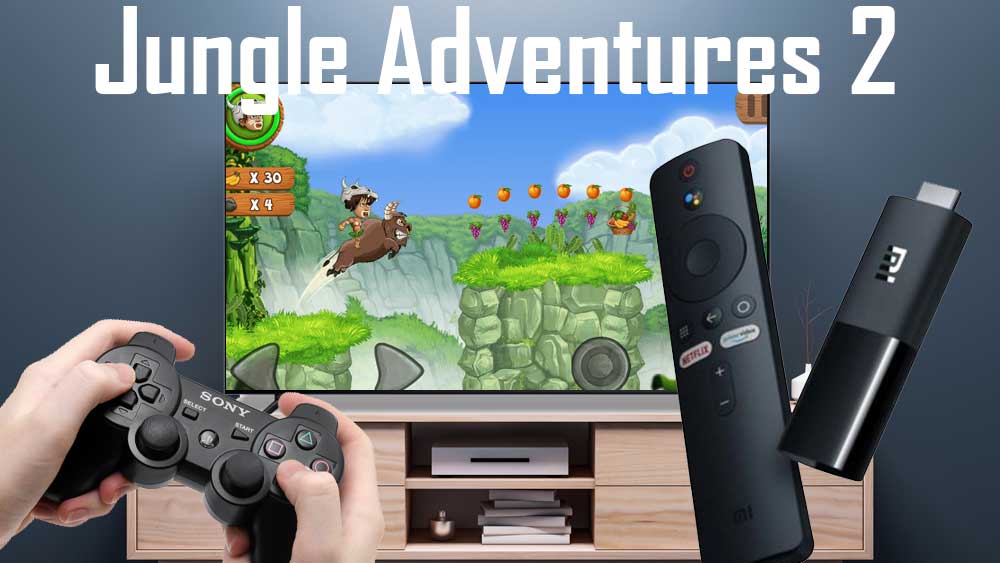 Looking for an amazing new game for your TV BOX? Then, here is one. The game Jungle Adventures 2 TV Game. One of the nicest games that I ever played on my Android TV BOX. This game support all most all TV boxes including Google TV (Chromecast), Firetv Stick and Fire TV devices. Love to share some knowledge with you too. I know that you will also love this nice award won game Jungle Adventures 2.
Adventure game for TV BOX
This game is quite a nice to play. The graphics are very simple. graphics are really attractive. I love the background music and sounds of this game. The adventurer inside the game is like Tarzan ( Tarzan Movie). He acts well in fulfilling his quest. You can play this game either freely or can pay subscription fee for premium access. If you are going to play it freely then you have to bear some advertisements that runs while playing the game. But if you are willing to pay you can play without any disturbances. This game comes under Google Play Pass subscription.
This nice game is suitable for all your family members starting from kids to elder ones. There are about 60 levels inside the game each filled with adventures and excitements.
Story inside the game
This game is designed in a way such that it attracts each and every player. The story of the game tells us that there is a fruit filled trees in a forest. The most precious things to the forest are these fruity trees. The trees are full of fruits. But!!! One day an evil witch came to the forest and took all the fruits in the forest. The witch is going to be immortal by sacrificing these tasty fruits.
Then here comes Addu, the adventurer who you have to control through the gameplay. Addu is trying to take back all the fruits that were stolen by the Witcher. So, help Addu to take all the assets: fruits back from the bad witch.
How to play the Jungle Adventures 2 Game
Playing this game is very easy. You can control all the movements of the adventurer using a Gamepad. It is hard to play this game using TV remote. Use Game Controller or Game pad for better experience. You can make your little fellow to do double jumps. This is really useful as there are some fruits located in higher places. Along your journey you have to collect all the fruits scattered all over there in the ground and the sky. Also, you have to face some challenges and enemies too. There are some resources there in the environment which can use against your enemies. You can all these things in order to win over your quest.
There are some accompanies you can take in your quest. They are your pets and you can choose them. These pets involve of some qualities that really helpful in winning over some enemies. So, it is better to take your bets along with you.
Along your journey you will eb able to explore the incredible skills and powers of the little fellow and I am sure that you can have more fun and joy together with excitements if you are going to play the game.
Download Jungle Adventures 2 for Android TV BOX and Fire TV Stick
If you love to play the game on phones then download it easily from the Google Play Store, AC Market or from the Aptoide app store. For Android TV boxes you can use your default app store which is play store TV app. For Amazon Fire TV devices use Amazon App store. Amazon App store offer this game for free to play on all Amazon Fire TV devices like Fire TV Stick, Fire TV Stick 4K, Fire TV Stick Lite, Fire TV cube and all.
There are many Android TV boxes without play store and amazon app store. Those devices can use Applinked, Filesynced, unlinked or Aptoide TV. Those are the best available options to install this game on any TV box for free.
Install Jungle Adventures 2 on Amazon Fire TV
You can follow this method on all Amazon Fire TV devices including Fire TV Cube, Fire TV Stick, Fire TV Stick 4K, Fire TV Stick Lite. First open Amazon App Store application and go to search. Then type "jungle adventures". You will see text suggestions below your typing. Select this game from those text suggestions like below picture.

Now you will see search results. Select this game from search results of Amazon App store.

Now select download icon like below picture to install this game.