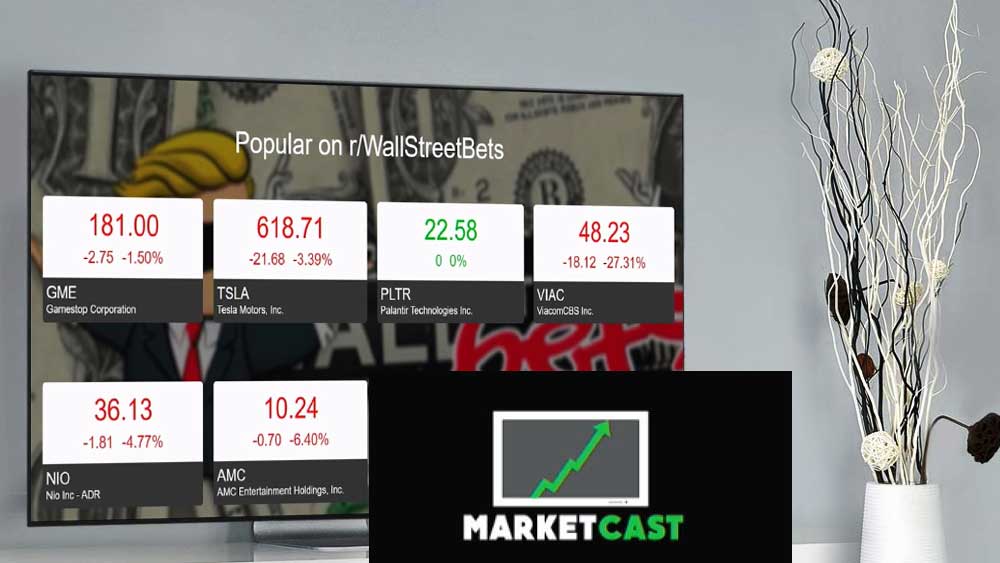 Table of Content
MarketCast is Google Finance or Yahoo Finance for your Android TV or Fire TV. Easily create your own stock market portfolio using your smart TV. Get all market and financial news on TV. Watching all stock market statistics on bigger screens like TV make it easier to take decisions. Because you can see all the stats on one screen.
Stock Market
The stock market in short terms, is the ideal place for trading and selling shares. Business and finance enthusiasts often find the stock market the ideal place to spend their time.
What if I tell you that you will obtain the ability to build your very own stock market portfolio on your smart TV? Yes, you heard me right. Google finance or Yahoo finance for your very own TV is not possible thanks to the amazing, MarketCast app.
There is indeed no other better news for all of your business enthusiasts out there other than your stock portfolio.
The app comprises of live updates so you do not have to worry about missing a single news item and you will be able to stay updated and informed on what happens and exactly when it happens.
The app comprises of a vast range of features that will help to bring out the very best for you. All you need is your Android TV and to install the app on your device and you are good to go. Make sure you do not miss out on the updates of the stock market and any other event that affects your stock portfolio. The MarketCast app is ideal for all your stock market needs.
Features of MarketCast TV app
You will be able to obtain updates on all of the continuous pricing modifications and updates along with the STREAM! It is as simple as that. All you go to do is build up the stream portfolios of all the stocks you are interested in.
You also can obtain the ability to stay informed and updated of the popular crypto currencies and prices such as bitcoins and many more. This way, you know what to invest and you are very aware of smart investments at all times.
The app also comprises of graphs that will help you Analyze stock prices with comparison to the historical data and many more.
You can also view all of the popular stock picks on Reddit Wall Street Bets and many other popular picks! Get your very own market insights instantly all thanks to MarketCast app.
You can also make sure you do not lose or miss out on any of your data because you can simply log in with your google account and save your portfolio to the cloud for added security and backup.
Install MarketCast on Android TV
MarketCast is indeed the ideal solution to take a look at your market portfolio at ease and convenience on your smart TV at the comfort of your very own home. The market research and insights on the app will make sure you stay informed on all of the updates and prices just as they occur.
All you need is your smart TV and the MarketCast app installed. The app will bring out the vest financial expert in you and help you make better and smarter investments all thanks to the analysis that is available on the app itself. So, stay constantly updated with MarketCast to make the best decisions!
First open Google Play Store application of your TV. Then go to search bar and type "marketcast". You will see this application appear on search results like below picture. Select it.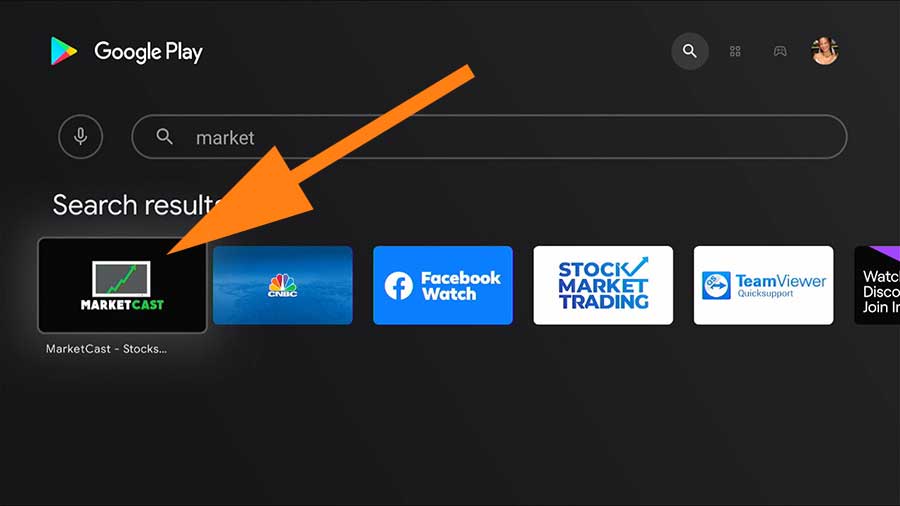 Now select "Install" to begin installation.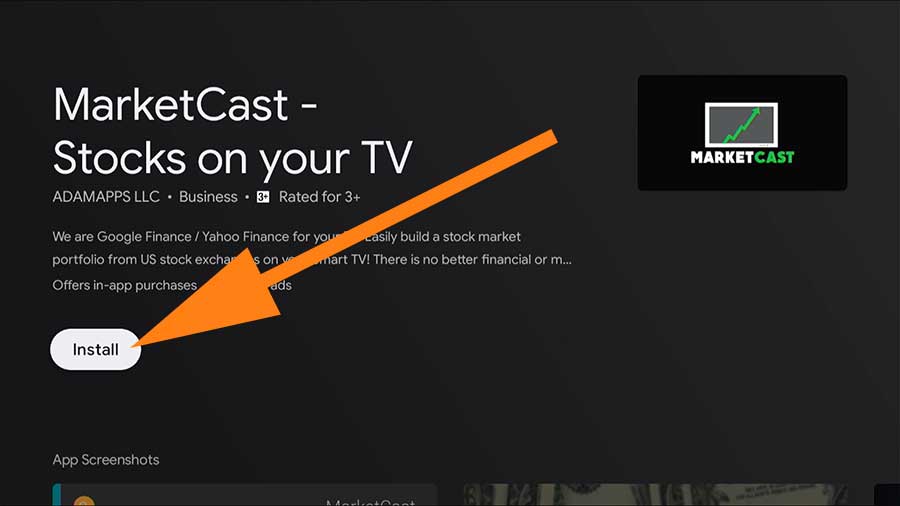 If you are unable to install this application using above method you can try using UnLinked, Aptoide TV, FileSynced, AppLinked app or UnLinked. Those are the most popular TV app stores that work on all most all Android TV boxes and TV sticks.
Install MarketCast on Fire TV
Easily check all live stats of stock market now using your Fire TV. This app support all most all Amazon Fire TV devices including Fire TV stick, Fire TV cube, Fire TV Omni series and more. Follow below mention instructions with images to install this app for free.
First open "App store" of your Fire TV. Go to search of app store and type "marketcast". Select your typing like below picture.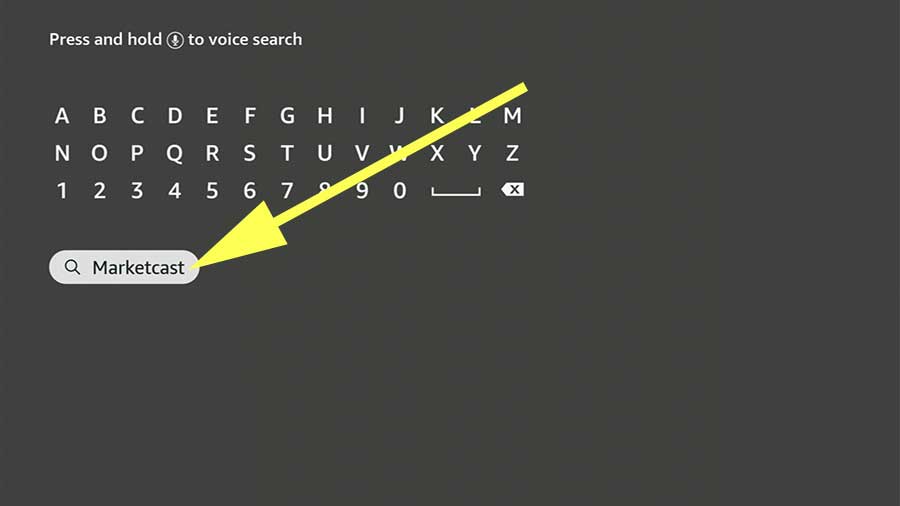 Now you will see search results like below picture. Select this app like below picture.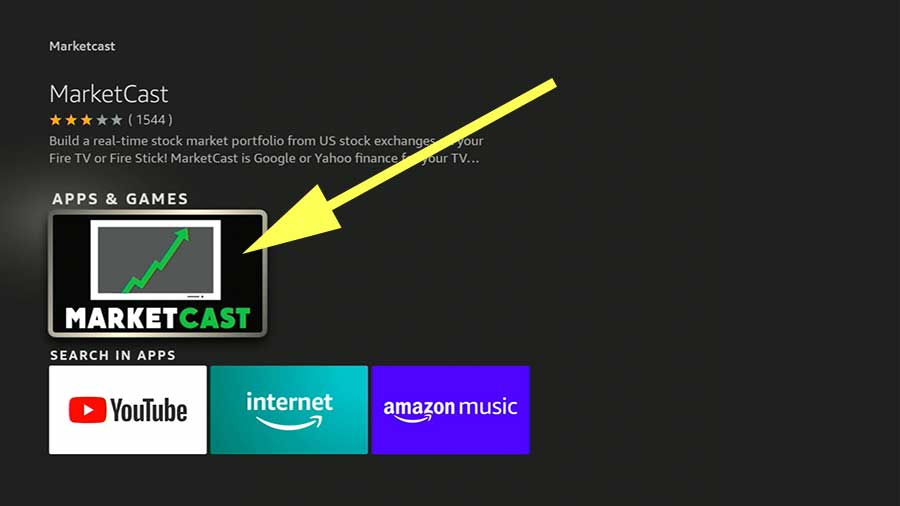 Now select "Get" button to install this app on your Fire TV