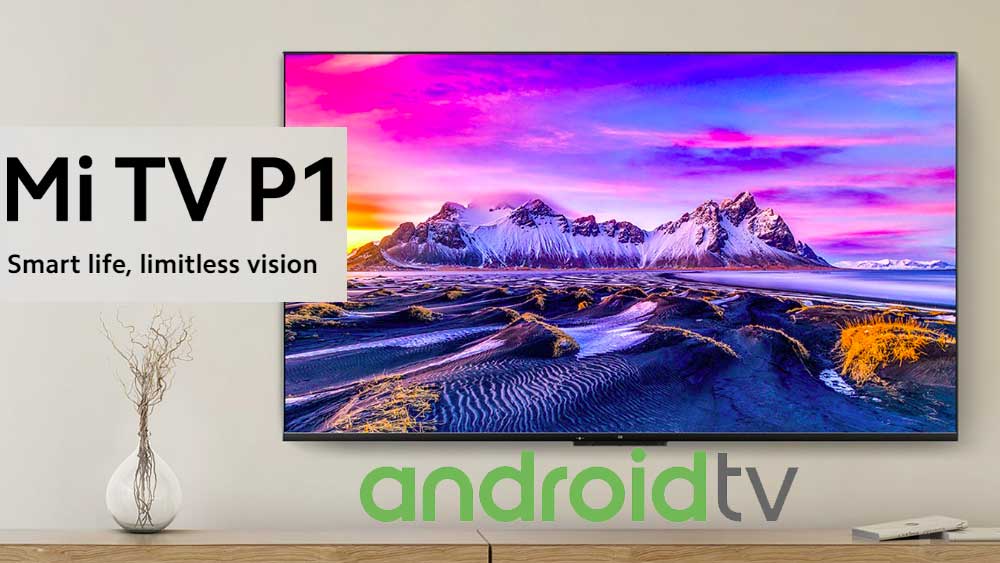 Mi TV P1 is Android smart TV comes with impressive features, making it a great option for anyone who want Android TV experience. This TV comes in different sizes as 55″, 50″, 43″ and 32″. Those who does not want to use Mi TV box like Mi BOX S can use this smart TV that has built in Android TV.
Design and Display
The Mi TV P1 has a sleek and minimalistic design that can easily fit for any home. It has slim bezels and a thin profile, making it look like a modern and expensive TV. The TV comes in three sizes, 32 inches, 43 inches and 55 inches, making it a versatile option for any space.
The Mi TV P1 support 4K HDR that can delivers crisp and vibrant visuals. It has a refresh rate of 60Hz, making it ideal for gaming and fast-paced action movies. The TV also has a wide viewing angle of 178 degrees, ensuring that everyone in the room can enjoy the same viewing experience.
Smart Features
One of the key highlights of the Mi TV P1 is its smart features. Because many users complain that they can buy better TV with better display for the same price. But none of those TV has smart features offered by this TV. The TV runs on Android TV OS and comes with built-in Google Assistant and Chromecast. This means you can easily control your TV with your voice and cast content from your smartphone or laptop to your TV that most TVs of same price can't do.
The Mi TV P1 also has access to the Google Play Store, where you can download your favorite streaming apps, such as Netflix, Disney+, and Amazon Prime Video. You can install third-party TV app stores like AppLinked, FileSynced, Unlinked and Aptoide TV. Use those free TV app stores to install free Movies and TV shows applications on your P1 TV.
Audio Quality
The Mi TV P1 has a powerful audio system that delivers immersive sound. It has a 2x10W stereo speaker setup except 32″ model. 32″ model has two 5W speaker set instead of 10W. Supports Dolby Audio and DTS-HD. The TV also has a Bluetooth 5.0 connectivity, making it easy for you to connect your wireless headphones, speakers, surround sound system and more.
Connectivity
Unlike many smart TVs on the market, P1 TV comes with enough ports for connectivity. Check below table for all available ports. Please note available ports and versions are changed based on the size of the p1 TV.
| | |
| --- | --- |
| HDMI | 3 ports |
| LAN | 1 Ethernet (LAN) port for internet. |
| TV Antenna port | Decode DVB-T2/C and DVB-S2 signals |
| Audio/Video input | 1 AV Port |
| USB 2.0 | 2 ports |
| Bluetooth | 5.0 |
| Wi-Fi | Wi-Fi 2.4GHz/5GHz |
Common Questions About the Mi TV P1
Does the Mi TV P1 support HDR content?
Yes, the Mi TV P1 supports HDR10 and HLG HDR content, delivering vibrant and lifelike colors.
Can I connect my gaming console to the Mi TV P1?
Yes, the Mi TV P1 has three HDMI ports, allowing you to connect your gaming console and other external devices.
Does the Mi TV P1 come with a warranty?
Yes, the Mi TV P1 comes with a one-year warranty that covers manufacturing defects.
Is Mi TV P1 Smart TV or Android TV?
Mi TV comes with Android TV OS.
Final Thoughts
Overall, the Mi TV P1 is a great option for anyone looking for an all-around Android TV experience. With its sleek design, impressive display, and smart features, it offers a great value for its price. Whether you want to watch your favorite movies, play games, or stream content, the Mi TV P1 has got you covered.