Table of Content
Need to be the king in the ocean. Then here is the game for you to play. Hungry Shark Evolution. Be a hungry shark who eats all the things in his way and grow bigger and bigger to gain more power. Try this adventure filled game on your Android TV BOX. You can play this awesome Android TV BOX survival game on any Android TV box and Amazon Fire TV devices. You can easily install this game using play store for all Google TV devices. Best survival game for Google TV.
TV BOX Survival Game
As the name suggests this is all about a hungry shark. Normally when we are hungry, we can eat any thing that satisfy our hunger. So do the shark. He is also very hungry and he eats all the thing he come across. But one thing to be amazed is that the hunger of this shark never ends. He can eat as much as possible things.
This is an adventure filled game. roam here and there in your home, the beautiful ocean and find something to eat. In this oceanic world there are many creatures that you come across. And there are some coins also for you to win. There are some quests that you have to complete in your eating journey.
Can explore inside of the ocean as well as above the waves also. The people up above the waves also can be a food to your shark. You have to survive a longer period as much as possible to win the game.
Hungry Shark Evolution – Gameplay
The game is very easy to play. You can control the movements of the shark very easily. You can either touch the screen or tilt your device to control the movements of the shark. This is a 3D game with nice 3D graphics which are very attractive. The background music of the game is also very pleasant to hear.
There are different types of sharks here. You can select the best shark as you wish but according to your coins. Each shark is ambitious with different missions to achieve. The sharks have to find the mission shells inside each mission to move forward bravely with much more powers.
In here you can explore many mysterious creatures and some sunken objects hiding some treasures. As well there are some accompanies like baby sharks who can take with you to improve your predatory power.
In here you have to fight with some challenges in order to survive. Some are giant crabs, toxics, submarines, shark finners and so on. Be aware of them if you want to survive. Otherwise, if you want to survive longer then you can activate the Gold rush also. There are gold rushes here and there in your path.
You can upgrade or enhance your predatory power by finding some accessories like laser and Top hats.
Here are only some points about this nice game Hungry Shark Evolution. If you are interested download it in all your Android devices and play in online or offline mode.
Download Hungry Shark Evolution for Android TV
This free survival game available for all Android TV boxes and support all TV boxes including Nvidia Shield TV, Shield TV pro, Mi BOX S, Mi TV Stick, SkyStream, H95X and more.
However, there are many TV boxes without Play Store and Amazon App Store. You can use Applinked, FileSynced, Unlinked or Aptoide TV stores on those devices. Below describe how to install this game on Android TV box using Play Store.
First open Play Store application of your TV box.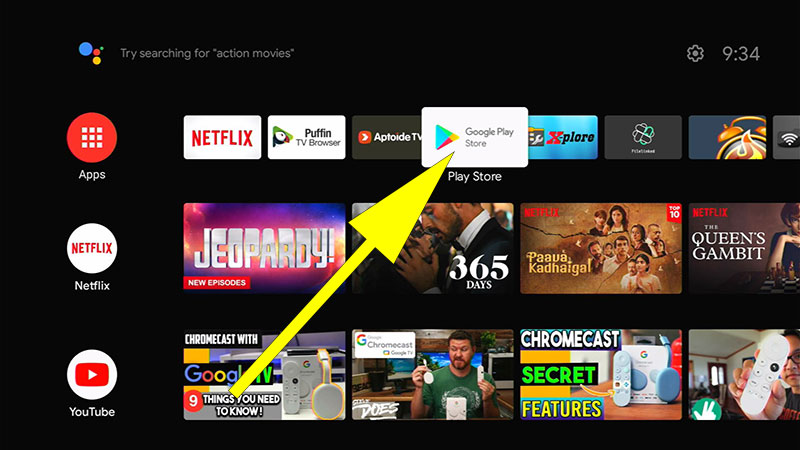 Go to search area and type "hungry shark". You will be able to see this game appear on search results like below picture. Select it.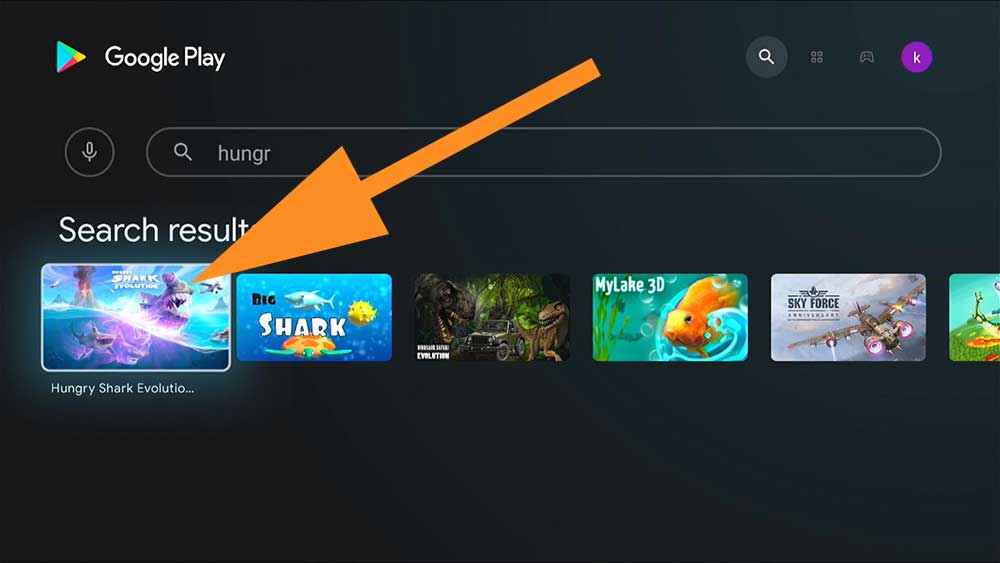 Now select "Install" to begin installation.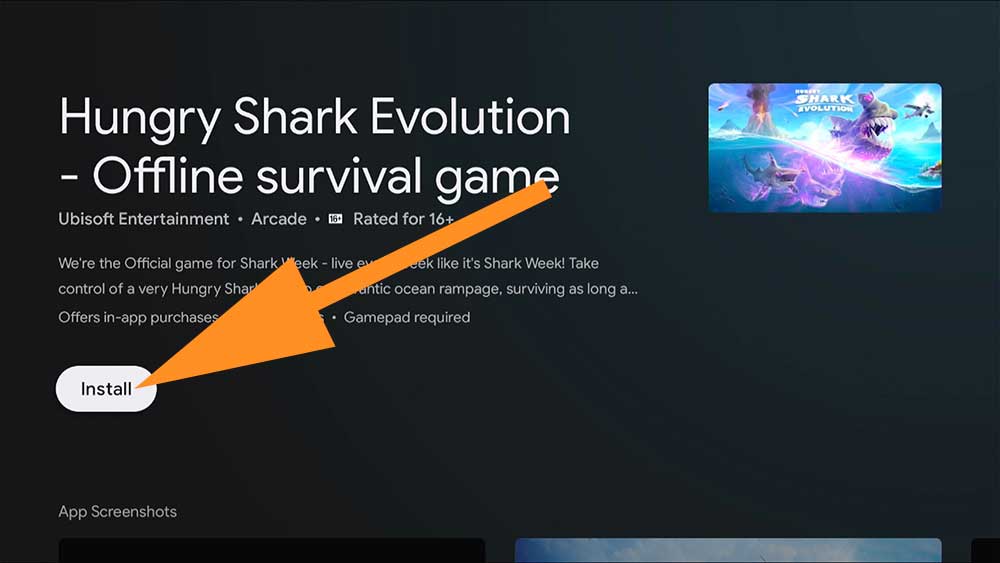 Install Hungry Shark Evolution game on Fire TV
You can use Amazon App store or default TV store of your Fire TV device to install this game. Support all most all Amazon Fire TV devices including Fire TV stick, Fire TV Stick Lite, Fire TV cube and all. Below shows step by step with images on how to install this offline survival game on your Amazon Fire TV.
First open "App Store" application at Fire TV home screen. Next navigate to search and type "hungry shark evolution". You will see text suggestions appear while typing. Select correct suggestion to display search results.

Now select this game from search results like below picture.

Now select "Get" button to begin installation.