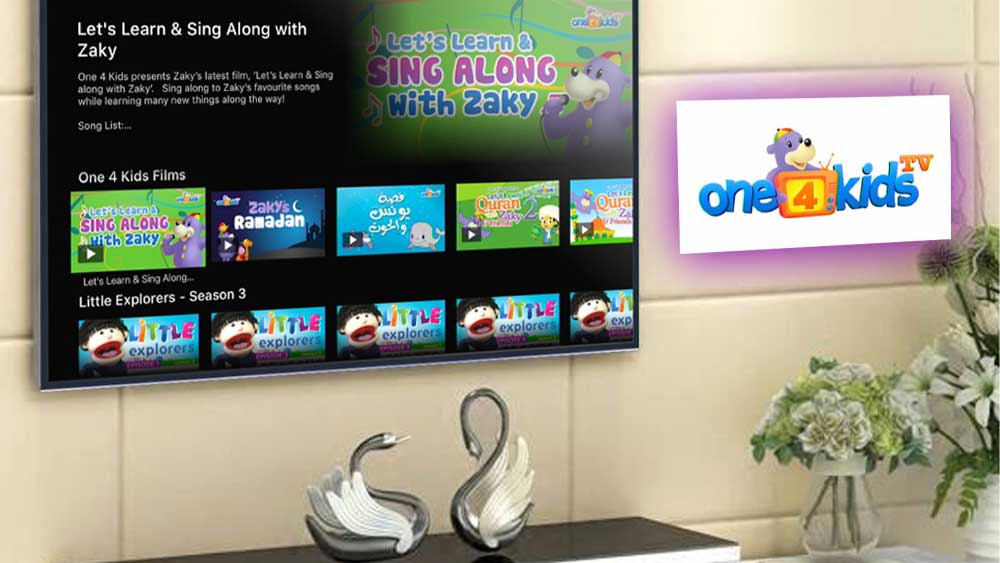 100% halal video streaming app for kids. One4Kids TV app is a Halal or Muslim online TV channel for Kids or children. Let your kids busy with useful and entertaining content on Android TV or Fire TV with this app.
Positive environment for kids
Children play a vital role in society. Not only because they are the future of the world but also because they are the ones that will be responsible for the development or downfall of many sectors in the future.
Many research has proven that the incidents and environment of children from ages 0-7 greatly affect them in their adulthood. Therefore, it is extremely important that only positive environments will be maintained in order to preserve positive mental and physical health of children.
With the development of the world and the rapid pace we all seem to be running in, parents find it extremely difficult and exhausting to choose what is good and what is not for their children.
The content that their children will be occupied with, what they will learn out of the content they watch, and also if their mental health is maintained and keeping them happy, all of this has been great pressure to many parents out there.
Understanding this, One 4 Kids has developed the all new One4Kids TV app for all kids out there to enjoy the best content possible. This will keep your kids happy and occupied with nothing but the very best content out there. this educational and super entertaining app will indeed speak for itself when you check out its features!
Features of One4Kids TV app
Standing out from the rest of the kids entertainment and educational apps, One4Kids is absolutely free for all its users and is the number one and leading Muslim kids channel out there.
With only Halal content for all kids, they will have guaranteed entertainment with nothing less than excellent quality. The safe and secure browsing on the app will make it a much safer environment than any other online platform out there.
The contents are all according to the great Sunnah and Quran, so you know your kids are occupied with the best HALAL content.
You can subscribe now for the 14 day trial and enjoy all of the features and benefits the app has to offer. You will be provided with over 100 amazing videos to choose from. Ranging from content such as Little Explorers TV series, Jannah's Way, Nasheed, Hurray for Baba Ali, and many more.
Undoubtedly to price guaranteed entertainment for your kids while you stay busy with your chores and work. The app will also have latest content added weekly so that you will never run out of things to keep your kids company with. The content will indeed be holy, educational, and also entertaining.
Your kids will also learn many Islamic references that will help them grow faith while enjoying the best content according to Sunnah and Quran.
So, with One4Kids app on your Android TV, you can always make sure your kid is happy and entertained throughout the day!
Install One4Kids on your Smart TV
You can easily download and install latest version of this app on your Android TV, Amazon Fire TV, Chromecast and etc. using default app store. If you are unable to install this application using your default app store, you can try using AppLinked app or FileSynced app. Those are the most popular Android TV app stores that allows you to install any TV app you want easily.
First open Google play store and go to search. Then type "One4Kids". You will see this application appear on search results while typing. Select it.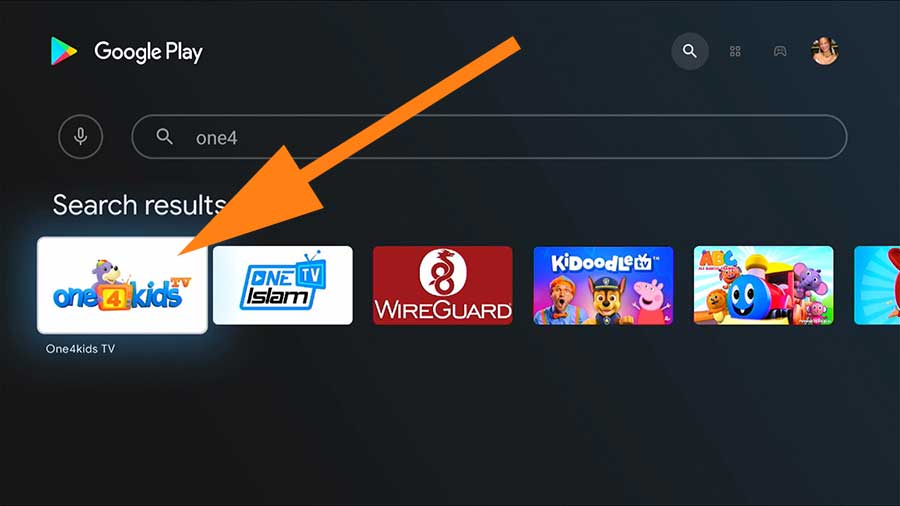 Now select "Install" to begin installation.