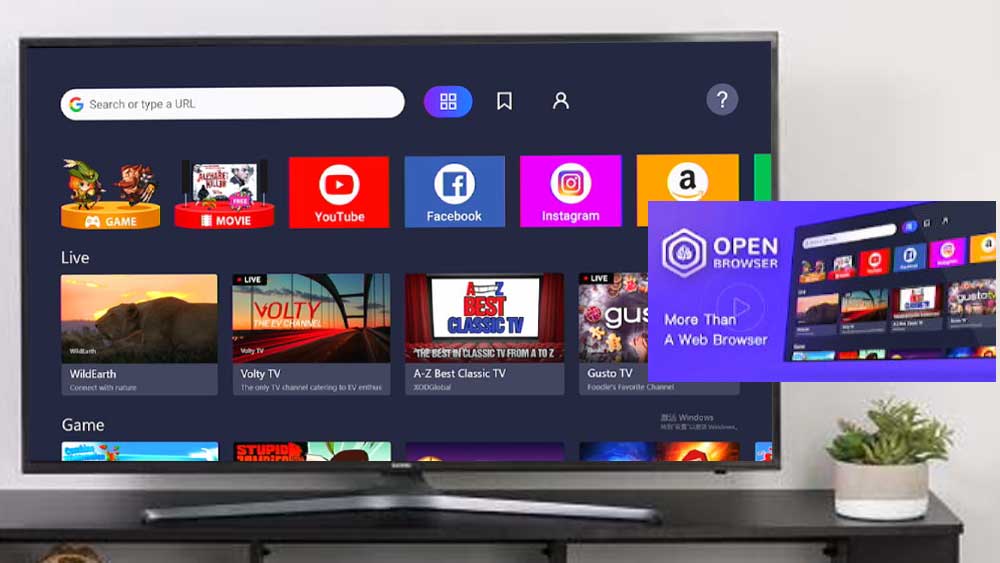 There are not many easy to use web browsers available for Android TV and Fire TV devices. Because it is so hard to navigate around websites like you do on smart phones and computers. Because you have to rely on TV remote. You can try Open Browser which is great for web surfing on Android TV boxes and Fire TV using TV remote.
Internet
One of the most interesting psychological traits the humankind has is curiosity. Ever since one's childhood days, curiosity is what makes us learn more and enhance our knowledge. With growing knowledge, people have seemed to come up with innovations, novel ideas, great philosophies, and many more.
Or curiosity could even help one stay updated and informed of his or her surroundings locally and globally. With the greatest innovation of all time, the internet, people have found ways to satisfy their curiosity by fining means to answer their questions.
The development of technology and web browsers have allowed all youngsters and elders to search for whatever pops into their heads and locate whatever they need simply from their web browser. Speaking of web browsers, there exists many to help you get whatever you want in the interest.
But speaking of the best, Open Browser is exactly what you need to satisfy all of your questions and needs. It is extremely user-friendly, and its smooth controls are perfect to be used for anyone regardless of their age.
Features of Android TV Open Browser App
Open browser is absolutely free for all users and is deployed over 200 countries ever since it was developed! It brings the latest and best TV experience to all it users and is also extremely fashionable in its outer look.
This browser is outstanding and will show you why it is better than any other web browser. The app is personalized with AI facilities. Which means artificial intelligence will be utilized to personalize your content and recommend you exactly what you like or what you're looking for.
All of these news, games, videos, OTT portfolios, and other content will be AI powered and all you got to do is enjoy what it picks out for you!
You can also enjoy its simple yet user-friendly interface that allows you to switch between tabs simultaneously and also with the multi-language support, you may use this hassle free from any part of the world you belong in!
You can also simply zoom In or Out of the screen to suit the size you prefer.
Incognito mode will allow you to get rid of your browser history on the go. This way, no need to worry about your search history being leaked! Private browsing to your hearts content.
With all of these features and functions, Open Browser app will offer you nothing but the best browsing experience.
Install Open Browser on Smart TV
This AI powered search engine knows exactly what you need and will provide you with all of your favorite games, movies, videos, and programs only. All it takes is an android device and the app to miraculously provide you with what you need. So just enjoy!
Install on Android TV
This TV web browser application available for all Android TV boxes and Fire TV devices via default TV app store. No need to use any third-party TV app installers like AppLinked and FileSynced. Just open Play Store TV and go to search. Then type "open browser". You will see this application appear on search result like on below picture. Select it.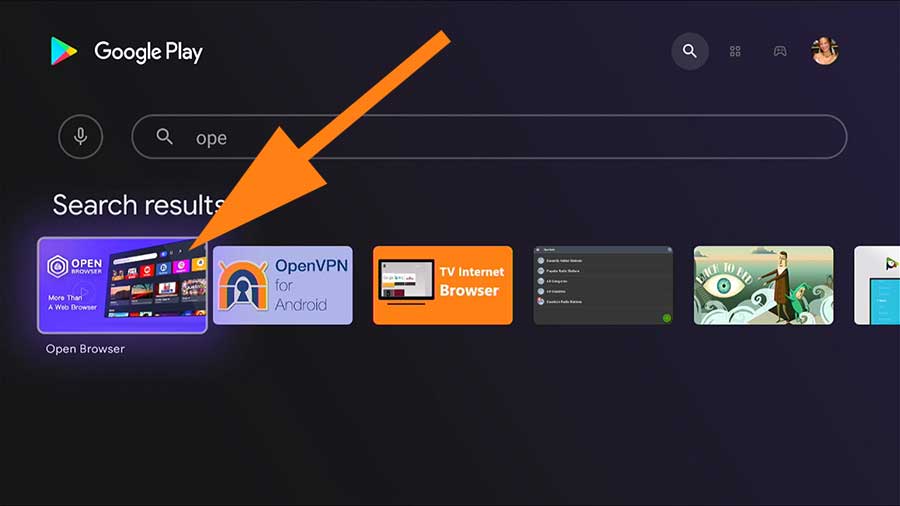 Now select "Install" to begin installation.