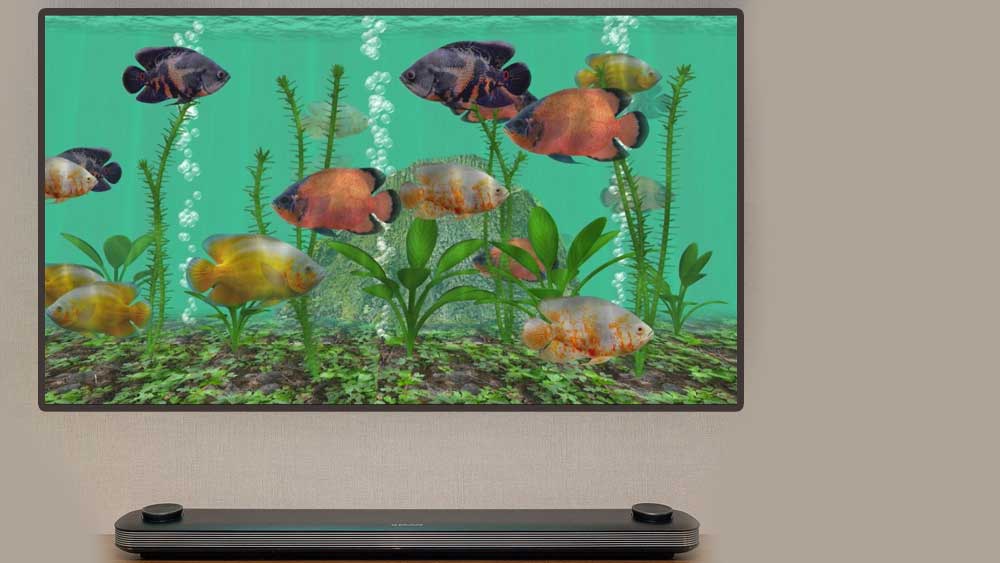 How to turn your TV to a fish tank or aquarium? Modern TV are thin and has high resolution options like 4K and 8K. Some TVs are called as wallpaper TV because they are so thin and feels like a wallpaper. You can turn your wall mounted smart TV in to a Aquarium with Oscar Fish Aquarium App. Best TV Aquarium for free. Support all Android TV, Google TV and Fire TV devices.
Provide realistic aquarium experience for free. With awesome fish, plants and more it make your feel fresh and relaxed. It cost lots of money to maintain sea water fish tank. Using a app cost nothing compared to that. Use this application to turn your Android TV to fish tank.
Importance of having a Aquarium
How many of you have owned fish? Ever wondered about the impact a fish can have on one? Well, for starters, there's many research that proves the numerous benefits of watching fish at an aquarium or elsewhere. We may think having a pet fish is just another pet and has no major impact on us whatsoever.
However, it has been found that watching fish help one reduce stress and anxiety levels and also increases feelings of relaxation and decreases ones heart rate and relieves muscle tension. This has made watching fish be on demand and helpful for many stressful conditions of people.
With the development of technology and life getting busier by the day, many people tend to find no spare time for relaxation or just engage in activities that help reduce their stress and tension. Staring into long hours of screen can also affect humans in many adverse ways than one. We can make use of technology and turn it into our benefit. That is exactly what Oscar Fish Aquarium TV has done! Developed by Gelios software and available on the android store, this app is a 3D live fish app that allows one to watch different kinds of fish at their own convenience.
Oscar Fish Aquarium TV
Many people also tend to believe in astrology or even fen Shui and such superstitious beliefs. I have news for all of you! Fish have been identified as a specie that attracts financial benefits and wealth. It also produces a calm atmosphere and thereby considered the key to success and harmony. So, if you are into that kind of belief, the app is perfect for you.
Furthermore, having fish can be a lot of work and many of us may not be able to take care of such thing because of our busy and hectic schedule. But, with the app, you can just look into your therapeutic aquarium and relax your mind whenever and wherever you are at the palm of your own hands. The app also lets you enjoy all your favorite kinds of fish and also includes aquarium rocks, plants and light rays that tend to create an exact ambiance of an aquarium that relaxes your mind and soul.
Studies show that people who make time to watch fish, swim on aquarium tanks improve their mental and physical wellbeing. And you really don't have to bother about making time for that anymore because the app will provide you with the best aquarium and aquatic experience for a stress-free relaxed time. So, all you have to do is download the app and enjoy a range of lovely fish and a scenery that will ensure to calm and relax your mind and body
Download Android TV Aquarium App
This is a free TV application available via default app store for Android TV and Google TV. This application does not available for Amazon Fire TV devices. In order to install this application on fire TV devices follow below procedure.
Download and install Aptoide TV
Go to search and type "oscar fish". You will see this app appear on search results.
Select it and install.
Below describe how to download and install this Live Fish application on Android TV and Google TV using Play Store.
First open Play Store application and go to search. Then type "Oscar Fish". You will see this application appear on search results while typing. Select it.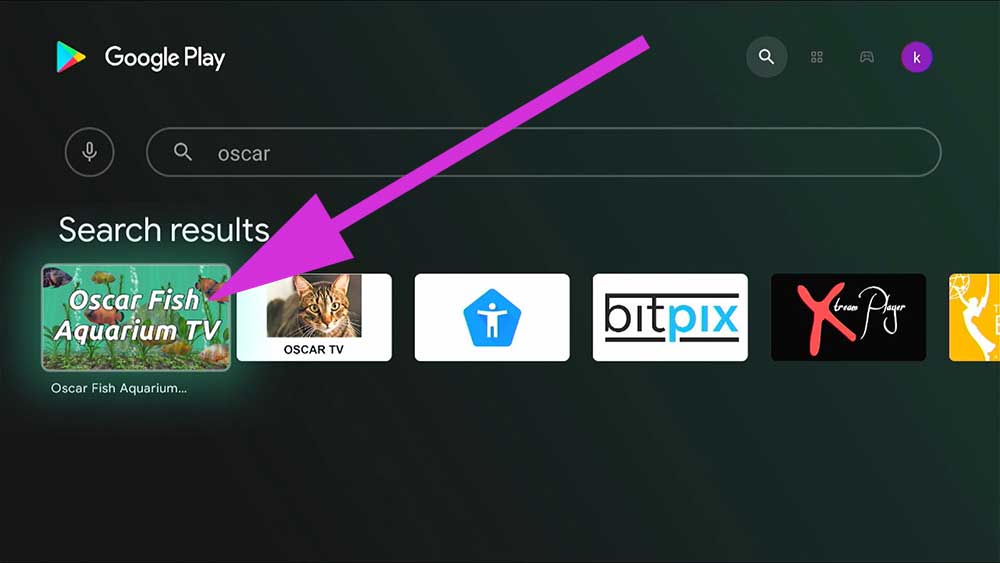 Now select on "Install" to begin installation.