Are you an owner of IPTV channels? how you watch these channels? Now a days there are various ways and means to watch your IPTV channels. Among many such choices today this post includes an app that really helpful when playing your IPTV channels and any video from all around the globe. The app is OttPlayer.
This definitely is a wonderful way to watch your favorite TV program or the video. It doesn't matter where you are. If you have an active internet connection then sure you can enjoy this nice app. This is good for your home theatre and also for any other Android device.
This is a newer way of watching your videos other than from the traditional cable TV and satellite connections. You can watch anything you like via the internet very easily. This brings high-quality entertainment to your small screen of the Android mobile and the tablet other than from your Smart TV or Android set-top box.
Features of OttPlayer
More importantly this is not a host for its own videos. We need to create playlist on our own. You can upload your own playlist through IPTV. And also, you can edit the playlist as you wish. This supports M3U8 playlists.
The support for the different protocols is amazing here. Some of the protocols supporting by the app includes RTMP, UDP, RTSP, HLS, etc.
The interface of the app is very simple and easy to follow. You can manage your playlist comfortably via the app.
By paying a small subscription fee you can enjoy tons of videos from every corner of the world through this. Anything you like is there on this app. This is one of the great features related with this app.
High-quality playback is the other interesting feature regarding the app OttPlayer. The audio and the visual output quality are of high definition. But be sure you have an active internet connection.
If you love to enjoy your most-loved entertainment programs through IPTV then sure you must go for this nice player OttPlayer.
Download IPTV for Android TV and Fire TV
You won't be able to download Ottplayer for Amazon Fire TV devices using default app store which is Amazon App Store. You have to use alternative TV box app store like AppLinked, FileSynced, Unlinked or Aptoide TV. Those app stores support all most all Amazon Fire TV devices like Fire TV stick, Fire TV stick 4K, Firestick lite, Fire TV cube and all. Click here for all TV boxes codes for apps.
It is much more easier to install this IPTV player on Android TV boxes using Play Store. Support Android TV boxes like Nvidia Shield TV, Shield TV pro, Google TV and all. Follow below mention procedure to install latest version of IPTV on Android TV box using Play Store.
First open play store application.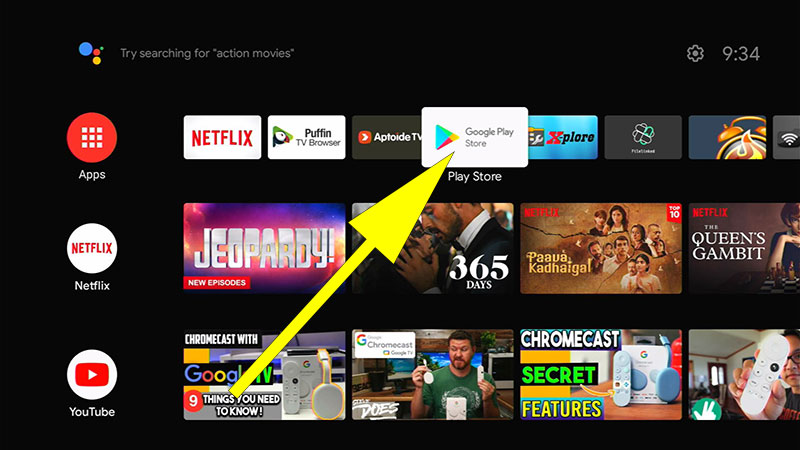 Go to search and type "ottp". You will see this application appear on search results like below picture. Select it to open.

Now click on "Install" button.