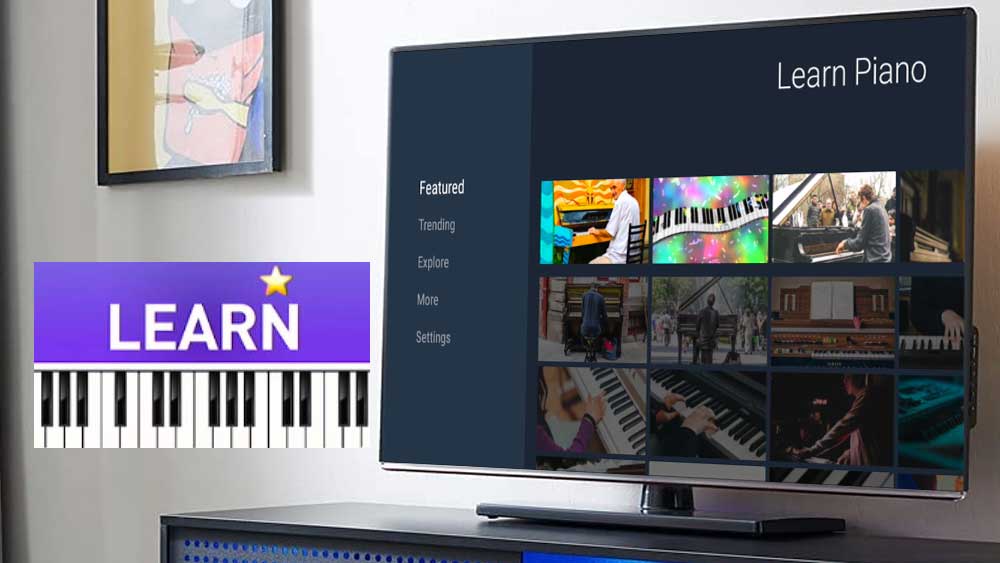 Learn to play your piano easily and effortlessly with the tutorials provided by Piano lessons app. Now you can install this app on your Android TV or Fire TV for free. Watch all the piano lessons videos now on your TV and make life easier.
Piano
Feeling good already. To talk about an awesome musical instrument that is known to have originated in the 17th century and gathered momentum up to the 21st century is an exceptional achievement. The Piano it is. Piano is number 1 in the list of the 10 most popular musical instruments as at date. Statistical records indicate that there are 20 million + piano players in the U.S. alone.
Although initially piano was widely played in the western block of the world by now, it has caught on with the rest of the world. Piano is one of the most played musical instruments in China, one most populous country in the world. Piano is played in most segments of the popular music world. Be it Classical, Jazz, Traditional, and piano backs up, solo and group performances, accompaniment, composition, song writing and practice sessions.
Piano music made many worlds famous solo artists. Elton John, Billy Joel, Stevie Wonder are some . The beauty of piano music is the ability to play multiple notes at once to blend harmoniously that makes extraordinary backing up. The solo artists just mentioned here is a classic example of this. Piano can be the whole music world. Been a single instrument that can play both melody and harmony. Apart from the musical perspective, piano contributes to another important matter. Personal health. Studies indicate and proves, piano playing will ease anxiety, depression, and loneliness. Wow ! What a great musical instrument the Piano is. And to do, due justice to anyone who wants to join in the millions of piano players, is the reason behind the development of the Piano Lessons Smart App. Here is a brief introduction to it.
About Piano Lessons TV app
Instructions and guidance are step by step. All lessons are free. Since X'mas is nearby start on with the famous and never ending popular X'mas songs such as, Jingle Bell Rock, Jingle Bells, Silent Night, when a Child is born, Wish you a Merry Christmas and so many more. Be the cynosure of all eyes in the party and hear the Aw's of amazement of the X'mas party gathering.
The lessons will include on piano notes, piano chords, and piano scales. The process will be with video instructions on musical scales, piano notes, c Major scale and jazz piano chords. Necessary music books will also be made available for easy reference. To determine the progress categorization is done as beginner, intermediate and advance. This enables efficient and effective way to ensure comprehensive learning skills are parted to make all the beginners to end up the best of piano players. Another noteworthy feature is all of this is absolutely free.
With endless tips, educate and learn strategy, incorporated in this tech advanced modern Piano Lessons Smart App, and made easy to use is the reason why Piano Lessons is number 1 in the world. The very reason why it is recommended to all of the piano lovers who are, impatient to start playing and to feel amazed, relaxed, and healthy.
Watch Piano Lessons on TV
No need to cast from your phone to TV to practice all your piano lessons. Now you can install this free piano learning app on your TV box using your default app store. Support all most all Android TV boxes including Nvidia Shield TV, Mi BOX S, SkyStream, Fire TV, Firestick and Fire TV cube. Follow below mention guideline to install this app on your TV box.
First open Google play store TV app. Then to go search and type "piano lessons". You will see this app on your search results like below picture. Select it.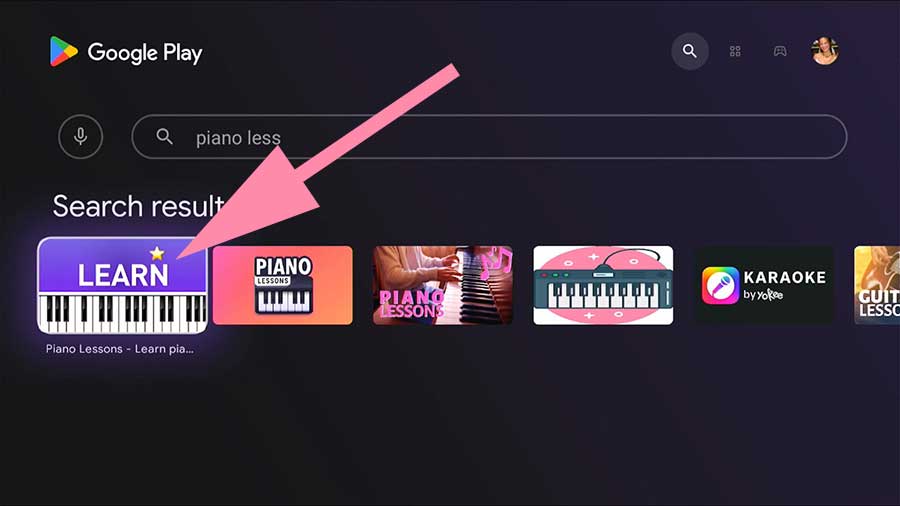 Now select "Install" to begin installation.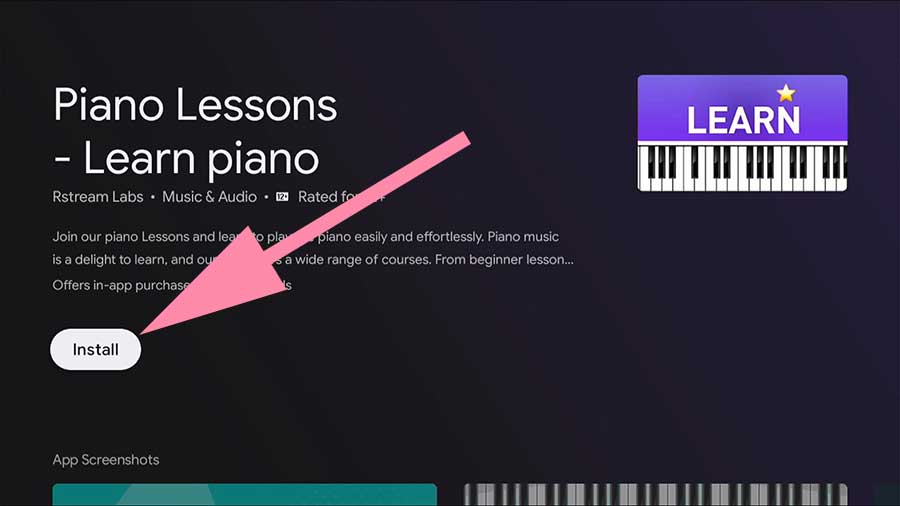 If you want to install downloaded apk file on your TV box, try using Applinked, Filesynced or unlinked. Those TV app stores allow you to create your own TV app store and install whatever the Android app you want.