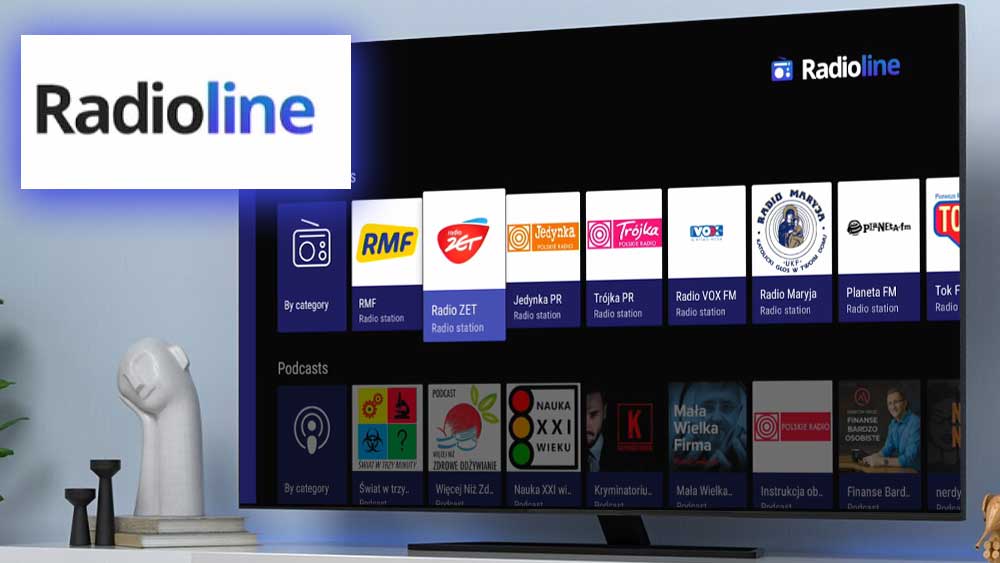 One of the best and simple radio application for your TV. Use Radioline apk to listen radio stations and podcasts worldwide for free using your Android TV and Fire TV. Has many useful features for free like resume where you left-off your podcast, offline listen to podcasts, powerful search and more.
Radio and podcasts
Radio has been one of the greatest inventions of mankind. Not only because it provides you with real time information from all around the world, but also because it was one of the very first sources of entertainment and also kept company for millions of people around the globe. It also helps to broaden an individual's personal world by providing information, allowing them to delve into their very own world of imagination, and also allowing them to calm and relax themselves whenever they are feeling exhausted or depressed.
The radio allows everyone to calm down and also takes away all of your daily life's stresses and anxiety. Listening to the radio will never go out of style and hence, the radio has also been embedded onto our smart devices with the advancement of technology. No matter where you are, a little bit of radio could never hurt. The Radioline app has been developed for this purpose for all you android users out there who would love to enjoy some radio and podcasts free on one single platform at ease!
The app requires no additional hardware or software and also allows users to export music from the radio app to their very own playlist in just one click. This way, not only can you listen in real time, but you can also save your favourites for later! The radio stations on the app comprise of numerous channels from around the world and the available podcasts are absolutely free.
No matter what kind of music you are into, be it, Jazz, House, Electro, Asian Pop, Hip-Hop, Rap, Pop, or even classics, the app will allow you to stream them all at the comfort of your very own fingertips! The podcasts are also super beneficial and entertaining as they contain topics such as Science, News, Art and culture, Gaming, and many other topics you may be interested in. The features on the app make it super easy and convenient to use the app. You can save and synchronise your favourites now with all of the compatible devices from anywhere around the world. You can also resume the playbacks on the app so that you can pick up from right where you left off.
The offline podcasts makes it possible for you to download your favourite podcast and play them while you are offline. You can also discover the entire database by just searching on the search engine available on the app and browse through thousands of contents! With Radioline app, listening to the radio has never been easier. You can simply enjoy all of your favourites including podcast at the comfort of your own fingertips. Do not sulk if you are hanging out with your friends or family and not having a way to listen to some great music. Because with Radioline by your side, you can groove at any time!
Install Radioline Radio app on your TV box
You can easily download and install this free TV box radio app on Android TV, Chromecast, Google TV and Fire TV devices. You can use third-party TV app stores like Applinked, FileSynced or Unlinked if your default TV app store does not has this application. Some of the TV apps and games are also available on Aptoide TV. Applinked and FileSynced stores are popular for movies and TV shows apps. Apps like this will be available on Aptoide TV.
Follow this tutorial to install radioline on your Android TV box. First open Google play store application and go to search. Then type "radioline". You will see this application on search results while typing like below picture. Select it.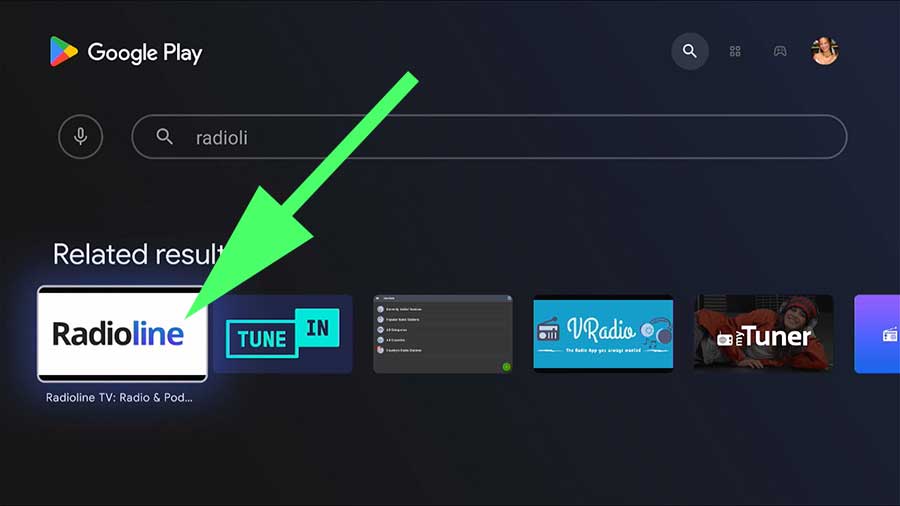 Now select "Install" to begin installation.