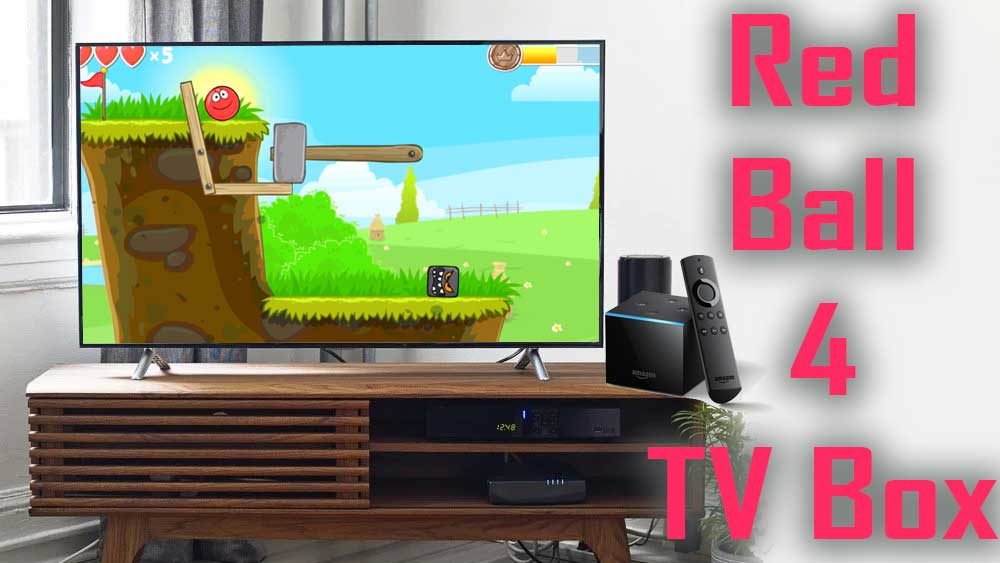 We are engaging in different activities while we are at home. Sometime we may feel bored. What we are going to do? Watching TV? Listening to radio? Playing games? When refers to me I like to play games in my mobile. But it is nicer to play those awesome Android games on my TV. During the these days I have found multiple games to play in any bored time. One of such a game I came across is this Red Ball 4. So, friends through this post I am going to give out some of the points regarding this cool game Red Ball 4.
Most important thing is that you can play this game on your TV. You can easily download this game to your TV box using the default TV app store.
Red Ball 4 for Android TV BOX
From the name I think you can get an idea that there should be a Red Ball. Yes. You are correct. This game is all about a red ball. A cute little red ball bouncing, rolling and jumping through its way. This reminds me the game Bouncy Seed as well. Much more similar concepts.
Google Play Store offers this game for you. download this cool game now in your Android device. Moreover, if you want you can download this game from AC Market also.
Key features of the gameplay
This is a 2D game. The graphics of the game are very simple. The interface of the gameplay is very simple, clear and sweet. No so many complications to the eye. The colors of the game are also very matching and also calming. Moreover, I love the background music of the game as well.
You can take the control over the game very easily. Only you have to use your two thumbs. Left one to control the left and right movement of the ball and the right thumb to make your cute red ball to jump high.
Though this is simple I think we need to be wise. Because we have to use some strategies and the things, we meet in our way to make our journey a longer one. In your journey leading the little friend you have to collect star points as much as possible.
In here you will go through more than 75 levels. Each level with unique features. At the starting levels you may find it very easy to play the game. when you go forward through the levels you may find it bit difficult to play. Because there will be many more challenges and enemies you have to meet in the higher level. be wise and strategic and go higher as much as possible.
Here in some levels, you have to solve some puzzles and also to face some epic boss battles.
Download Red Ball 4 for Android TV and Fire TV for free
This is a free entertaining game available for Android devices. You can use Google play store, if you have Android TV box like Nvidia shield TV, Mi BOX, H95 or any TV box with Google play store. Same goes with Fire TV device. You can install this game using Amazon App store. Amazon App stores comes natively on all Amazon Fire TV devices like Fire TV stick, Fire TV Stick 4K, Fire TV cube and all.
However, there are many Android TV boxes without Play Store and Amazon app store. You can use alternative TV app stores like Filelinked, Applinked, FileSynced, Unlinked or Aptoide TV. For TV games it is better to go with Aptoide TV.
Below shows how to install Red Ball on Android TV box using Play Store application. First open play store application on your TV box.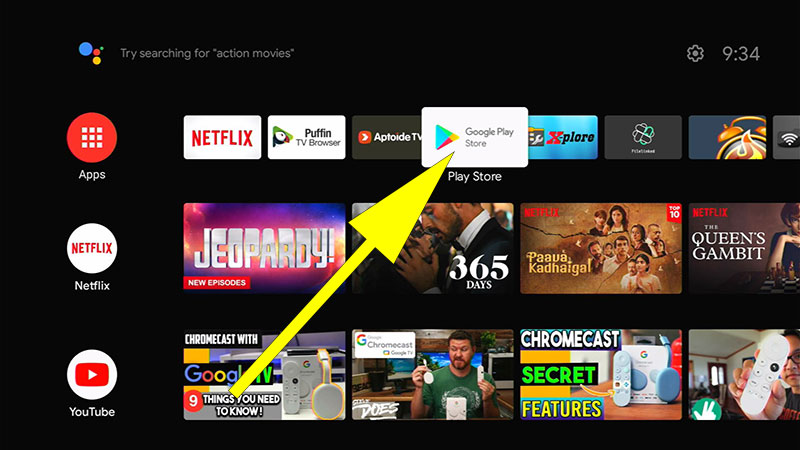 Now to go to search area and type "red ball". You will see this game appear on search results like below picture. Select it.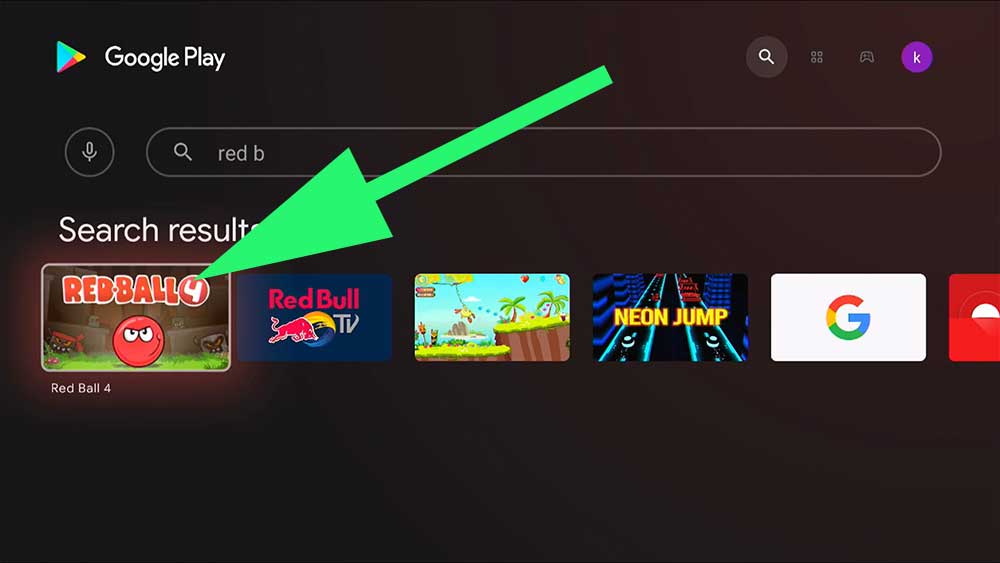 Now select "Install" to begin installation.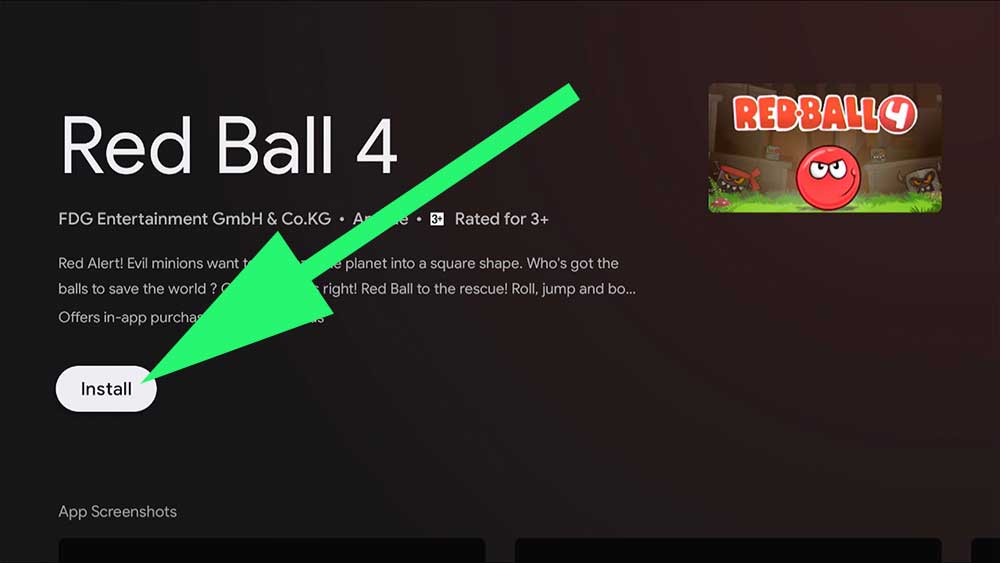 Install Red Ball 4 Game on Fire TV
One of the best games to play on Amazon Fire TV. Support all most all Fire TV devices including Fire TV cube, Fire TV Stick, Fire TV Stick 4K, Fire TV Stick lite and all. First open Amazon App store application and go to search. Then type "red ball 4". You will see text suggestions while typing. Select correct game name like below picture.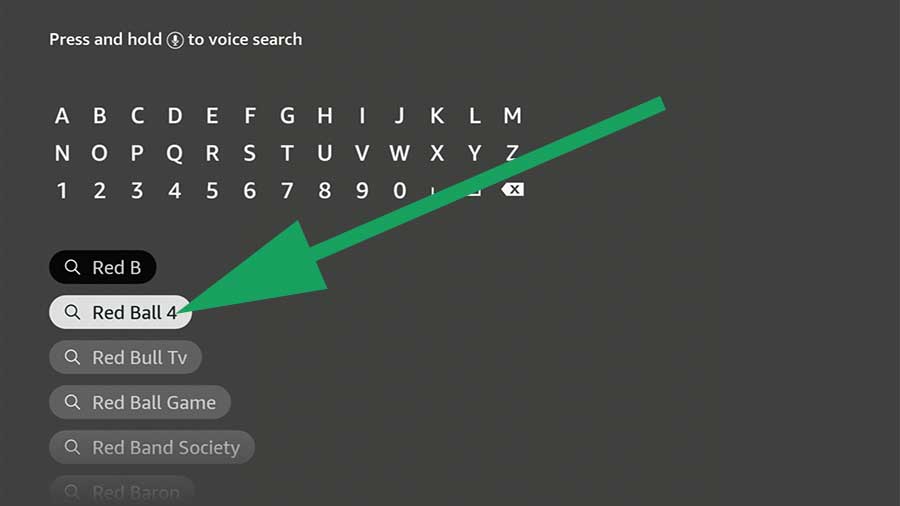 Now you will see search results like below picture. Select "Red Ball" game from search results.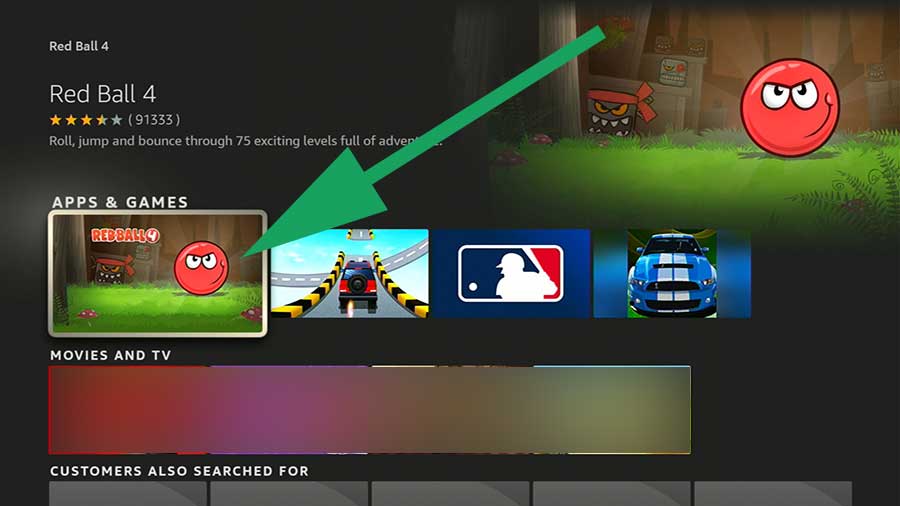 Now select on download icon like below picture to install.