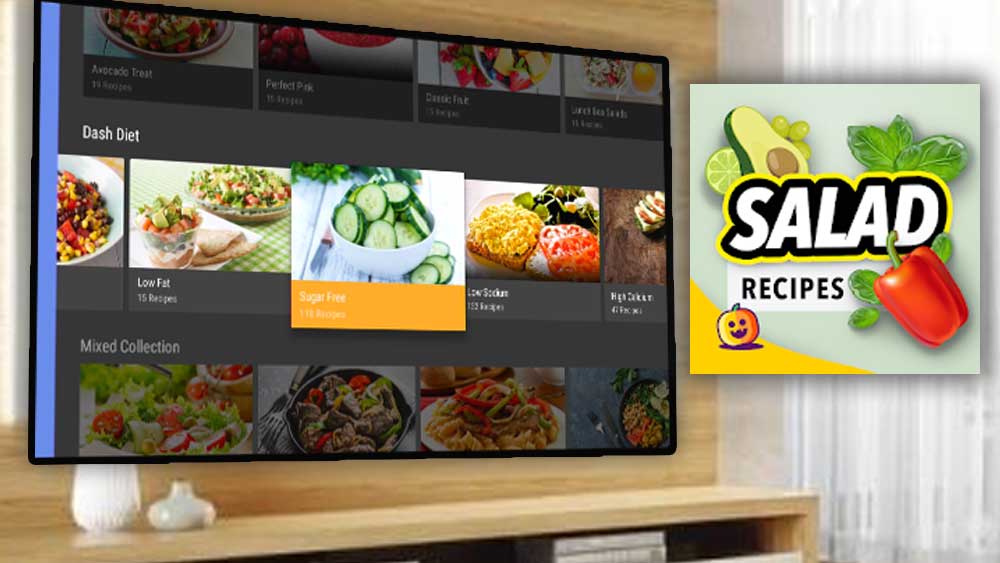 Watch and make salad recipe videos now on Android TV and Fire TV boxes with Salad Recipes App. Easily select your favorite salad and use all its controls with TV remote. Play, Pause, Stop, switch and more controls easily with TV remote. No need to wipe food from your phone every time when making your favorite salad. Best and most popular Android TV and Google TV salad making application. Also available for Fire TV and Fire TV stick devices.
Salads for Healthy Life
One of the most important factors one is obsessed in a human physic is the weight. It is well understood by an average person that the best way for one's physic to be is as per the Body mass index formula which is calculated simply by dividing one's weight by the height. This classification is grouped as underweight, healthy, overweight, and obese. The ideal is healthy.
People around the world is conscious about been healthy and due attention and action is taken to be healthy. It is not only for health reasons one wants to maintain that ideal weight but to maintain a good looking attractive figure. Especially with the female folks. Calories in food contribute mainly for weight gain. Eating Salads are an ideal way either to shed off that extra fat or maintain that ideal weight as salad dishes contain less calories.
Professional Salad Recipes on TV
The professional Salad Recipes for Weight loss is an app that could be easily installed on your Android TV or Fire TV for easy access and following. The belief of salads are lesser in taste than other varieties of food becomes a joke when one prepare salads out of the Salad Recipes for Weight Loss app. Look no further here's what Salad Recipes for Weight Loss got to offer to keep all its followers healthy and looking good doing justice to one's physic. With over 2000 delightful healthy salad recipes could one ask for more? Find some of those main menu items it got to offer.
Keto salad recipes, salad dressings, chicken salad, potato salad and coleslaw. A tasty bowl of salad as per your choice out of the app's menu combined with fruits will be that ideal meal plan to keep one healthy, trim in proper good shape.
Salads are rich with fiber and micronutrients. There is strong evidence that eating lot of fiber is associated with lower heart disease, stroke, type 2 diabetes, and bowel cancer. Fiber rich Salads makes us feel fuller. What's more it helps digestion and prevent constipation. Micronutrients are one of the major groups of nutrients one's body needs. The main content are the presence of vitamins and minerals. Vitamins are necessary for energy, immunity, blood clotting etc. Whilst minerals play an important role in growth, bone health, fluid balance etc. All of these contributing to good healthy living.
Recipes in the app includes variety of items that could be enjoyed in summer along with the loved ones be it friends or relations. These recipes include some special dishes like Tuna, Macaroni, Egg and Fruit. Recipes include the preparation of Salads using meat, apples, cabbages etc. Salad Recipes app has done a great service by offering the latest and tastiest recipes ever.
Download Free Salad Recipes app for TV BOX
This is a free salad making application that is available for Android TV, Google TV and Amazon Fire TV. Support all most all popular smart TV devices like Nvidia Shield TV, Shield TV pro, Mi BOX, TV Stick, Fire TV, Fire TV Stick, Chromecast and all. Below shows how to install this application on Android TV using default app store.
First open Play Store application of your TV box. Then go to search and type "salad recipes". You will see this application appear on search results while typing like on below picture. Select it.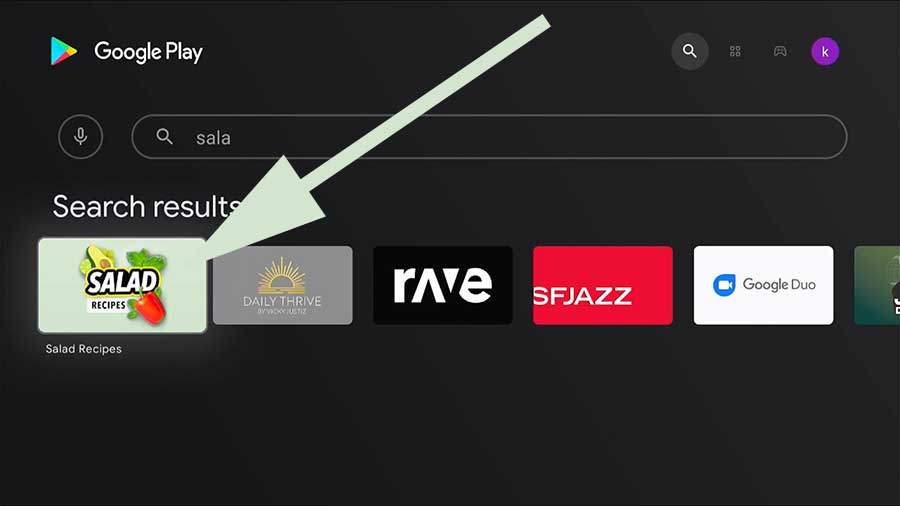 Now click on "Install" to begin installation.