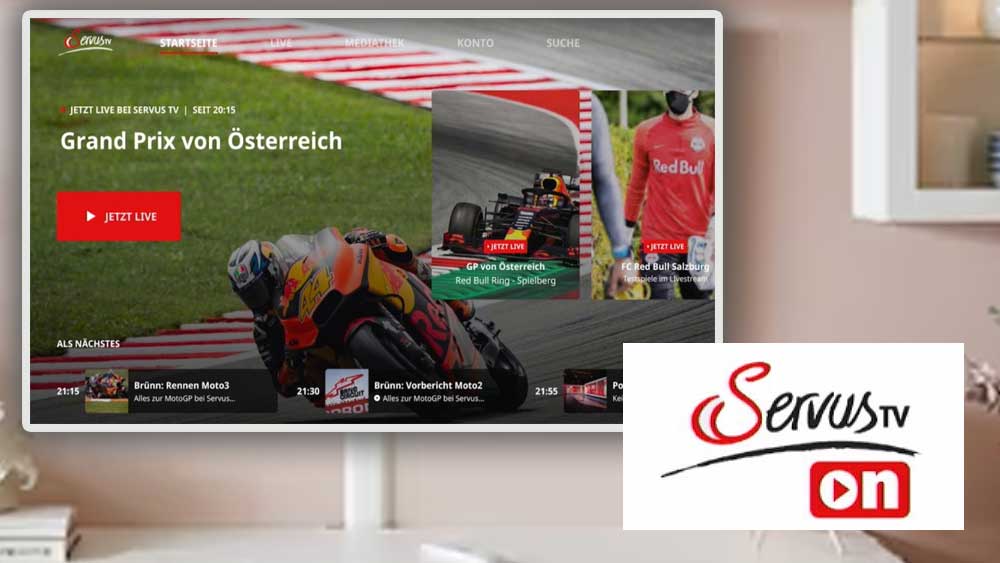 Table of Content
Best and free sports streaming application available for all Android TV boxes and Fire TV devices. You can install ServusTV On app on your TV box to watch  Formula 1, MotoGP, UEFA Champions League, UEFA Europa League, UEFA Conference League and documentaries like nature, culture, customs, cuisine, etc.
Smart TV
Television has allowed us all to enjoy our favorite content from all around the world at the comfort of our very own homes. With the development of television and other smart TV equipment, all it takes is just a few taps on your TV remote to get done exactly what you need. If you love watching movies, staying informed and updated on news and all of the happenings around the world, or even spend your leisure time more productively, Smart TV is absolutely the best way to do so.
With the development of Android TV, you can now enjoy some Television live on your Android TV, Amazon Fire TV, Chromecast, Google TV at the comfort of your very own fingertips. Amongst these TV apps, you might wonder what the best app is to enjoy your favorite games and sports content. Let me introduce you to the best out there, the ServusTv On app that is available for absolutely free for all TV users out there.
The app is the best streaming service for all you sports enthusiasts, allowing you to enjoy live streams of your favorite sports such as MotoGP, Formula 1, UEFA Europa League, UEFA Champions League, and many more. So, tune in and enjoy some of the most exemplary features offered by the app!
Features of ServusTV On Sports App
Allows you to enjoy many contents from all around Europe. Documentaries and films about distinctive alpinists and the mountains that serve as their backdrop. The vast beauty of our earth is displayed in nature documentaries in stunning photos.
Also provides reports, discussions, thoughts, and news. Additionally, a variety of Alpine culture, traditions, food, and handicrafts are available on the site. And three distinct subject channels are accessible around-the-clock.
Whatever sport you wish to watch, ServusTV On provides more than 30 sports to suit your interest (including DTM, WRC, DEL, Sail GP, and many more) for free with extra features. While the event is in progress, you may go back and see disputed passages from a Champions League game if you missed them the first time.
You may just rewind and view the Formula 1 race's starting sequence if you missed it. All three UEFA club championship highlights, as well as highlights from MotoGP, Formula , the World Superbike, and much more, can be found on Servus TV On.
Users may access further thrilling features by logging in. You may quickly keep programs on the app's home screen and follow them among other things. No matter the device, you may go on viewing a video that you've already begun, where you left off.
All of these features offered for absolutely free when you install the ServusTv on app. All of the content around the world is just a scroll away. Enjoy some exemplary content with your family, friends, and all your loved ones at the comfort of your very own home. Sit back, relax, and enjoy the best watching experience and much more with ServusTV On app now!
Install ServusTV On – Android TV
This is a free Android TV and Fire TV application that is available on default app store to install. Some devices may not receive due to geographical restrictions and device restrictions. For those devices can use Applinked, Filesynced, Unlinked or Aptoide TV to install this app for free. Follow below mention procedure on your Android TV to install.
First open Google Play Store application and go to search. Then type "servusTV". You will see this application on search results like below picture. Select it.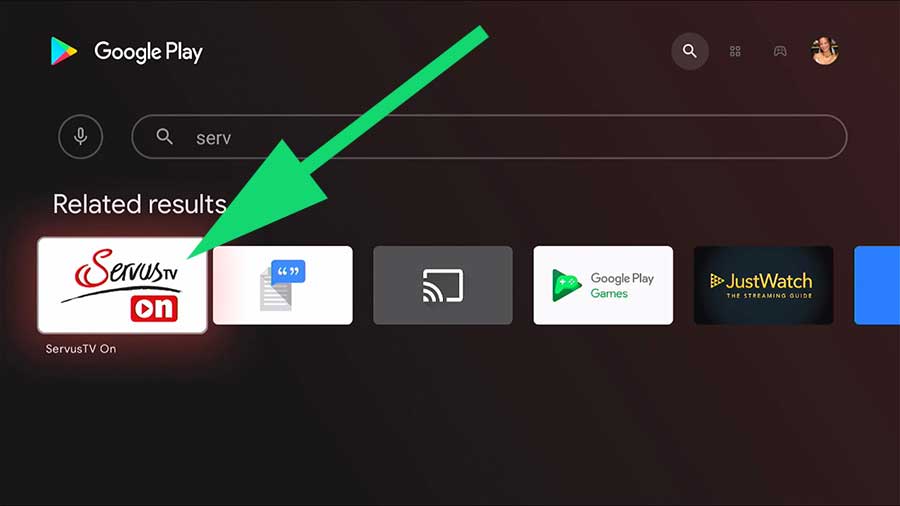 Now select "Install" to begin installation.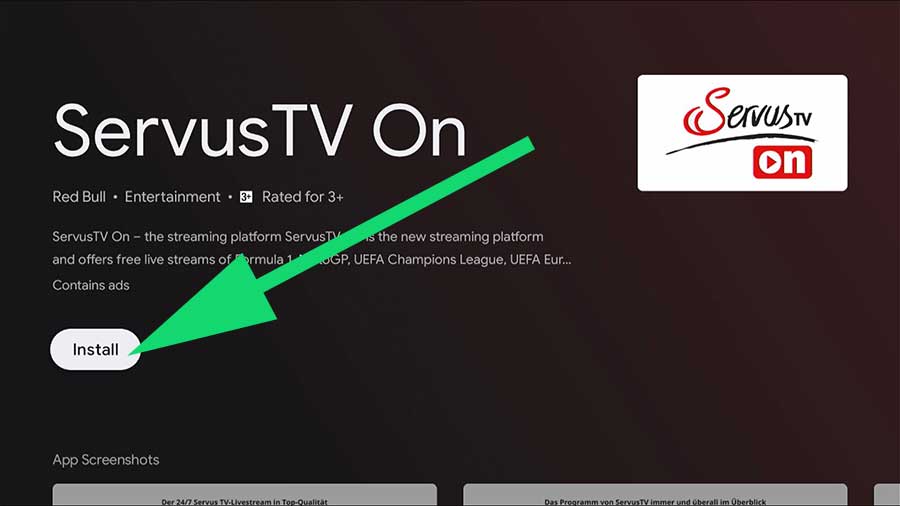 Install ServusTV On – Fire TV
Below shows how to install sports streaming app that stream contents related to European Qualifiers, Formula 1, MotoGP, UEFA Champions League, UEFA Europa League and the UEFA Conference League and more on Amazon Fire TV. This app support all most all Fire TV devices including Fire TV cube, Omni series, Insignia series, Firestick lite, Firestick 4K and more. Follow below mention instructions to install "ServusTV On" on Fire TV.
First open "App Store" application on the home screen of your Fire TV. Then go to search and type "servusTV". You will see text suggestions like below while typing. Select app name to display search results.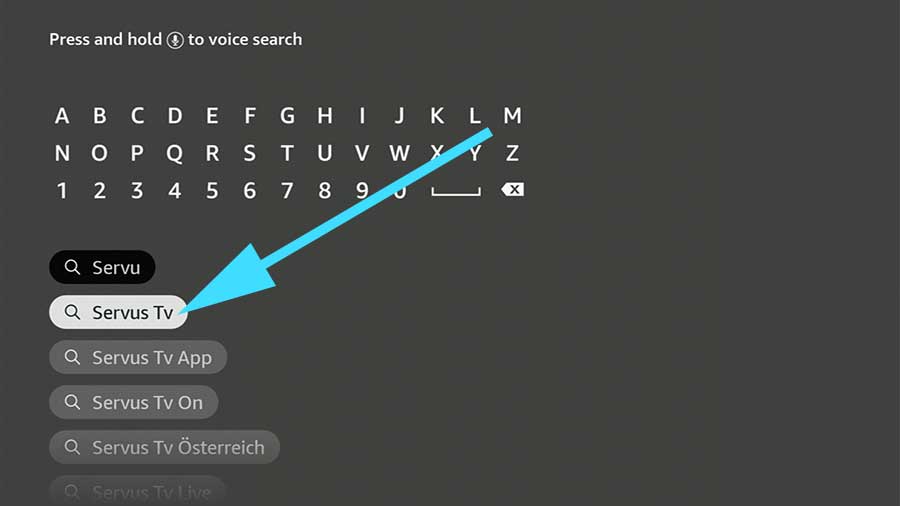 Select this app from search results like below picture.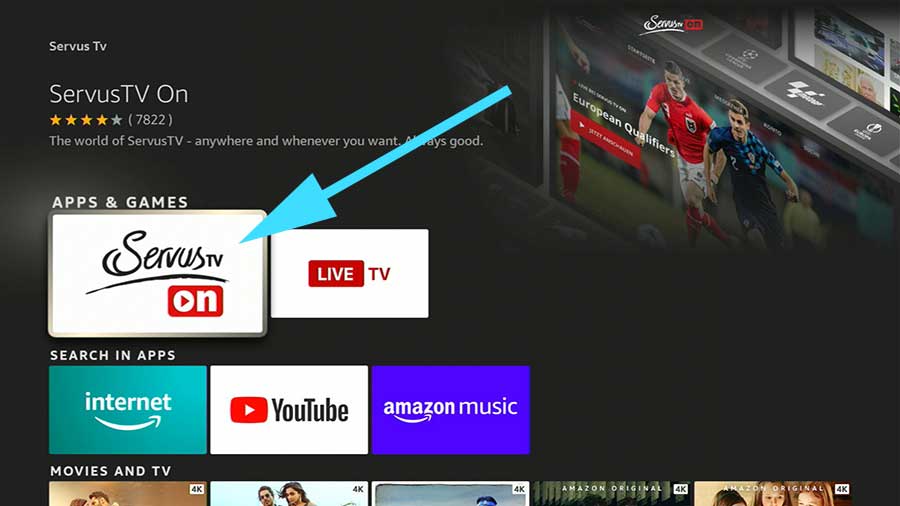 Now select "Get" to begin installation.