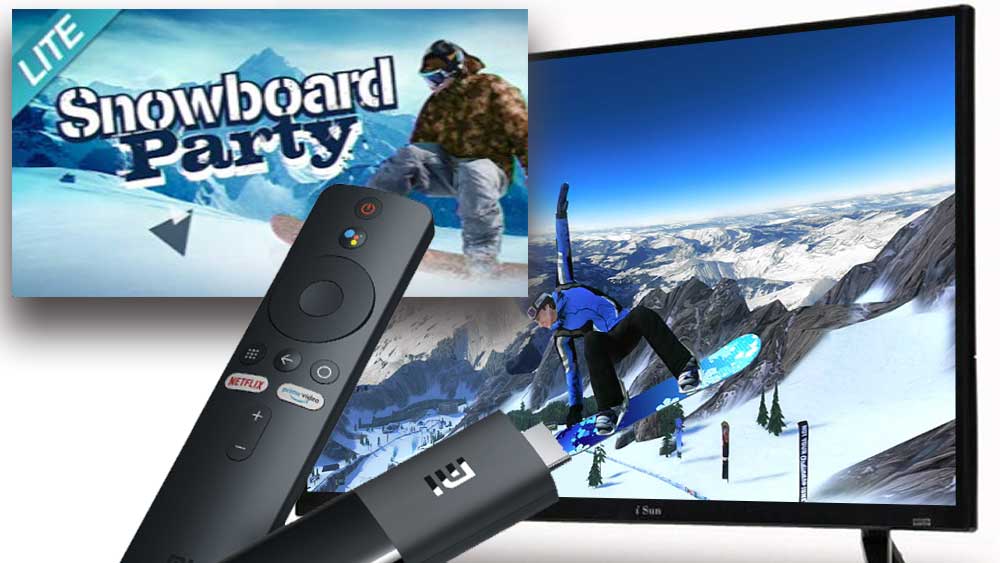 Are you looking for a new exciting games for your Android TV to play in your leisure time. Playing games in bigger screens are much more better than playing in mobile screens. There are numerous video games you can have in your Android TV Box. The Snowboard Party can identify as one of the most interesting and inspiring game to play in your TV. If you need to feel the thrill of snowboarding in different locations then here is the best opportunity for you. There are so many substitutes for this app in the app market. But I think this app is much cooler than the other apps available there.
Snowboard Party Android TV BOX
As the name implies this is solely about snowboarding in different locations. This game gives you a superb experience of snowboarding. You can ride in high speed through hills, mountains, snow and so on to have a fantastic experience. There are some objectives and achievements you should accomplish while riding your board. The game is also very easy to play and control.
When it comes to me, I like the graphics of the game. these graphics are very fabulous and cool. It really gives you a realistic feeling of real Snowboarding game. Feels like playing PC Game. I am sure that you will addict to this nice game once you have it on your smart TV too. It is very interesting and no borings.
Features of Snowboard Party TV
There are about 16 snowboards with different colors and sizes to choose from. Each with unique characters and you can personalize your selected board as you wish. You can upgrade your board to enhance the performance too.
Here you can work out different tricks and combos of snowboarding while balancing your riding speed. Trying different tricks is the most enjoyable part of this game. You can use the things like rails, boxes, logs and many more things to perform your tricks. There are more than 50 tricks to try here. Each filled with excitement.
There's something called Big Air Competitions where you can make tricks and combos while riding down a slope. But in high speed.
To earn scores, you have to reach the destination quickly. Performing tricks gives you more scores. If you missed flags scores will take back.
The game can play by yourself or if you want you can play with your friends and other players all over the world via online. I am very sure that you can enjoy this nice app by playing with your friends and by yourself too. You can share your achievements and tricks via twitter with your friends. So, above are only some of the main attributes of the game Snowboard Party. There is no doubt that you can experience much more things as soon as you begin to play this game.
Snowboard Party for Android TV
This game available for both Android TV and Fire TV via default app stores. You can easily download and install this game on Android TV boxes and Google TV if you have play store app. For Fire TV devices like Firestick, Firestick lite, firestick 4K, Fire TV Cube and all can use Amazon App Store. Installing this game using default app store ensures future updates and official game app install.
Here we are discussing only Android TV boxes. This method support all TV boxes including Nvidia Shield TV, Shield TV pro, Mi BOX S, Mi TV Stick, SkyStream, X95X and more.
First open play store app on your TV.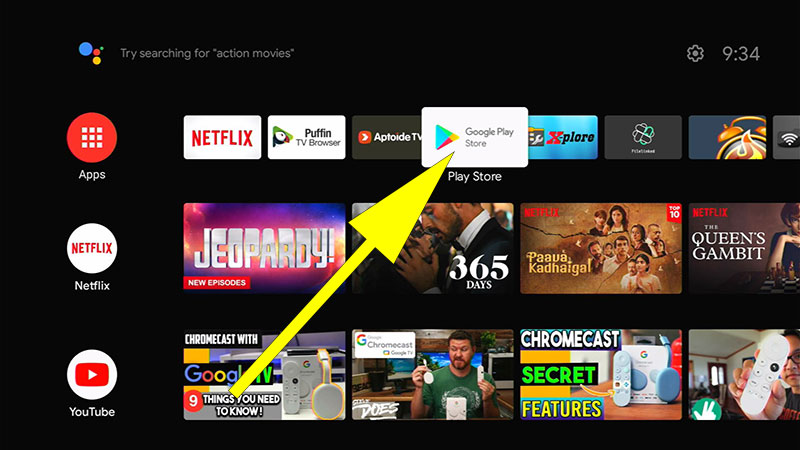 Go to search bar and type "snowboard". You will see snowboard party lite app appear on search results like below. select it.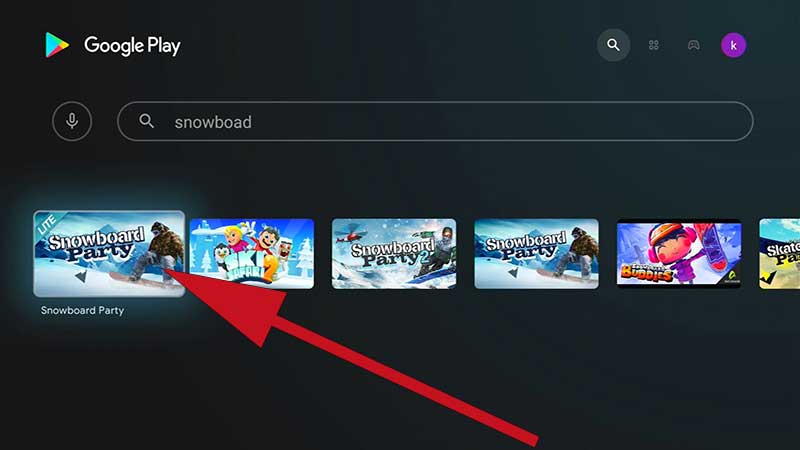 Now select install to begin installation.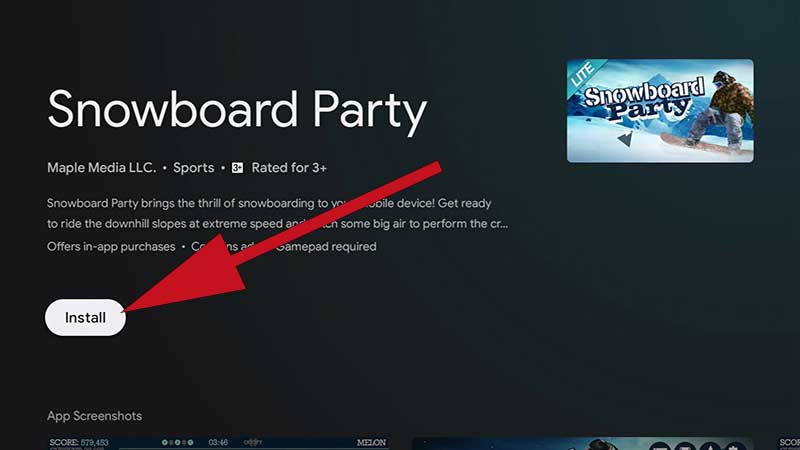 You can use third party app stores like Applinked, Filesynced, Unlinked or Aptoide TV to install this game if you does not have play store.
Install Snowboard Party Game on Amazon Fire TV
You can install and play this game for free using your Amazon Fire TV and Fire TV stick. First open Amazon App Store and go to search. Then type "snowboard party". You will see text suggestions while typing like below picture. Select this game name like below picture.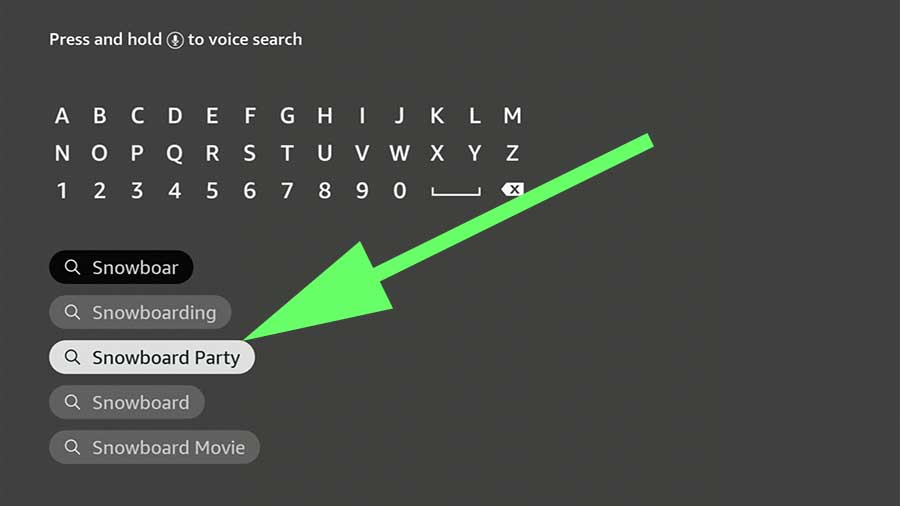 Now select Snowboard party lite game to play free.

Now select download icon to start installation.