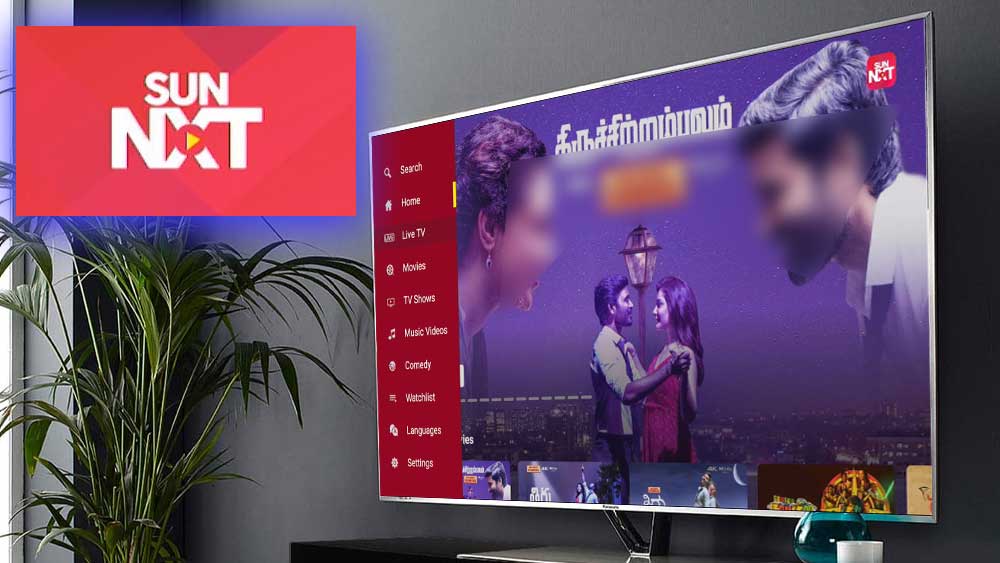 Best Android TV and Fire TV app to watch South Indian Movies. You can easily install Sun NXT app on your TV to watch over 4000 plus movies and TV shows. You will find movies over six languages to enjoy. You can enjoy live TV, music videos, news, comedy clips and more apart from Indian movies and TV shows.
South Indian Movies
Hollywood has been one famous name involved in the movie industry from time memorial. Its movies caught on the world with immense popularity and as much as in US they were box office draws in other parts of the world. India famous for many landmarks in the globe has a special place for movies, shows and similar entertainment. Statistics indicate Indians watch the greatest number of movies in the world. Movie artists are hero worshipped by many in India.
Remember sometime ago a news article, where a teenager has skipped meals and saved money to watch one of his favorite movie stars acting in a film. The progress of the Indian film industry is all well known by now. Bollywood and Kollywood are now as famous as Hollywood. And South Indian movies cut a figure above the others. To make things much easier for all the deserving entertainment fans was the major motivation, to develop a smart app that features the best of South Indian entertainment. It is the Sun NXT Smart App. Here's running through, what this gorgeous smart app features, that will drive all, crazily delighted.
About Sun NXT app
4000+ movies accessible any time. Be warned ! Movie lovers, you gonna get lost in the movie world with Sun NXT. Subtitles are featured to make sure language will be no barrier in following the dialogues. TV shows are featured on a daily basis in, Marathi, Bengali, Kannada, Malayalam, Telugu, and Tamil languages. Not only will Sun NXT feature movies and shows but will keep all its users updated with the latest news. Live stream on news, music videos, kids shows, comedy clips and more. Trailers on up and coming features are made available to keep everyone in the loop. Here are some major blockbuster box office movies found on Sun NXT.
Love You Rachchu, Beast, Pratheekaaram, Ala Vaikundhapuramlo, 1945, Etharkkum Thunindhavan, Annaatthe, Doctor, and the list is never ending. Here are some of the upcoming blockbusters. VJS 46,Thiruchitrambalam, Thalaivar 169. Features top ranked TV serials. Mom Palok & Saint gajanan, Kanyadaan, Sevandhi, Kaavyanjali, Manassinakkare, Kaliveedu, Sadhana, Chithi 2, Sundari, Ehir Neechal. All these comes in 06 languages.
With Sun NXT Live TV, stream on TV shows and favourite channels to select content to be watched as desired in the language the viewers want. And more of entertainment by way of a huge offering of Music Videos and a unique offering of songs lyrical videos. So popular this feauture has been attracting over 75M views. Wow !
And Sun NXT Smart App has not missed out in bringing laughter to its users, with its Comedy Clips.
The best variety of entertainment is at everyone's fingertips, with this amazing super Sun NXT Smart App. Never will have to miss out on those great blockbuster movies. Cinema has come home. With family and friends relax and enjoy all the super entertainment to the max. Sun NXT will indeed add on to your favorite star profile as much as your favorite entertainment stars out there.
Install South Indian Movies app on TV Box
You can install this Tamil movies and TV shows application on Android TV and Fire TV using Play Store or Amazon App store. There many other free Movies and TV shows applications on third-party TV app stores like AppLinked, FileSynced and Unlinked. You can also checkout Aptoide TV for more free TV apps and games. Follow below mention procedure to install this Tamil Movies and TV shows app on your Android TV.
First open Google play store and go to search. Then type "sun nxt". You will see this application on search results while typing like on below picture. Select it.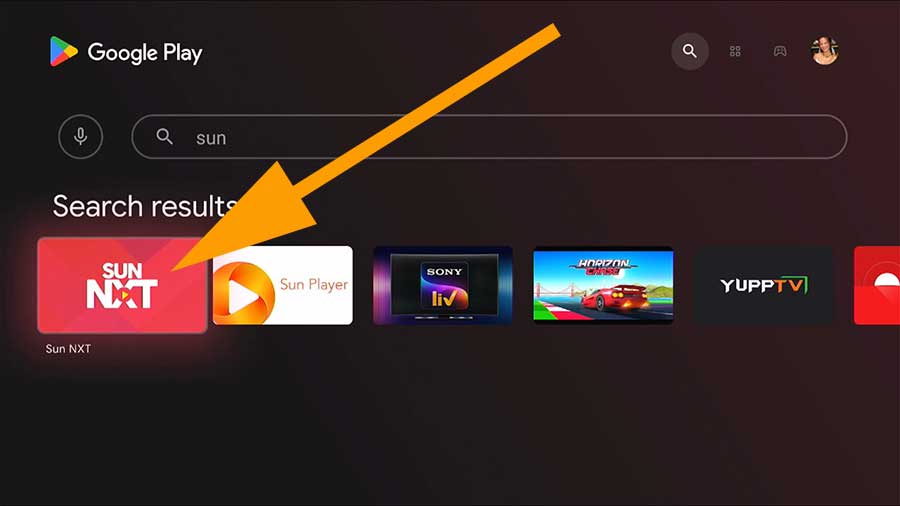 Now select "Install" to begin installation.