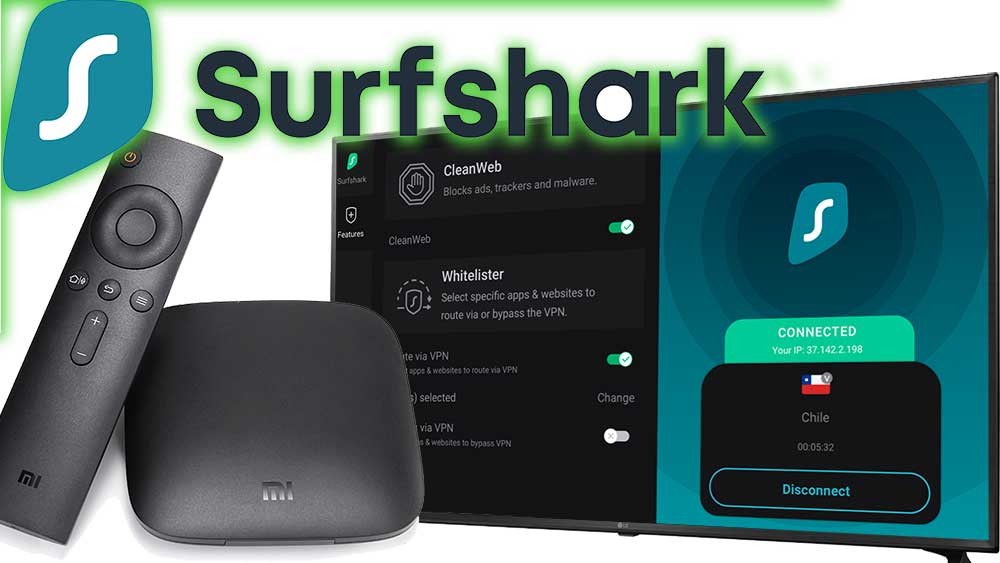 Are you conscious about your privacy while streaming content on your Android TV? The best way to to hide and protect your privacy is using a TV VPN like Surfshark VPN. VPN apps are highly recommends for Android TV users. This is the best Android TV VPN recommended in 2020. It is worth to try in your Android TV too for a fair price.
What is done by Surfshark VPN TV?
Protecting your privacy:
This is one of the best VPN that helps you to secure your privacy while streaming content on the internet. Why we need to secure our privacy? Most of the time our private data might leaked when we are using internet. Now a days this has become a common phenomenon. Others can get our data through various paths. So, by blocking those paths will lead to secure our privacy. That will help us to secure our privacy right. When you use torrent to watch free Movies and TV shows you will get warnings from ISP. How they know you are using torrent?. Those are the issues we need to address by installing a better secure VPN. The Surfshark VPN will enable end-to-end encryption of data while building a connection with the servers. This prevents or block the paths where data might get leaked.
Access any contents including restricted contents;
Sometimes we get bit disappointment when we do not have access to some contents that we love to prefer. Most of the contents are blocked based on your location. Those types to restrictions can be seen mainly on YouTube, and Netflix. Some videos or Movies are only available for certain countries. Such geo-restricted data can be accessed by the Surfshark VPN. Because it will change our IP location from time to time while hiding our real location. So, no more worries about geo-restricted contents. You can connect to over 1700+servers in 63+ countries all over the planet through this Surfshark VPN.
Hiding our true identity:
Just like our home address, IP address acts as the tool of identifying users. Those IP addresses are used to identify your location and other online activities. This is prevented by using Surfshark VPN by providing a fake IP address. This helps to keep your online activity hidden.
No Logs:
The app doesn't keep any logs about your online activity such as the content you watch and surf. Without any doubt you can use this app on your Android TV and phone too.
Ensure fast connection:
If you have Surfshark VPN Android TV in your browsing device then sure you can experience a fast browsing experience.
Kill-Switch feature
This automatically disconnects your Wi-Fi connection if the VPN is not working properly or disabled. So, no need to check the VPN app time to time to secure a safe connection. As this is a paid VPN you can have 7-day trial period before purchasing it. But if you continue to use the VPN after 7 days then you have to pay for the free period also. If you are disappointed with the performance of the VPN during the first 30 days of using you can have your money back.
Download Surfshark VPN for Android TV BOX
You can directly download this VPN app from Play Store for Android TV. Just use your default Android TV app store. No need to use any third party solutions to install this VPN TV app. You can easily using this app just using Android TV remote. Because this VPN was optimized to work seamlessly with TV remote.
First open Google Play Store and search "surfshark". You will see this VPN appears on search results like below.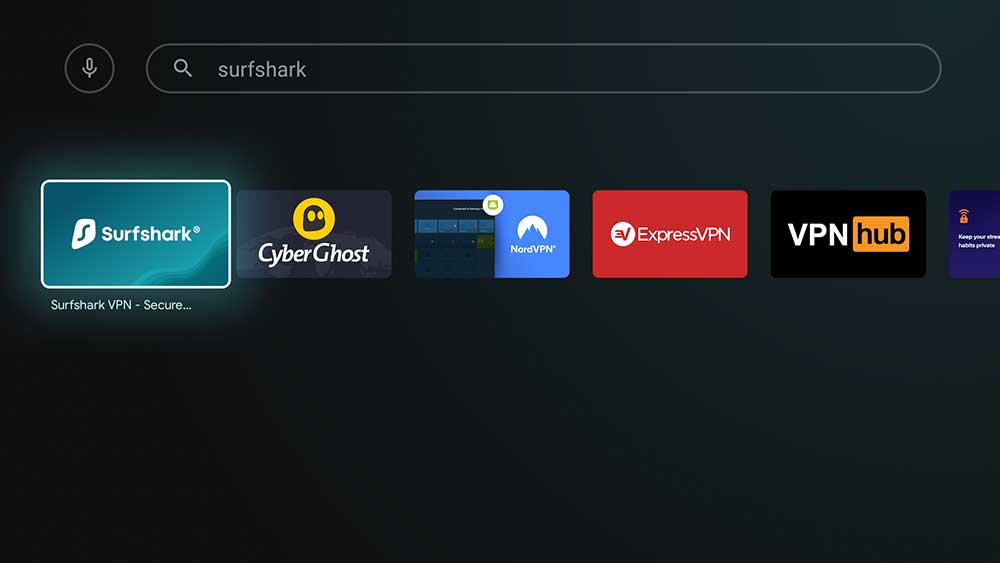 Now click on "Install" to begin installation.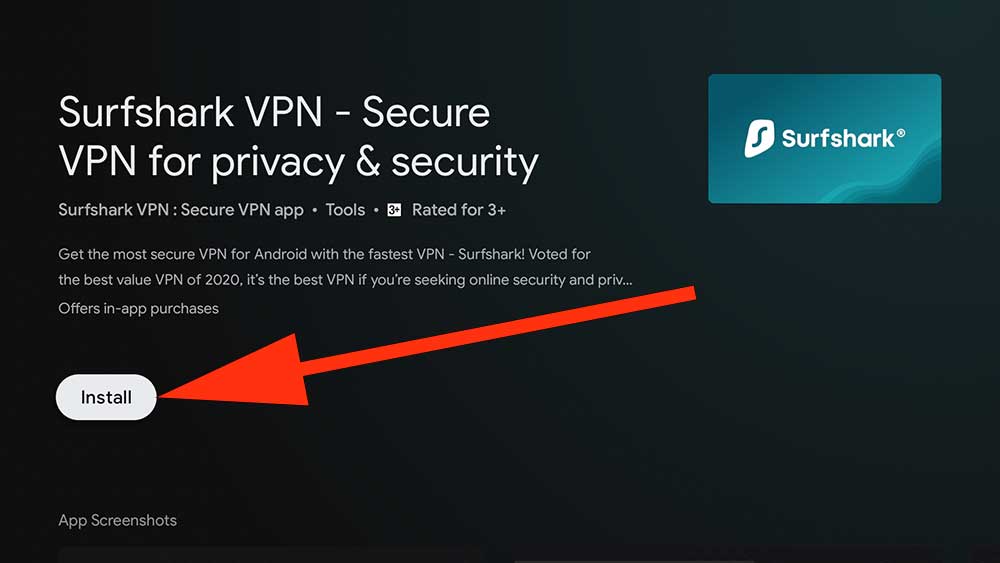 Fully Android TV compatible version of sharkshark VPN does not available on Aptoide TV and APKTime. However you may be able to find TV compatible Filelinked code. If you have correct Applinked Code or Filesynced code you can install this VPN on any Android TV box using Applinked and Filesynced easily.
For Amazon Fire TV devices like firestick, Fire TV Stick, Fire TV Stick 4K, Firestick lite, Fire TV Cube use Amazon app store. Procedure is same as installing this VPN via play store. Go to Amazon app store on your Firestick and search this VPN app. That's all.
Install Free VPN on Fire TV
You can easily download and install this free VPN using Amazon App Store. First open Amazon App store application and go to search. Search is at left top corner. Then type "surfshark". You will see text suggestions appear. Select correct app name from that list and you will see search result like below picture. Select it.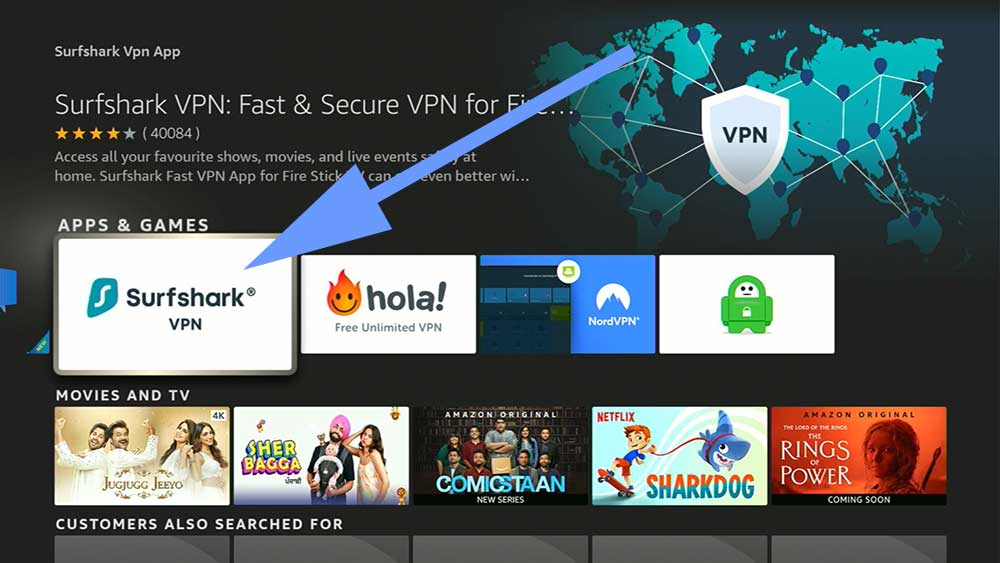 Now select install icon like below picture to install.