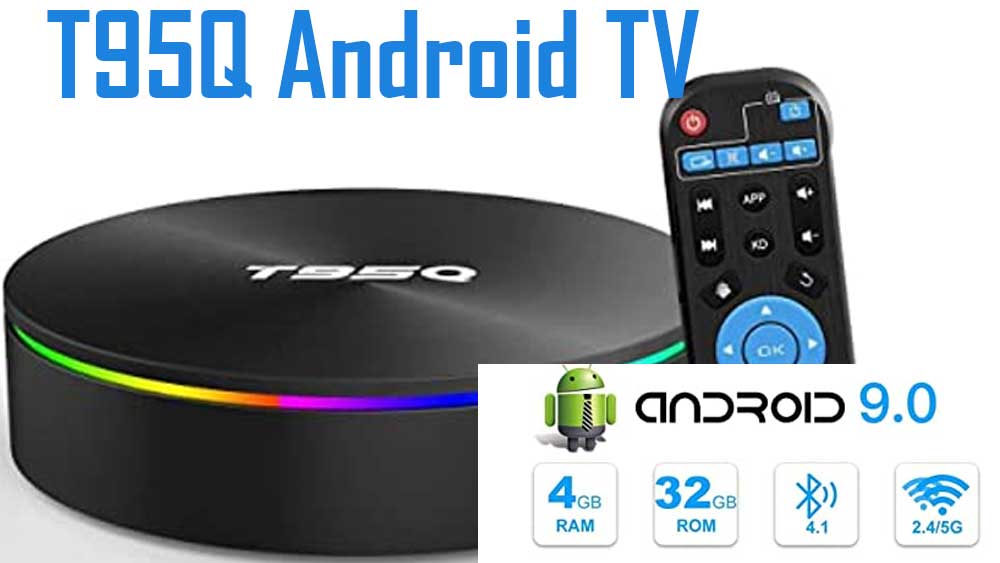 One of the best Android TV box with high performance. High speed internet connection allows T95Q TV Box to give ultimatum results in regards to its quality and performance. Absolutely no buffering due to high speed processor and once its set up you are able to add in apps by using features like the downloader AFNTV etc. it's proven to be a faster, safer and energy efficient product.
The T95Q Android TV Box is comes with latest Android TV and it holds up a circular design. There is a major difference made in here as the TV Box comes with stock android which is Android 9 and not android TV OS. Android 9.0 comes with a internal storage of 32GB so you got nothing to worry about when it comes to storage space. USB ports are at a speed of 3.0 and 2.0. This also includes multiple languages and sub titles which supports various videos. Files such as dat, iso, mkv, wmv, mpg, mpeg, avi, mov, mp4, rm and jpg are well supported over here. No need to install premium video players and play specific video files. This product is also well known for its image processing ability and also satisfying users with its express speed. Happy customers leads to more recommendation which paves the way for higher profits, now that is the dream of every seller right?.
Works well while playing games like the ever famous PUBG and also is quite smooth while playing 4k videos from famous service providers like YouTube and Netflix. You can easily connect your mouse & keyboard or game controller using USB or Bluetooth. You can use existing USB ports to connect your favorite TV peripherals. You can increase TV box storage by connecting a external hard disk, flash drive to those USB ports.
Images seriously look crystal clear with a video output resolution of 1920×1080 Pixels!. Such a great feeling to have both games, videos and other Google play store apps right to you through your television. T95Q Android TV Box, Remote control, HDMI cable, Power adapter and a user manual comes inside this cool box package. T95Q Android TV Box is said to be one of the best media streaming units. Units like Amazon Fire stick can only run videos up to 1080p whereas, Android TV Box can support videos that of 4k HD quality. You can use this TV box with a any TV that has at least one HDMI port.
The Major Con about this product is that it tends to crash or buffer if and when the internet connection is slow. It is a common problem on all devices. All devices fail when there is unstable or poor internet connection.
This Yagala branded Android TV Box is standing at a promising rating of 4 stars. T95Q Android TV Box is inexpensive compared to its competitors. Its attractive pricing with perfect advertisements works like a charm! And this charm pulls in customers pretty fast just like a magnet. Buyers have left in commendable reviews about their purchases. Now, that's a very positive sign of success.
Free Movies and TV shows apps for T95Q
You can use default TV store which is play store to find many streaming apps to watch live TV, Movies, TV shows and more. If you are not satisfied with those apps you can use alternative sources like Filelinked, Aptoide TV and APKTime to download your favorite free Movies, TV shows, Sports and other apps.
Best solution is to choose Filelinked. There are many Android TV lovers who create their own favorite list of TV apps and made them public. All you have to do is to find those Filelinked codes using YouTube, Facebook and forums.