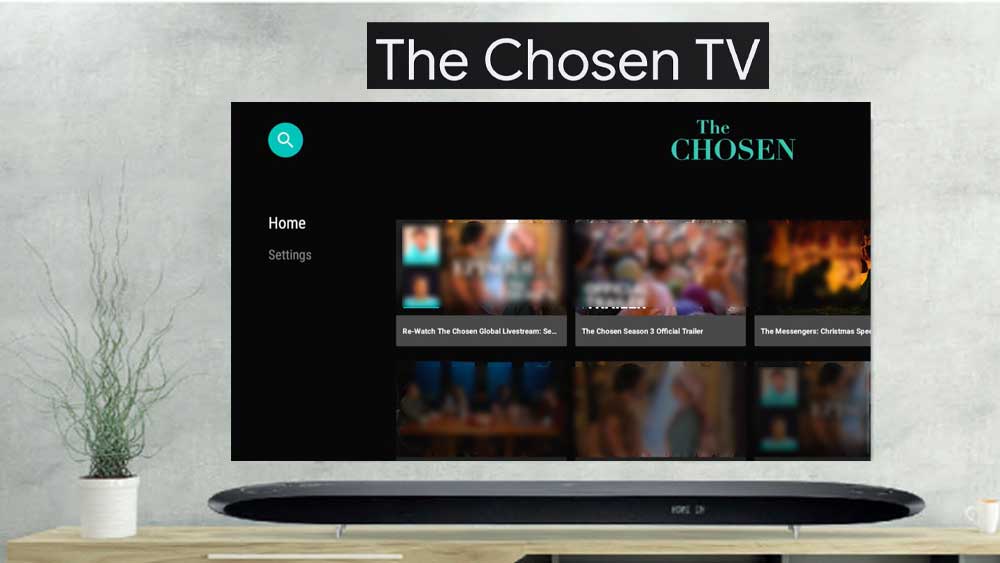 The Chosen app consists of a unique faith based concept that will be a new experience for its users. The app centers on the life of Jesus and his story and provides a unique narrative on this spiritual journey. The purpose of the program is to give viewers a chance to see Jesus through the perspectives of those who knew Him. Regardless of where they are in their relationship with Jesus Christ, everyone on a spiritual path will immensely benefit out of The Chosen app. You can install this app on your Android TV or Fire TV to watch epic life of Jesus Christ.
Features of The Chosen TV App
The Chosen App is a distinctive television program that distinguishes itself from other religious media by way of its first-rate narration and presentation aspects. The creators of the show have made it their goal to produce a work that is both historically accurate and relatable to contemporary viewers from any background. Modern cinematography and visual effects are used on the program to accomplish this, giving viewers a genuinely immersive experience.
An important to note in The Chosen app is that it is entirely a crowd funded application. This indicates that the show is fully fan-supported, with its creators dependent on viewer donations to keep it running. Fans from all over the world are funding the show's production, which has turned it into a global sensation and spiritually captivating experience.
The Chosen app can easily be downloaded from Google play store and Amazon app store and is accessible on a number of streaming services. The app is available for free download and gives users access to all of the show's episodes as well as additional features and rare behind-the-scenes exclusive material.
You can view the show in a variety of languages, including Spanish, Portuguese, German, and French, thanks to the app's special advanced system. Additionally, it enables viewers to see the program with audio descriptions and closed captions for those who are blind and challenged.
It also gives access to the music for the program, which is extremely popular by viewers. The app also gives viewers a forum to interact with one another, share their stories, and communicate with the show's creators as well. The Chosen app's user-friendly layout also enables users to swiftly search for particular episodes and scenes which is very convenient for them.
Conclusion
The Chosen App which was released on February 2022 consists of an innovative and unique concept that has won people over from all corners of the world and has been downloaded more than millions of times. Anyone on a spiritual journey must utilize it because of its extraordinary production quality and creative approach to narrative that set it apart from other faith-based media applications. We can only hope that more shows like The Chosen will be made in the future because its makers have raised the bar for religious media applications.
Install The Chosen App on TV
This app freely available on many major Android TV app stores like Play Store and Amazon App store. You can use your default app store to install this app. Just follow below mention instructions to install this app on your Android TV. Support all most all Android TV boxes including Shield TV, Shield TV pro, Chromecast, SkyStream, Mi BOX and etc.
Install on Android TV
First open Google play store application. Then go to search and type "the chosen". You will see this application on search results. Select it.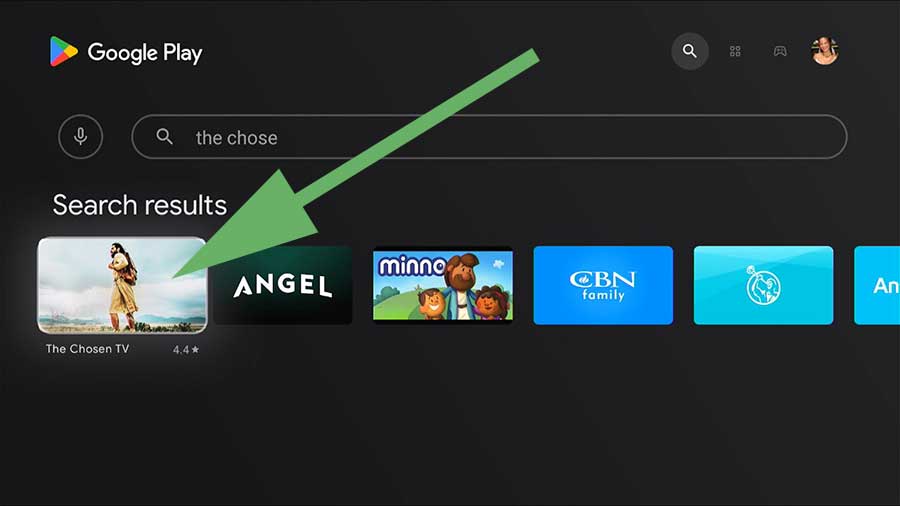 Now select "Install" to begin installation.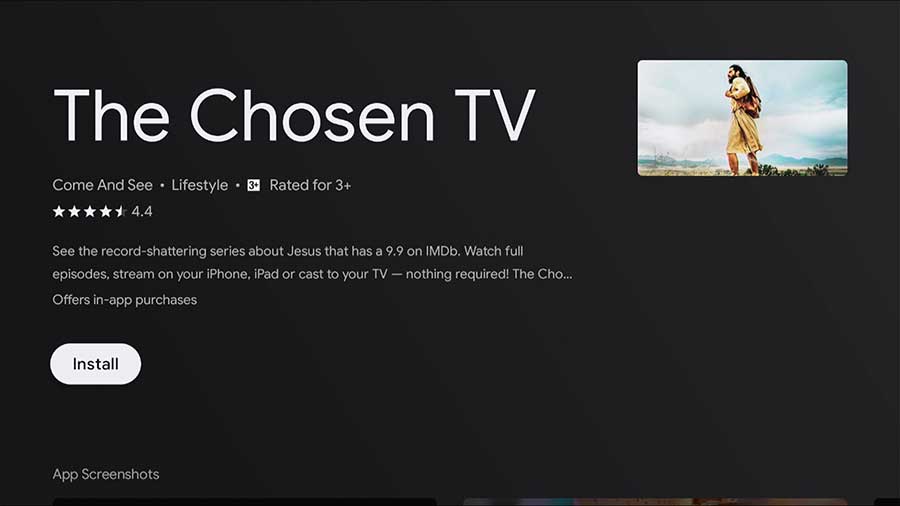 There are many free movies and TV shows applications available for free download on third-party TV app stores like Applinked, Filesynced, Unlinked and Aptoide TV. Install any of those app stores like Applinked to get access to user created TV app stores.
Install on Fire TV
Now Amazon Fire TV users can install this app directly using default "App store". First open "App Store" application which come preinstalled on all Amazon fire TV devices. Go to search and type "the chosen". You will see text suggestions appear while typing like below picture. Select correct suggestion like below picture.

Now you will search results including movies, apps, games and etc. Scroll to apps sections.

You will see this application on apps section. Select it.

Now select "Get" button to install this app on your Amazon Fire TV.