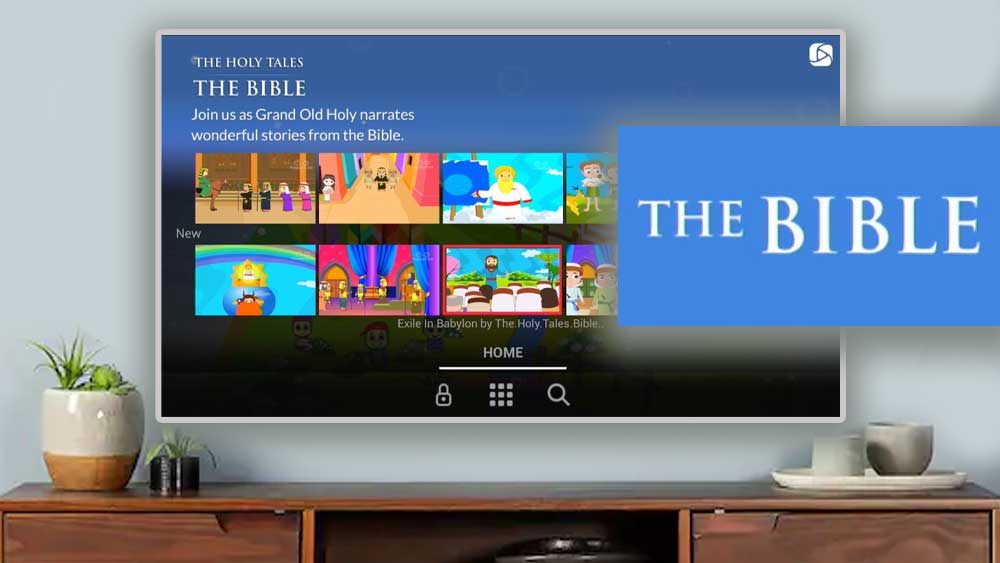 Table of Content
Advancement of technology has significantly affected our lives causing how we access and engage with religious activities including teaching and learning bible. All most all the family members gather around TV to watch something. Now you can listen to bible stories on that time. The Holy Tales app now support Android TV, Chromecast and Fire TVs. Below describes features, benefits and app highlights. Read and install this app on your TV easily with given instructions.
Features of Holy Tales TV app
Animated Stories
Bible stories are not just narrating an article. This app brings that to next level. Even kids will enjoy learning bible stories. Has collection of animated bible stories that bring ancient tales to life. Watch and learn all the stories with high quality cartoon like animations which make memorable experience for users of all ages.
Nice Visuals and Audio
Stories are not just animated to show the stories. It uses rich visuals, vibrant colors and matching sound effects to create nice cartoon story that all of you will enjoy. This will enhance storytelling experience making it easier to learn and understand all the stories. Whether it's the roar of the lion in the story of Daniel or the peaceful serenity of Jesus' teachings, this app will offer engaging visuals.
User-Friendly Interface
Unlike many other alternatives, The Holy Tales TV app is fully developed to work smoothly with TVs. You can use your Android TV remote or Fire TV remote to easily navigate and to use all available features. Simple interface makes it accessible to individuals of all ages.
Large collection of stories
Has large collection of stories to select covering both well-known stories and lesser-known stories. Stories range from creation of the world to the life and teachings of Jesus Christ. That helps to find content that appeals to individuals at various stages of their spiritual journey. Select the stories based on your interests and enjoy,
Educational Value
It is not all about entertainment. You can use this app to learn or deepen their understanding about bible teachings. Each story has educational content providing information about historical and cultural context, moral lessons, and theological significance. You can use this app for home schooling, Sunday school lessons or personal study.
Customization features
Like most other Android TV or Fire TV apps, you can change settings or customize this app to match your preferences. Find all your favorite stories and create your own playlist. Create bookmarks or change narration style as you like.
Install Holy Tales App on Android TV
This app support all most all Android TV boxes and TVs including Fire TVs, Mi TV boxes, SkyStream, Mi P1 series, Chromecast and all. Follow below mention instructions to install this app on your TV.
First open Play Store application. Then go to search and type "the holy tales". You will see this application on search results like below picture. Select it.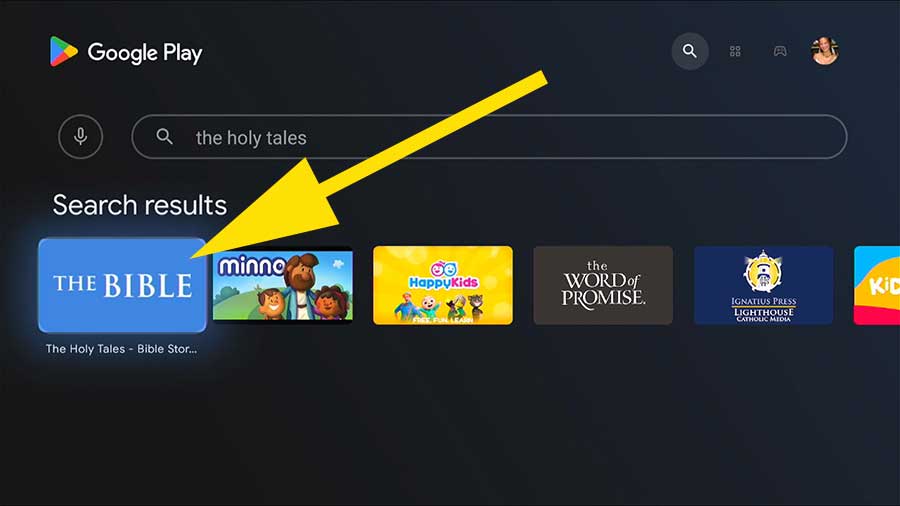 Now select "Install" to begin installation.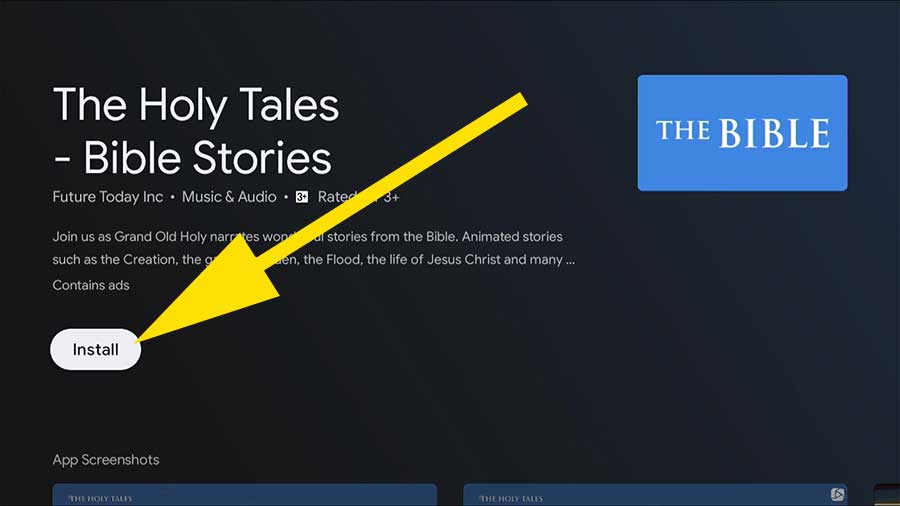 If your Android TV does not come with play store, you can use third-party app installer like Applinked, Filesynced or Unlinked. If not use play store TV alternatives like Aptoide TV.
Install Bible Stores app on Amazon Fire TV
Below shows how to install bible stories app on your Amazon Fire TV with images. Follow below mention instructions with images to install best bible app on your TV.
First open "App Store" application on the home screen or app section of your Fire TV. Then navigate to search and type "the holy tales". Select your typing to display search results.

Select "The holy tales bible" app from search results like below picture.

Now select "Get" button to begin installation.