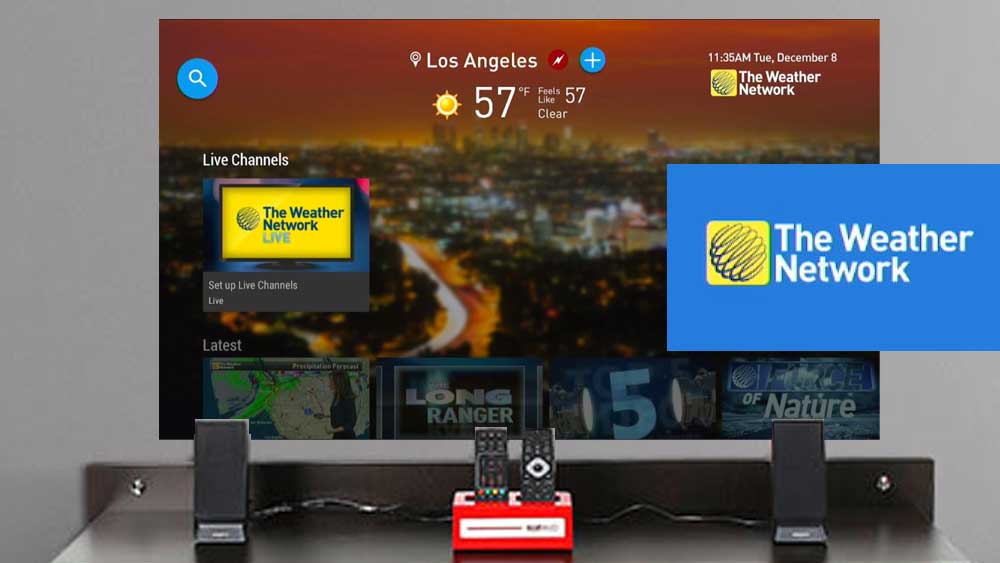 You can see weather forecast on your Android TV and Fire TV devices using The Weather Network app. It provide quality weather forecasts as Canadian TV weather channel. This app is fully optimized to work with all Android TV boxes. Provide nice and clean information that match your bigger screen or TV. Nice animations and easy to use interface with TV remote.
This is a unique weather application that provide both Live TV Channel as well as the interactive app for weather. Best and easiest Weather TV BOX app to get local forecast, alerts, traffic flow, etc.
Android TV Weather Forecast App
People often wonder why weather prediction is necessary in our day to day lives. Accurate Weather Forecasting has been identified as one of the most important aspects in daily life since the millennia. Because it affects many daily aspects such as transportation, agriculture, irrigation etc.
Especially in many countries across the globe, accuracy in weather prediction has been hampered due to numerous reasons and has also adversely affected the development of many industries and revenues. Many researchers and developers have come up with Automatic Weather Stations and also many other methods of weather prediction. However, the importance of accurate weather prediction is still in great need for the betterment of the country.
This app not only forecasts weather, but it also offers many more features to all its users such as radar maps, local forecasts and also alerts during severe weather conditions. Preparing for severe weather conditions is extremely important as it may hamper whatever you had planned for that specific day. So, knowing the weather patterns before making important plans or occasions is mandatory.
The app also allows you to analyze storms and also the impacts it might have by using the radar map on the app. This way, one can analyze weather trends and thereby decide on how to plan their days and routines. The app also includes the latest news and videos of local weather, straight from the weather channel of Canadian TV. So that people will be constantly updated and prepared.
If you want to notify everyone else regarding today's weather, you can simply use weather GPS targeted photos and share your local weather patterns with all other users. Enabling location on the app allows to provide you with weather details and news around your location on a constant basis and keep you up to date.
The app has hourly forecasts and is updated every 15 minutes to ensure the best service to all of its users. Having the app with you assists you in numerous ways. Planning your daily routine, important functions, garden parties, travelling, picnics, you name it and whatever it is that you have in your mind, the weather network will make sure to keep you updated on the latest weather situation for the perfect gathering or outdoor activity you've been longing for. If you love planning your day ahead or even to just be alert on weather patterns around you, the weather network is your best choice.
Download The Weather Network App for Android TV and Fire TV
This is a free weather forecast app available for TV. If you has Amazon Fire TV device, use Amazon App store to install this application. Open Amazon App store and go to search and type this app name to install it. If not use Alexa voice assistance to install it for you. Just press Alexa voice assistance and say "the weather network app". That's all.
This app available on Google play store TV. Use default app store or Play Store TV on Android TV boxes that to install this application. If you are not able to install this TV box weather app, you can try using AppLinked, FileSynced , unlinked or Aptoide TV. Those apps allows you to create your own app store to install any app on your TV box. Below shows how to install this weather app on Android TV boxes using Play Store TV.
First open play store application and go to search. Then type "weather net". Once you start to type this app name, you will see this application appear on search results like below picture. Select it.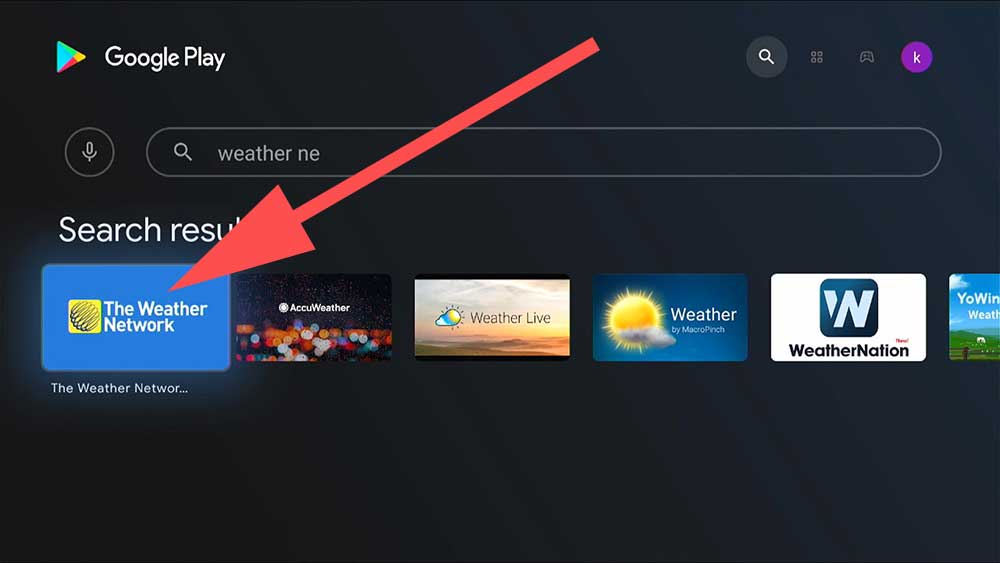 Now click on "Install" to begin installation.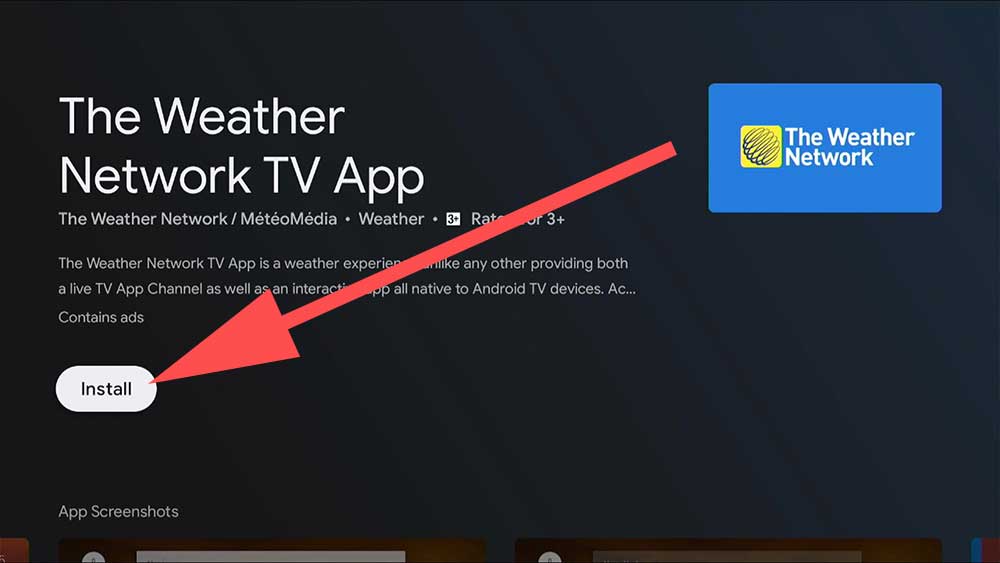 Install Weather App on Amazon Fire TV
Follow below mention procedure to install best weather application for your Amazon Fire TV. Support all most all Fire TV devices including Fire TV cube, Fire TV Stick, Fire TV Stick 4K, Firestick lite and all. First open "App Store" Application on the home screen. Next go to search and type "the weather network". You will see text suggestions while typing. Select app name from that like below picture.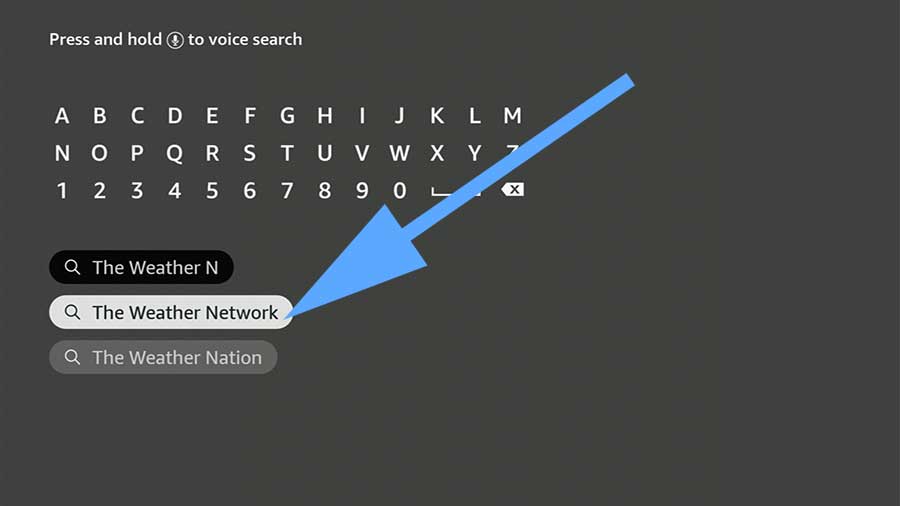 Now select this app from search results.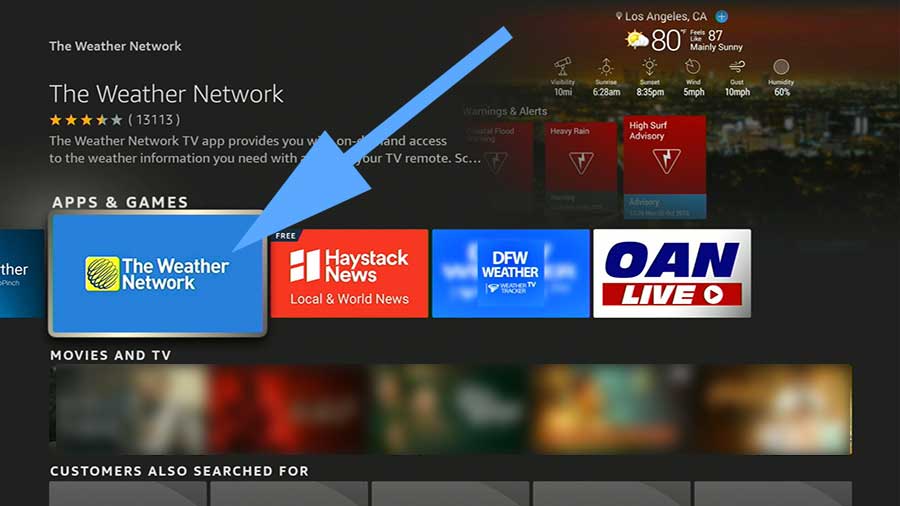 Select download icon to begin installation.