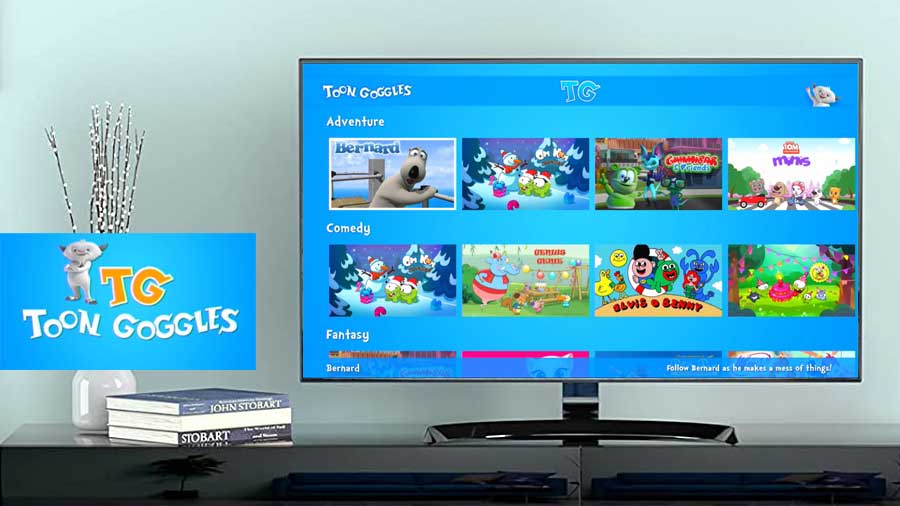 Table of Content
Best Android TV and Fire TV app for Kids. Allow your kids to watch kids videos, cartoons and other kid favorites using Toon Goggles app. Toon Goggles provide Kids safe videos for free. Best kids video streaming app available for Smart TVs. Safely play any video of this service for your children.
Keep your kids busy or relaxed
Relaxation to ward off stress applies to all humans. People indulging in Playing games, hobbies, watching movies and shows etc. proves this point. Kids too need stress relieving activity to balance their lives.
Stress leads to adversely affect the health. Been not in the best of health will slow down the progress on anything. Very reason right care and attention should be paid to kids for their progress in life from academics to career.
In this era where majority of both parents work makes less time in their hands to interact with the kids in leisure activities. Therefore, suitable ways and means should be found for kids' relaxation.
Many surveys done throughout the world indicate TV tops the list of the most preferred way of the kids to relax. TV offerings are varied. It offers entertainment, real life episodes, documentary, animated cartoons, educational programs and many more that kids would definitely love.
And to introduce and summarize a TV app that caters superbly to the taste and choice of all kids is the Toon Goggles Cartoons for Kids.
Features of Toon Goggles Cartoons for Kids App
Unaccountable number of cartoons and videos that are live is on offer 24/7. With parental control the contents featured are absolutely safe and kids friendly. The popular line up is far too much to mention all. Here are some of them,
Minecraft
Roblox
Om Nom
Gummy Bears
Talking Tom and Friends
Angry Birds and more.
The novel technology incorporated in the app brings in a hybrid mix of live channels. With channel flipping made available saves time on selecting the content to be watched which otherwise would have had to be individually accessed.
Apps library is amazingly organized with kids in mind, which makes reference friendly and easy. Library Carries details of the most on demand content. It lists separately short running videos, feature films and the likes to make selection that much easier.
Uniquely, on opening the app a video will start to play a trailer displaying on demand videos. With this it is possible to choose which one wants easily.
Apps EPG guide enables selection from lots of different kids channels thereby supporting a mega mix of selections.
Toon Goggles app keep their contents updated regularly to bring in the latest offerings. With this the users will always find new contents on offer. What more could parents be satisfied with? Toon app is safety certified as it follows COPPA rules and CARU guidelines.
Parents going through the summery here will be compelled to accept that the Toon Goggles Cartoons for Kids app is no match to any other kids TV featuring app. It got all in it the likes of content, features, and easy to use controls designed with modern technology making Toon Goggles TV app unique and out of this world. Look at the kids delight and enjoyment getting rid of their stress with this incredible TV app. This sure will do all parents good by taking away anxiety of wondering if the kids are leading a balanced life.
Install Toon Goggles Cartoons on Android TV and Fire TV
Are looking for kids cartoon apps for your TV. Then try using Toon Goggles app on your Android TV, Goggle TV or Fire TV for free. Support all most all Android TV boxes including Fire TV stick, Fire Stick, Fire TV cube, Nvidia Shield TV, Mi BOX S, and more. You can find many other Movies and Cartoons streaming applications on AppLinked, UnLinked and FileSynced too.
Install on Android TV
First open Google play store application. Then go to search and type "toon goggles". You will see this application appear on search results like on below picture. Select it.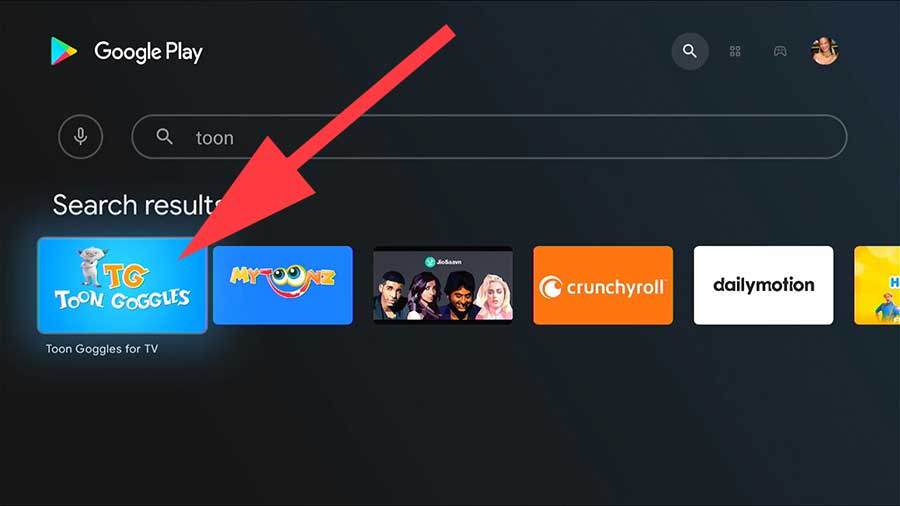 Now select "Install" to begin installation.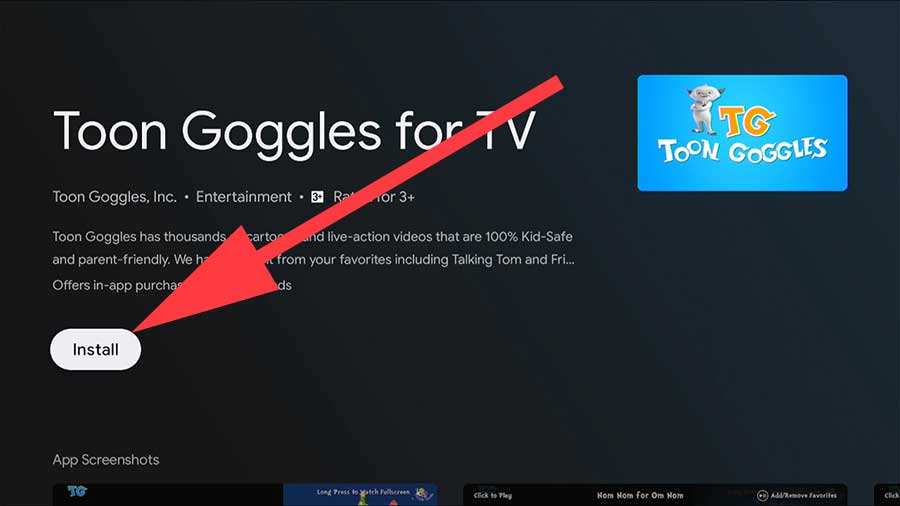 Install on Amazon Fire TV
Best kids videos app you can install on your Amazon Fire TV. Now support installations via app store. No need to use any third-party sources to install this kids only videos app on your Fire TV. Follow below mention instructions to install this app for free.
First open "App Store" application from apps section or using Amazon Alexa. Go to search and type "Toon Goggles". Select your typing like below picture.

Now you will see search results for your text. Select this kids videos app.

Now select "Get" to install.