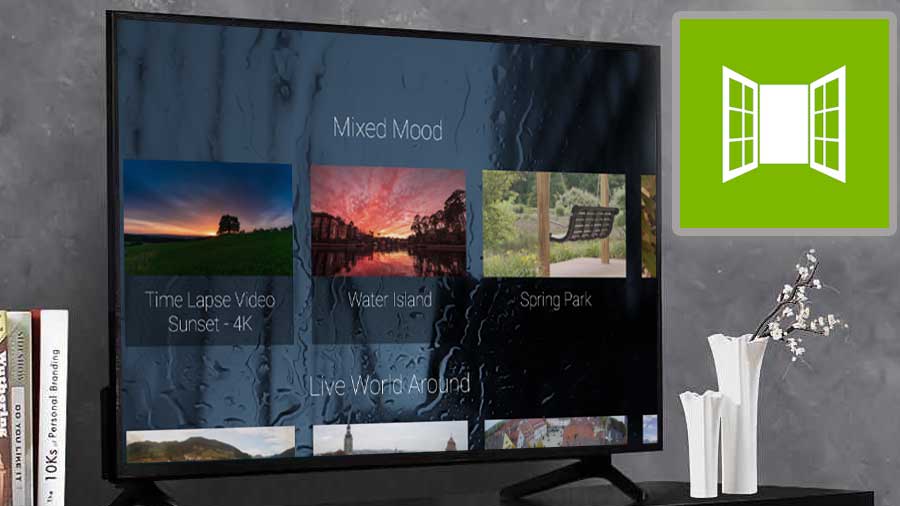 Best Live wallpapers with a nice view of clam and meditation. Turn your Android TV and Fire TV into a window or live video wallpaper with a nice video of nature, forest, night sky, waterfalls, fireplaces, night cities and many other nice places. Relax – calm and Meditation app for TV.
Find your relief
The world is constantly at a race. People may feel like they are in this race where they need to win in order to achieve something or succeed in life. Due to this mentality, the world has become busier day by day and also puts people's mental health at stake.
Stress, anxiety, the workload at their workplace or even school, day to day chores, all of this feels exhausting. Entertainment has been invented for the relaxation of mankind however, people often find it difficult to make time for things they like amidst their busy life schedules.
However, it is at utmost necessity that humans take a break whenever possible and also relax themselves to be calm. Meditation often helps people to relax themselves and attain a sense of stress-free calmness. But what if you can calm yourself by some nice sceneries right at the comfort of your very own fingertips amidst your busy schedules?
With the Android TV app that is here to tale away your stress, Relax – Calm and Meditation app has brought to you all the calmness you'll ever need. Transform your Android TV, Chromecast or Amazon Fire TV into a portal to a tranquil, meditative place. Enjoy peaceful surroundings such as waterfalls, fireplaces, forests, starry skies, night cities, and many more lovely locations right here on the app.
About TV relax and Meditation App
Only live streaming and high definition videos are employed on the app so you can enjoy the very best at the best quality.
The app will also help you to attain a sense of peace within yourself that will help you be more productive in your life as well. By helping yourself to meditate with the content on the app, you will not only calm and relax yourself but also obtain a range of other benefits.
Meditation has several advantages, including helping you develop fresh perspectives on difficult circumstances, increase better knowledge about how certain types of people might react or self-awareness, reduce negative emotions, focus on the present, increase imagination and creativity, increase patience and tolerance, and many other advantages.
Amongst these, it also helps you to establish healthy relationships with your friends, family and loved ones. It will help you win at life and also make you feel good even in situations which you cannot control in life. With the peaceful sceneries and wallpapers on the TV you can also enjoy life and the calmness that comes along with it. Whichever stressful situation you are in, the app will help you relieve your stress in a positive way.
So, hurry and get your hands on this mediation and relaxation app in order to help yourself get through a stressful and exhausting day away from any negative thoughts. Do not worry about how bad your day went. Just focus on the content on the app and you will be able to feel better in every way. All it takes is to install the app and enjoy a stress-free life. The app is absolutely free and will help you relax yourself at no cost whatsoever.
Install Relax – Calm and Meditation app on TV
This is a free Android TV and Fire TV live wallpaper like app that helps to calm and meditate easily. You can easily install this application on any Android TV boxes including Nvidia Shield TV, Mi BOX S, Mi TV Stick, SkyStream, Fire TV stick, etc. You can use default TV app stores like Play Store TV and Amazon App store to install this app. Or you can try using third-party options like Applinked app, Filesynced app, Unlinked app and Aptoide TV.
First open Google Play Store TV app. Then go to search and type "relax – calm and meditation". You will see this application on search results like on below picture while typing. Select it.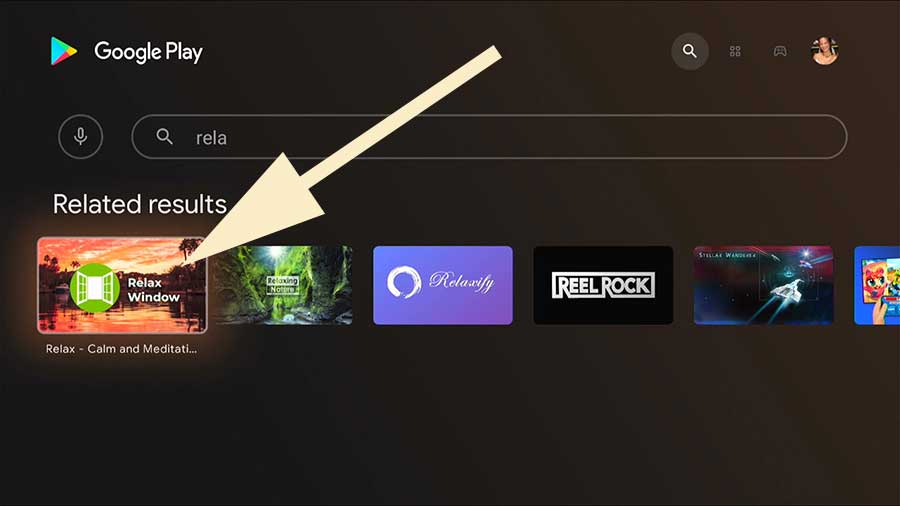 Now select "Install" to begin installation.