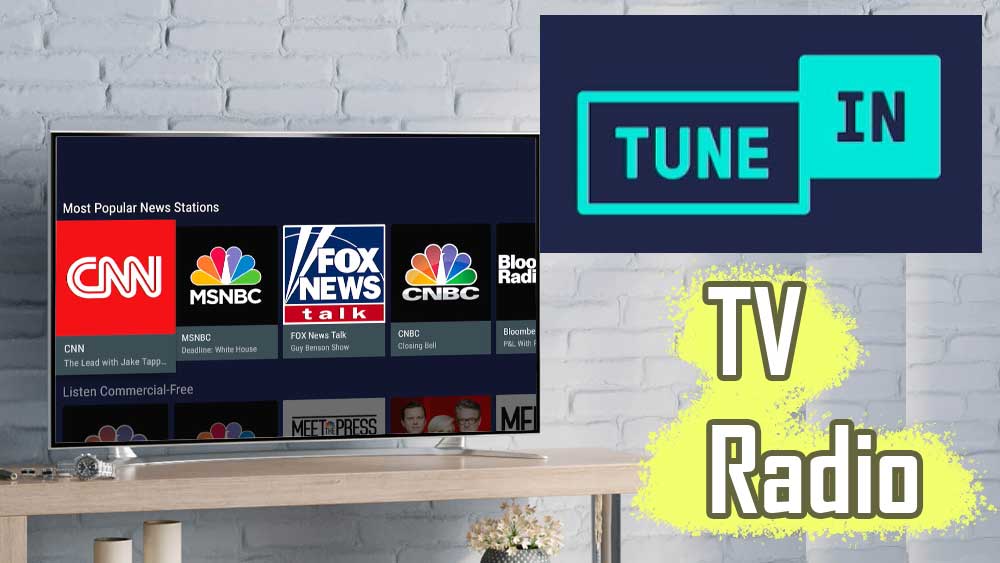 Listen to radio. Local, national and international using any Android TV box, Google TV and Fire TV devices. TuneIn is one of the most favorite Radio TV app of mine. This is really helpful for me in spending my working hours without getting bored. Whenever I am doing some work in the household, I used to use this app. You may think that Radio was used to listen not to watch. Using a radio app on TV is not practical. Because it may consume more electricity than a Radio. Nope. You can choose and run your favorite radio app using TV box and then turn off TV. Only TV box is running. TV boxes consumes way less energy than TV. Make sure to use external speakers. So, I thought to share some knowledge about this cool app with you too.
What is TuneIn for Android TV
Simply, TuneIn is a radio app. You can listen to all most all the things you can listen via your radio. Contain all most all radio stations of every country. When it comes to international context. It can identify as an all-in-one app. Why am I telling so? Normally we are listening to the radio to know news, podcasts and most of the time to listen to music. This app provides all these things as our usual radio does. We can listen not only to the local items but also the international items through this nice app. This is an internet radio. No matter where you are or what your country is you can listen to all the local radio channels that you prefer.
What you can listen?
News- Live news all over the globe. The news from most trusted news sources is here. News from CNN, BBC, NPR and etc. are here. There is breaking news that runs time to time. If you are interested in all the things happening around the world then this is a best choice for you friends. Keep in touch with the things happening all around the globe without missing anything no matter where you are or what you do.
Sports- If you want to know all the things about your favorite sports then this platform provides you with all the needed information you want to know. This app provides the total coverage for all the big matches you would like to know about. In addition, you will be able to listen to local, national and international sports talks.
Music- this app includes all themusic that your heart desire to listen. There is more than 30+ music channels all over the planet. There is something for you to listen no matter what your mood is.
Podcasts- all most all sort of podcasts are available here. No need to roam here and there to find your desired podcasts. All are there in one place.
This app is free. But if you want to enjoy commercial free news and music then you can go for the premium version. If you want to download the app TuneIn then you can go simply to Google Play Store, AC Market and Aptoide app stores.
Download TV box Radio app for free
TuneIn is the most popular and widely used Android TV application. You can easily install this application on any Android TV box like Nvidia Shield TV, Shield TV pro, Mi BOX S, Mi TV Stick, SkyStream and others using Google play store. For Amazon Fire TV devices like Fire TV Stick, Fire TV Stick 4K, Fire TV Stick Lite, Fire TV Cube and all can use Amazon App store. Amazon App Store is the default app store on all Amazon Fire TV devices. Use Alexa to search that app for you.
However, there are many TV boxes without play store application. You can use Applinked, FileSynced, Unlinked or Aptoide TV to install your favorite radio application easily. Below shows how to install radio on Android TV Box.
First open Google play store application.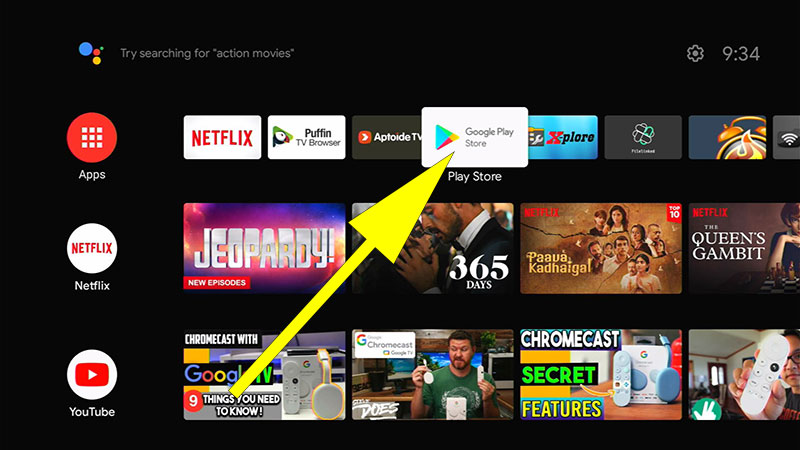 Now to go to search area and type "Tunein". You will be able to see this app on search results like below picture. Select it.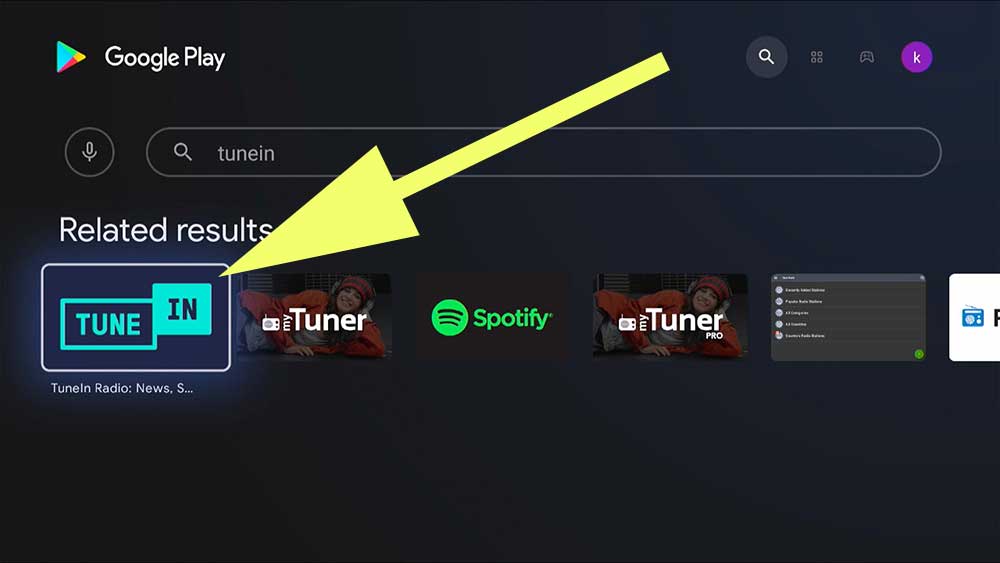 Now click on "Install" to begin installation. That's all. Enjoy free radio on your TV.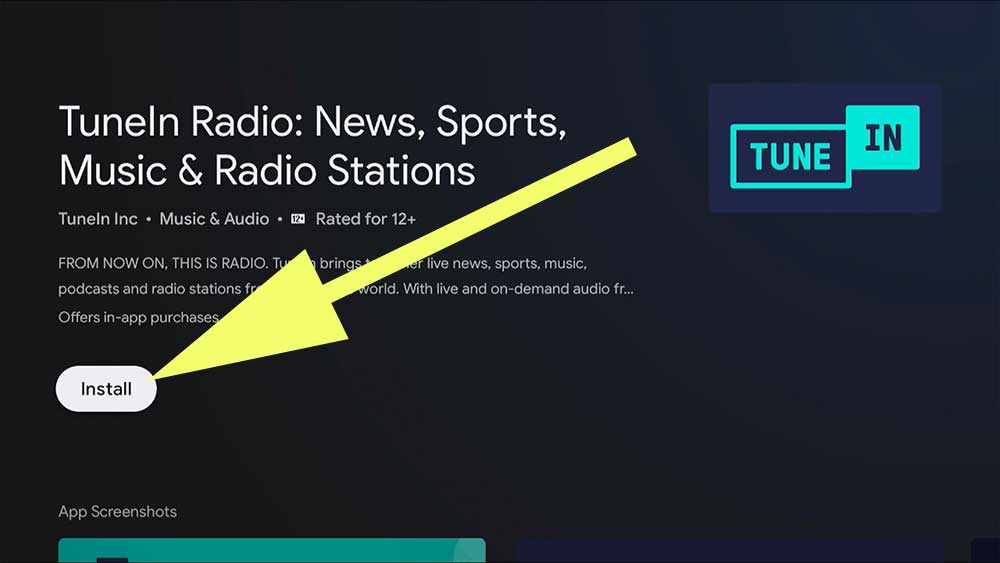 Install TuneIn Radio on Amazon Fire TV
Best radio app available for Fire TV devices. This app support all most all Fire TVs including Fire TV cube, Fire TV Stick, Fire TV Stick 4K, Fire TV Stick Lite and all. First open Amazon App Store application and go to search. Then type "tunein". You will see text suggestions while typing. Select correct text suggestion like below picture.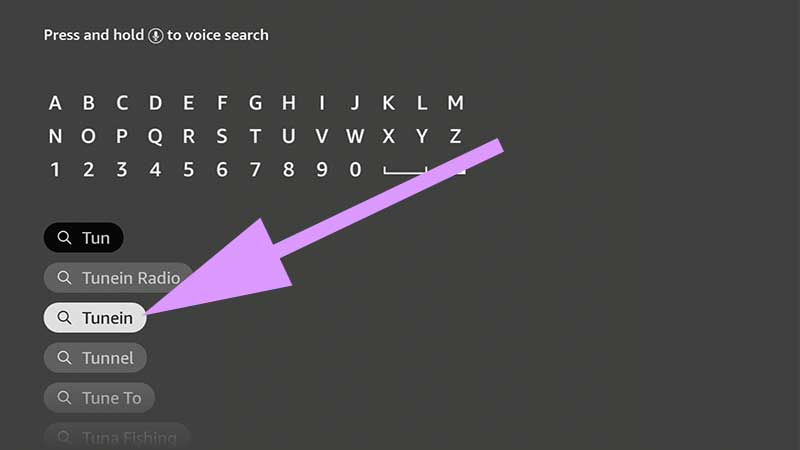 Now you will see search results for your search. Select TuneIn Radio app.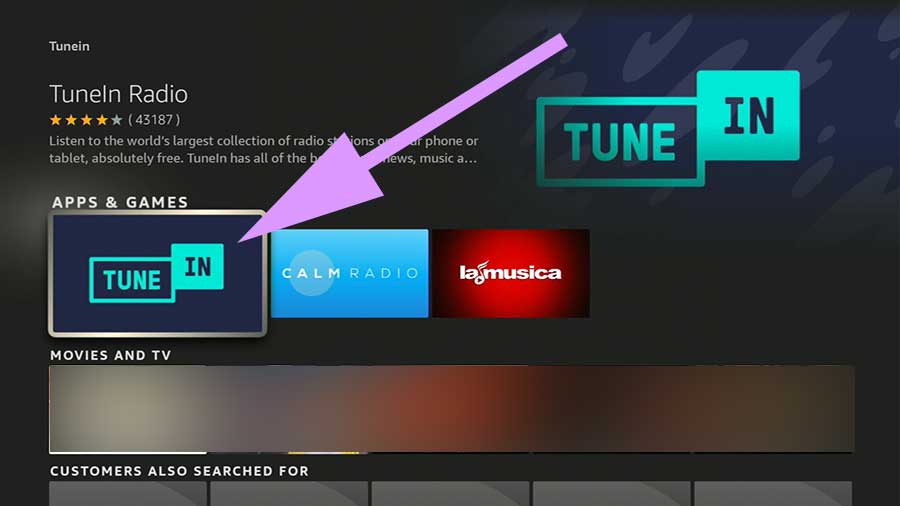 Now select download icon like below picture to install.