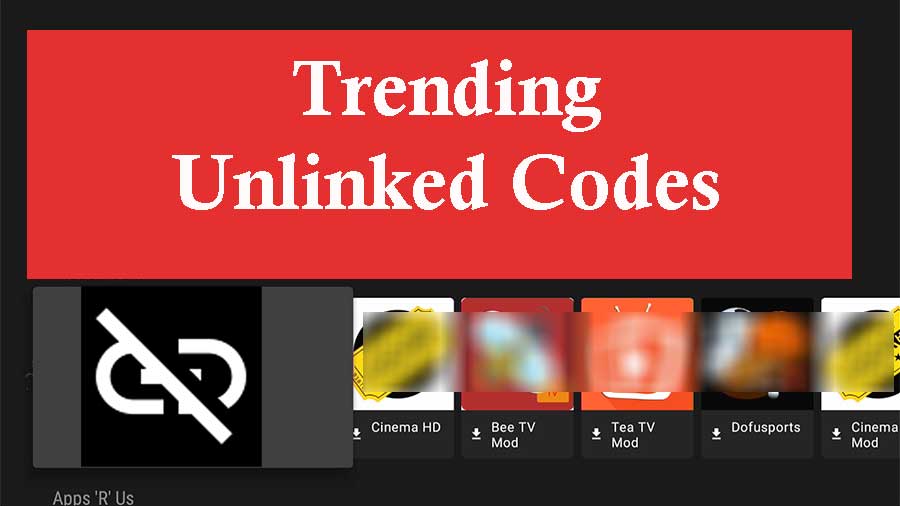 Below shows most popular and trending UnLinked codes for Android TV and Amazon Fire TV devices. You will find many Movies, TV shows, Live TV, Web Series, Sports, News and many other streaming apps on those stores for free. You can download latest version of UnLinked for your TV box for free. Click below link to download and install this application to use below TV codes.
Trending Unlinked Codes
Please note that any of UnLinked codes are not maintained by us. We do not own Unlinked application and its codes. This is just a blog post showing available codes and apps. Please contact official website for queries. We can remove/change content of this post on request.
Content
Unlinked Codes with Apps
We do not own or host any of the listed apps. We are not responsible any of the listed apps on unlinked stores.
67664537

– Stream it All
Apps are not over loaded like other Unlinked stores. All available films, movies, tools and other apps are nicely categorized.
Tools
AC Market
AZ Screen Recorder
Adguard
Adavanced Downloader
All in one Toolbox
App Tray for TV
App2Fire
Blokada Slim
Clean Master
DBTV Assistance
DNS66
ES File Explorer
FileChef
HALauncher
Leanback Launcher
Malwarebytes
Mouse Toggle
Nova Launcher
On Boot Appstarter
Proton VPN
RetroArch
SD Maid System
Screen Recoder AF
Send Anywhere
SeriesGuide
Set Orientation
Sideload Launcher
SpeedTest by Ookla
StopAd
Task Killer
Total File Commander
Virus Cleaner
Virus Total
Vysor
Wolf Launcher
Talla Receiver
Top Movies and TV Shows Apps
BeeTV
Bee TV Ad Free
Cinema HD
Cinema HD Af
Cyberflix
Filmplus
Filmplus AF
Flixoid
FreeFlix HQ
Movie HD
Nova TV
Nova TV AF
Ocean Streamz
Stremio
TeaTV
TeaTV AF
Terrarium
Tubi TV
Viva TV
Viva TV AF
ZiniTevi
Media players for Firestick
AMPlayer
KokoTime
Ludio Player
MV Cast
MX Player
Tplayer
VLC
VideoMix
Wuffy
Xplayer
YesPlayer
Amazon Apps
ESPN
FoxNOW
Freeli
HBO Max
Locast
Magellan TV
NBC
Stremium
VUit
Zumo TV
Live TV Apps
AOS TV
Airy TV
BOBO Live
Bozi Sports
Ckay TV
Ckay TV Ad free
Darkbox TV
Distro TV
Dofusports
Embratoria
Football Plus
Freeview
HD Streamz
HDTV Ultimate
HYFYTV Silver Build
IPTV Smarters Pro
Kraken TV
LA Deportes
Lepto Sports
Live Planet TV
Live Sports TV
MXL IPTV
MobiKora
NFL Live Streaming
OLA TV
Online TV
Oreo TV
Phantom Blue IPTV
Pocket TV Master
Rapid Streamz
Redbox TV
Swift Streamz
TV Mucho
TVB – Anywhere North America
Tea Sports
Thop TV
TikiLive
UK TV and Radio
USA Sports Live
USA TV and Radio
Awa Sport TV
Uncategorized
ACE Stream
Anime and Comics
Anime Fanz Tube
Anime Fox
AnimeGlare
AnimeWorld
Animexstreams
Crunchyroll
FireAnime
App stores
1Mobile Market
APKPure
ApkTime
AppStarter
Aptoide
Aptoide TV
Aurora App Store
FireDL
UptoDown App Store
Music apps and players
AudioRave
Deezer muci player
Fildo Music
Nyx Music
Pandora
Pi Music Player
Spotify
TinyTunes
TuneIn Radio Pro
Ymusic
Youtube Revanced
TV and Movie Apps
1234Movies
A-Z Movies
Adrama
Amazing Classics
Astoncine
BTV Movies
Bounce TV
CucoTV
Cyrose HD
Dream TV
Dust TV
EIMubashir
Fast Movies
Fawesome
Film App
Filmrise
FlixHouse
Flixella
HDMovies Bing
HDO box
Happykids TV
Jetbox
MXL Movies
Media Lounge
Mediabox
MegaBox HD Lite
MocaFlim
Morph TV
Morpheus TV
MovieB
MovieXYZ
Moviebase
MoviesT
My5
NewPipe
Newest Movies HD
OneBox HD
Pmovies
Peacock TV
Play Ultra
Plex
Pocket TV
Popcorn Time
Rokkr
Rumble
Smart Youtube TV
SmartTubeNext TV
SonyLiv TV
Syncler
TV Flix AF
Titanium TV
UK Turks
Univision
Viewbox
Watched
WeTV iflix
Weyd
Web Browsers
Brave Web Browser
Downloader
Duck Duck Go
Firefox
Chrome
Microsoft Edge
Opera Browser
Puffin Browser
PureTuber
Soul Browser
Tor Browser
Best VPN
Surfshark
Atlas VPN
IPVanish
NordVPN
Kodi
Kodi Matrix
IPTV
Genius Stream
OTT Navigator
OttPlayer
Perfect Player IPTV
Sports TV
TiviMate
710AB04D – Android Streaming Devices
1Tap Cleaner Pro
AMPlayer Android TV
AMPlayer Fire TV
APKTime
ASTONCINE
ATV
AZ Screen Recocer
Adguard Block ads
Advanced Download Manager
All in One Toolbox
Anime Fox
Anime Star
AnimeDLR
Anime Fanz Tube
App Starter
Apps2Fire
AudioMack
AuroraStore
B1V Player
BBC iPlayer
BMC Kodi
BOXCrush
BeeTV
Blokada
Cyberflix
Cartoon HD
CinemV
CinemaHD
Clean My House
Crunchyroll
CucoTV
Cyrose
DNS
Darkbox TV
Deezer Pre
Diggz
Diggz Store
Dispartiy Need for speed Kodi
DofuSports
Downloader
ES File Explorer
Express VPN
Fast Movies
Fildo Music
FileSynced
File Commander
File Manger Premium
FilmPlus
FireAnime
Flixoid
Football TV Live Score
Football Plus
Free Books
FreeFlix HQ
FreeFlix TV
Freezer
Green Monster Matrix Fork
HD Streamz
HD Streamz Lite
HYFYTV
Happy Kids
Hifi
IPTV Smarters Pro
ITV Hub
Kraken TV
Kshaw
La deportes
Launch on Boot
Lepto
LibriVox Audio Books
Live Football Stream HD
LiveNet TV
Ludio Player
MV CastPlayer
MX Player
Magellan TV
Magenetic Kodi
MalawreBytes
MediaBOX HD
Media Lounge
MegaBox
Misfit Mods
MocaFil
Mouse Toggle
Movie HD
MusicAll
MyGica
Nodi Matrix
Newest Movies HD
NewPipe
Nosey
Nova TV
Ocean Streamz
Ola TV
Old Movies
OneBox HD
Pikashow
Polygon Player
PowerDirect Player
Pure Tuber
Purple IPTV Lite
Purple IPTV
Queen Ultimate Complete
Rokkr
Rapid Streamz
Redbox V
SD Maid Pro
SPMC
STB Emu
Streamio
Syncler
Series Guide
Set Orientation
Sideload Channel Launcher
Simple Radio
Smart IPTV Xstream Player
SmartYouTube Next
SmartYouTubeTV Latest
SpeedTest
Strix Mod
Swift Streamz
Tplayer
TVTap Pro
TeaTV Lite
The Crew Matrix
The Beatles Ultimate
Titan Player
Tivimate
TvBro
TvMob
USTV
Ucmate
UK Turks
Unlinked
VLC Player
VPNSafetyDot
Vanced Manager
VivaTV
WBMC
WEYD
Watched
Wolf
X Plore
XCIPTV
Yacine TV
Yalla
YesMovies
Ymusic
Chains Kodi
Dezzer
Kodi releases
12341234 – IPTV Super Store
Only Unlink store that provide app shortcuts. Some apps does not show app icon on the home screen of your TV. Use this shortcut app display them on your home Screen for easy access. If you install APKupdate on your Fire TV you will see many blank banners. Installing shortcuts to access those blank apps from your home screen.
Android TV Banners only
Adguard
AstonCine shortcut
Cartoon HD shortcut
CucoTV shortcut
Fast Task Killer shortcut
Football TV Live Score shortcut
jetbox shortcut
kshaw shortcut
La Deportes shortcut
Lepto shortcut
Ludio Player shortcut
MediaBox HD shortcut
MegaBox HD shortcut
Movie HD shortcut
MovieBoxPro shortcut
NavixSport shortcut
Ola TV shortcut
OneBox HD shortcut
Play Store shortcut
Swift Streamz shortcut
Tea Sport Live shortcut
The Cult Movie shortcut
TvMob shortcut
TvTap Pro shortcut
Watch Any Show shortcut
Xfinity Stream shortcut
YesMovies shortcut
Anime
AnYme
Anime Fanz
Anime TV
Anime World
Anime X Stream
AnimeDLR
AnimeFox
AnimeGlare
AnimeZone
CloudSt
Crunchyroll
FireAnime
Funiamation
KissAnime
KIDS
Cartoon HD
Happykids
Happykids
Kidoodie
Kids Place
Pokemon
YouTube Kids
Media Players
321 Media Player
AMPlayer
Ace Stream
B1V Player
BubbleUPnp
CastMix Podcast
Dummy Player
FX Player
GoPlayer
j3 Marvel Player
Jellyfin
KMPlayer Plus
Kodi
Kodiapps
KokoTim
Kshaw
Live Stream Player
Ludio Player
MPMC
MV CastPlayer
MX Player Pro
MediaPlayer Premium
New YouTube
NewPipe
Night Player Premium
Oplayer
One Player
Pmovies
PlayerPro
Podcast Addict
Podcast Republic
Ploygon Player
SOPlayer
Splayer
SVPlayer
Smart Tube Next
Smart YouTube
Sofa Player
Stremio
Tplayer
TinyCam
Titan Video Player
TubeMate
U player
VLC
Vanced Manager
VideoMix
Vidmate
Vimu Media
Watched
Web Video Caster
Wiseplay Premium
Wuffy Media Player
Xplayer
XYZ Player
Yalla Receiver
YesPlayer
Yokk Video Player
ZK Player
aPlayer
Live TV
7Plus
Abadi Eagle
Airy TV
Arean4viewer
Black TV
Champions League
Darbazi HD Box
DarkboxTV
DwellingsTV
ELMubashir
Embratoria TV
Fox Now
Free Austrailia TV
FreeFlix TV pro
GOGO TV ONE
HD Streamz Lite
HDTV Ultimate
HyFy TV
LocalBTV
MXL TV
Media Lounge
Ola TV
Omohak TV
PatoPlayer
Peacock TV
Phoenix IPTV
Pocket TV master
Red Cobra One
Rokkr
Roku Channel
StubeTV
Swift Streamz Lite
TNT Flash TV
TvMob Firestick
TvTap
UkTurks
USTV GO
USTV
VTM
Venom IPTV
World TV
Xfinity Stream
Yacine
Live Sports
123 Sport Live
365Scores
Arena4vie
Baseball Live Streaming
BeSoccer
Bobo Live
Bozi Sports
Dofu Live Stream sports
EpicSports
Football plus
FotMob Pro
GHD Sports
HD Sports
La Deportes
Lepto Sports
Live Football Streaming
Live sports HDTV
Live Sports TV
Live Sports Pro
MLB Live
MemSports
NBA Live
NCAAF Live streaming
NFL Live Streaming
NHL AF
NavixSport
OneFootball
Potato Streams
SkorLive
SportEventz
Sports Live
Sports Xstream
Sports V8
SportsHD
SportsTV
Tea Sports
Ten Sports
USA Sports
Vola Sports
WWE
Wawe Sport TV
World Sport Streaming
Yahoo Sports
Fire TV Banners
APKUpdator Fire TV Shortcut
Fast Task Killer Fire TV Shortcut
Filesynced Fire TV Shortcut
Flixoid Fire TV Shortcut
Football TV Live Score Fire TV Shortcut
FunPlay Fire TV Shortcut
HD Streamz Fire TV Shortcut
Kshaw Fire TV Shortcut
Live NetTV Fire TV Shortcut
Ludio NetTV Fire TV Shortcut
Ludio Player Fire TV Shortcut
Magellan Fire TV Shortcut
Morpheus TV Fire TV Shortcut
Pikashow Fire TV Shortcut
Rapid Streamz Fire TV Shortcut
SD Maid Fire TV Shortcut
SOPlayer Fire TV Shortcut
Syncler Fire TV Shortcut
Teamviewer Fire TV Shortcut
TiviMate Fire TV Shortcut
Tubi Fire TV Shortcut
Watch any show Fire TV Shortcut
Wolf Launcher Fire TV Shortcut
Xfinifity Stream Fire TV Shortcut
Music
AirMusic
Audials Play Pro
AudioRave
AudioMack
Chillout
CloudBeats
Uncategorized
BluePlay
Do Not Download
Popcorn Time
eDrama
stbEmu
KODI Forks
Arrow
BMC- Badazz Media Center
Cman Builds
Chains
Colussus
Diamond Builds
Diggz
Doomzday
EUMC
EzzerMan
Funs
GMMC
Ghetto
Grindhouse
Live TV Plus
Maverick
Misfit Mods
Nodi
Slamious
Stream Digital
TBMC
The Crew
WBMC
ZMC
App Stores
1Mobile Market
Apk Time
ApkPure
Amazon App Store
Applinked
Aptoide
Aurora
F-Droid
Filesynced
Troypoint
Unlinked
UpToDown App Store
IPTV Players
Faster and safer internet
Blazintv
E-VisonIPTV
Forbidden TV
GSE Smart IPTV
HenSoft TV player
IMPlayer Companion
IPTV Extreme Pro
IPTV Pro
IPTV Smart Purple Player
IPTV Smarters Pro
IPTV Stalker Player
Kemo Sat
Neutro IPTV Player
Ninja Player
OTT Navigator IPTV
OTV IPTV player
Perfect Player
Purple IPTV
Smart IPTV Xtream Player
Tvirl IPTV
Televizo IPTV player
TiviMate Companion
TiviMate IPTV Player
VIP Xtream IPTV Player
XCIPTV Player
e Doctor IPTV
IMPlayer IPTV
Movies and TV Shows
1234Movies
9Now
ABC iview
AOS TV
AZ Movies
All 4
Amazing Classics
AnthymTV
AstonCine
BBC iPlayer
BTV
BeeTV
Berg
Best Cinema
Blank DVD
Blaze
BOX Crush
BOX TV
CBC Gem
CW Seed
CimaBox
CineHub
CinemaHD
Crackle
CucoTV
Cyberflix
Cyrose HD
DUST
Darkbox TV
DistroTV
Dream TV
Emratoria
Encourage TV
Fast Movies
Fawesome
Film Plus
FilmRise
Filmzie
FlixHouse
Flixella
Flixoid
Free Movies
FreeFlix
FreeFlix TV
Funplay
Glewed
Glewed TV
HD Movie Box
HDMV
HDO Box
HDtv
Haystack news
HeroGo TV
Hulu
IMDB
ITV Hub
Insta IPTV
JioTV
Kapang TV
Kraken TV
Live NetTV
Locast
MV Bing
MX Player
Madflix
Magellan
Max Movies
Maxxhd
Midia Lounge
MediaBOX
MegaBox
Movie HD
Movie Hunt
MovieB OxPro
MovieXYZ
MovieBase
Moviesy
MvFree
My5
Netflix
Newest Movies HD
Nosey
NovaTV
Ocean streamz
Old Movies
OneBox
PTV Max
Phantom Blue IPTV
PikaShow
Play Cinemax
Play Ultra
Plex
Pluto TV
Pocket TV
Popcornflix kids
Prime Video
Rapid Streamz
Red Bull TV
RedBox TV
Roku
SBS On Demmand
SMDC
SeriesGuide
Shout Factory TV
Sofa TV
SonyLiv
Stirr
Strix TV
Stube TV
Supa Flix
Swift Streamz
TMBOX HD
TVMucho
TVNZ on Demand
Tea TV
Terrarium
The CW
The Cult Movie Network
Tubi
TvMob
Typhoon
Uk Turks
Ulitimate IPTV Plugin Addon
ultra TV
UnlockMyTTV
VTM GO
Veely
VerTV
Vidman
ViewBox
Viva TV
VuduHD
Watch any show
Watch movies and TV shows Free
Watch Jump
Weyd
XUMO
Xfinity
YesMovies
E Doctor
iFlix
rlaxx TV
tvioo Pro
Browsers
Brave Private Browser
Downloader
DuckDuck Go
Firefox
Chrome
Kiwi Browser
Microsoft Edge Browser
Opera Browser
Power Browser
Puffin browser
Silk Browser
Soul Browser
TV Bro
Tor Browser
Vivaldi
EB2E4A4C – Seenys Apk Store
Uncategorized
Magellan
Browsers
Chrome
Puffin Browser
Films and TV Shows
BeeTV
BeeTV Ad free
Cinema HD ad free
Cinema HD Original
CyberFlix TV
CyberFlix TV ad free
Filmplus
Filmplus Ad free
Flixella
Flixoid
Flixoid original
Movies HD
Nova
Nova ad free
Ocean Streamz
Ocean Streamz ad free
Peacock
Tea TV
Tea TV ad free
Typhoon TV
Typhoon TV ad free
Viva TV
Viva TV ad free
Live TV
9Now
ABC IVIEW
Airy TV
Darkbox
HDTV
Media Lounge
Media Lounge ad free
OLA TV
Peacock
Redbox TV
Redbox TV ad free
Roku US ad free
Strix Ad free
Strix Clean
SwiftStreamz
SwiftStreamz ad free
TUBI Ad free
TV Mob ad free
UK Turks
ViewTV
XUMO
VPN
Express VPN
IPSecrete VPN
Proton VPN
Youtube
Smart YouTube
Music
Fildo
YT3 Ad free
Tools
AMPlayer Android TV
AMPlayer Fire TV
Analiti
APKTime
Applinked
Apps 2 Fire
Easy Fire Tools
FX File Explorer
Fast Task Killer
Filepursuit
Filesynced
Kshaw Ad free
Kshaw
Launch on Boot
Ludio
Miscrosoftex FAT NTFS for USB
Mouse Toggle
SD Maid
Send anywhere
Speed Test
Total Commander
Unlinked
Virus Total
Wolf Launcher
X-plore Modded
Firestick
Film Plus
TeaTV
Kodi
Cuco TV
Cineam HD
Flixoid
IPVanish
Bee TV
Ocean Streamz
Live Net TV
Swift Streamz
TV Tap Pro
RedBOX TV
Unlock My TTV
VivaTV
USTV
HD Streamz
MoviesY
TV Tap
Kodi
Task Kill
Virus Total Firestick
Nova TV
MX Player
90D311FE – Oztech3000 Stream World
BeeTV
CucoTV
FilmPlus
HDO Box
TeaTV