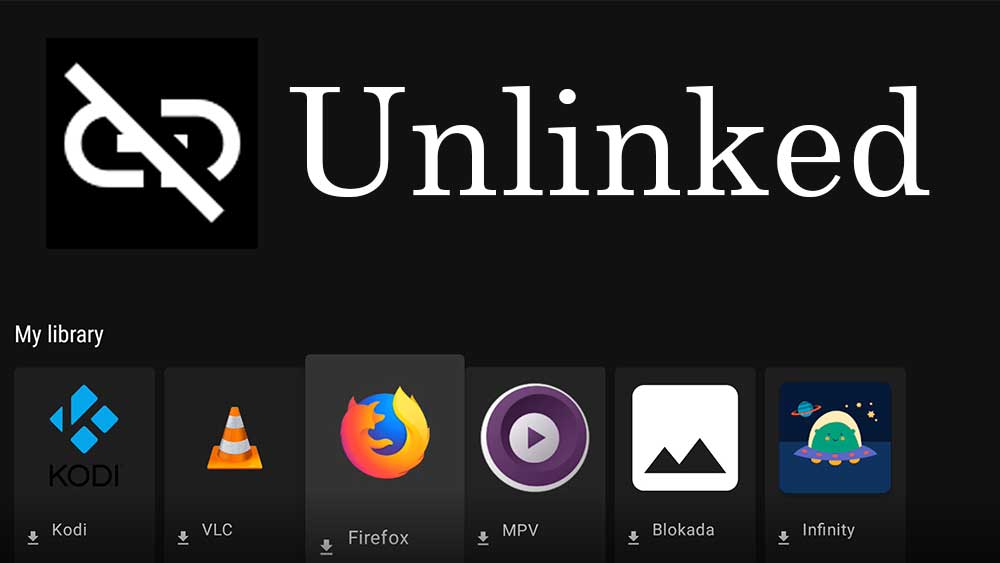 | | |
| --- | --- |
| Name: | Unlinked |
| Version: | V2.0.4 (v14) |
| Package: | linked.unlinked |
| Size: | 3.80 MB |
| Last Updated: | 02nd August, 2023 |
Downloader Code for UnLinked : 234753
Similar Apps
---
How to install Unlinked on Android TV
How to install Unlinked on Amazon Fire TV and Fire TV stick
Quick Setup guide for Unlinked on TV
Download links for Unlinked has been updated. Now you can use new fast downloads. This is one of the cleanest and easiest FileLinked alternative that you can use on your Android phone, Android TV, Chromecast and Fire TV.
Top 5 Unlinked Codes
Version 2.0.4
User interface is fully changed to fit Android TV and Fire TV screens. Now this app utilizes bigger TV screen with nice look and features. Easy to use with your TV remote. Functions and buttons are bigger and more visible.
Version 1.2.3
This version does not has any major interface changes. You will see download location was changed from github to its own location when releasing the version 1.2.3. Simple bug fixes and performance improvements can be seen.
Installing favorite Movies, TV shows, Sports apps on on Android TV, Fire TV and Google TV is not a easy task. Unlink other devices, you have to use TV remote to enter long hard to remember URLs to download apps you want if you are using a web browser application. Many want to create their own list of TV aps, Images, Movies, Videos, Songs and etc. that can be shared easily with friends. Unlinked is such application that allows your to create your own well organized app store, music store or video store that can easily access using TV box.
No need to use long hard to remember URLs to access files. Just use easy to remember short codes to access TV stores, and others. There are plenty of Android TV, Fire TV apps that offer movies, TV shows, videos and other content. Many of those are not available on default app store like Play Store for Android TV, Amazon App Store for Fore TV devices. Many Android TV users all around the world create their own favorite list of TV apps and games. Most of those are public stores. You can access them using Unlinked codes. If you have installed Unlinked on your Android TV or Fire TV devices, then you can use these Unlinked codes on your TV box.
It is not easy to find codes for the apps you are looking for. If you are looking for any app that is available on play store using your Amazon fire TV device, then Aptoide TV is the best choice. App Stores like Unlinked, AppLinked, FileSynced does not has those common apps and games. Normally those stores contain hard to find and install TV apps and games.
Install Unlinked on your TV BOX
This app support all most all Android TV boxes including Nvidia Shield TV, Mi BOX S, Mi TV Stick, Shield TV pro, H96 MAX and all. Support all most all Amazon Fire TV devices like Firestick, Fire TV Stick 4K, Fire TV stick Lite, Fire TV cube and all. You can easily install on Google TV devices like Chromecast.
In order to install this application you need to install Downloader application using your stock app store. Open your default app store (Play store or Amazon App Store) and then search "Downloader". Install this application.
Open Downloader and enter below URL to download and Install Unlinked on Android TV BOX and Fire TV device.
unlinked.link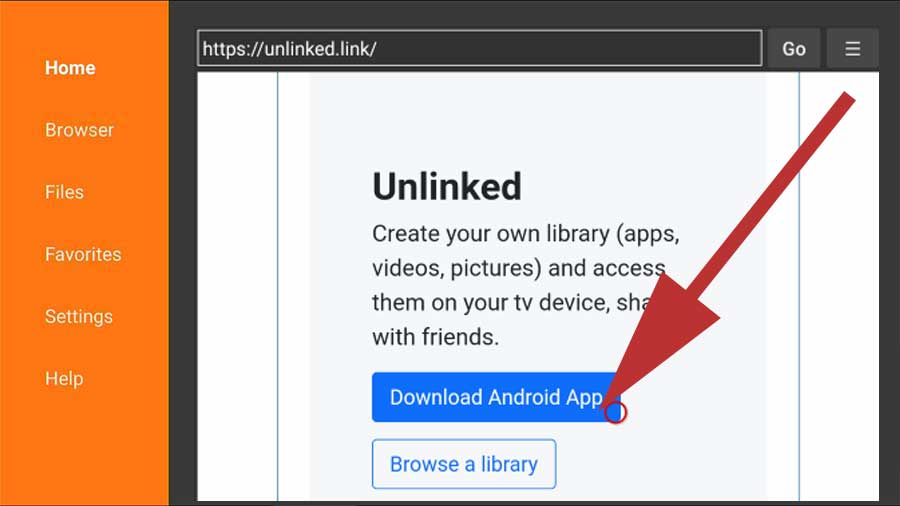 Unlinked has now become one of the best Android TV and Fire TV apps installer. Amount of apps and games allowed via this TV store has increased. Like Applinked and FileSynced, Unlinked too offer popular streaming apps directly using this app. No need to find Unlinked stores to access those apps like on Filelinked. Just download and install this app on your Fire TV or TV box. You will see popular and premium apps available for free on home page.
Version 1.2.2
More libraries
More premium and mod apps available for free via home page.
More instructions on home page.
Fast and secure
You can easily navigate between different app stores using this app. All saved app stores are shown on home screen with its apps and games. Instead of opening each and every store, you can see apps on each saved stores on home screen.